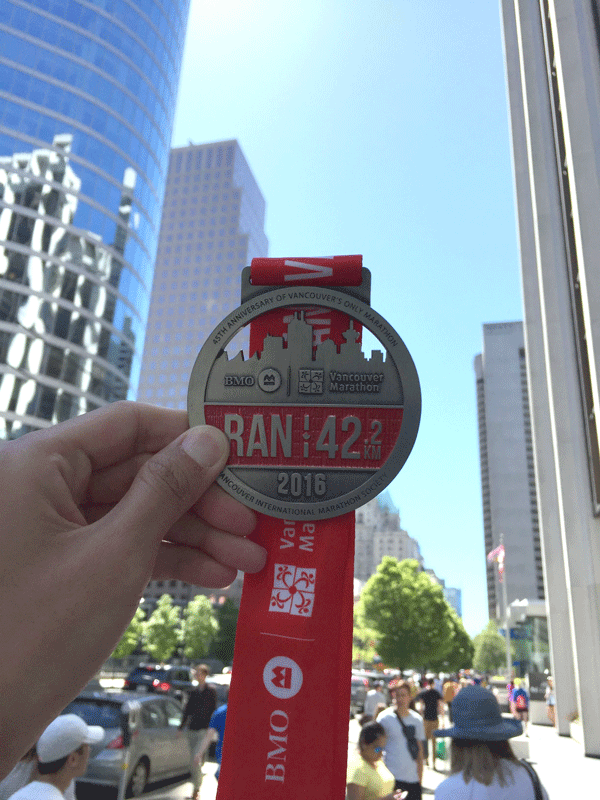 BMO Vancouver Marathon is the city's one and only marathon.  My Vancouverite cousin says it's because May is the only time the weather is perfect to stage one!
For the 45th BMO Vancouver Marathon, total number of participants reached its record high this year with 16,500 runners.  This would be for all categories: 2.5k walk, kids' run, 8k, 21k, 42k relay and 42k. The BMO Vancouver Marathon is a relatively small race compared to any of the World Marathon Majors which have 42k runners alone reaching over 40,000 in number.  With only around 5,000 runners participating in this marathon, I actually looked forward to experiencing a smaller race with less of the foot traffic and craziness that goes with the bigger races.
I came to this marathon as I have done with my past races lately.  I just wanted to have fun.  Turning 40 was a huge milestone in my life and I just needed to celebrate it in a big way.  I didn't need to prove to myself that I was fit at 40, or that I could break a PR I hit a few years ago when I was younger.  In fact, I didn't feel the need to prove myself to anything or anyone.
At 40, I just wanted to celebrate the life I have now.  A life that is my own, independent, honest, peaceful, content, free, and hopeful.
I finished with a time of 4:54.  Not that great a time, but I did have a great time! Hah!
Here goes my race review for BMO Vancouver Marathon:
EVENT: 45th BMO Vancouver Marathon 2016
DATE: May 1, 2016
START: Queen Elizabeth Park
FINISH: West Pender St. 
CUT OFF TIME: 7hrs
RACE ASSEMBLY AND START:
From our hotel, Blue Horizon, at Robson St., Belle and I made our way to the closest station to us, Burrard Station. We got the shock of our lives when it was closed…and so was the next station. (To think we practiced this the day before!) Along with some locals who were running, we walked to Waterfront Station instead. We got out at Oakridge Station-41st Station and walked 10 to 15min to the assembly area at Midlothian Avenue at Queen Elizabeth Park.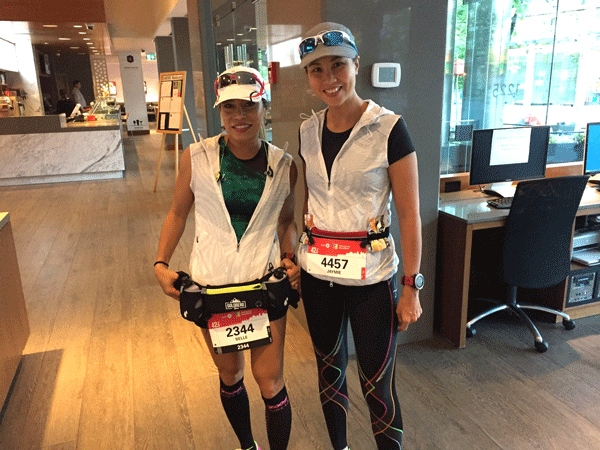 with Belle at Blue Horizon hotel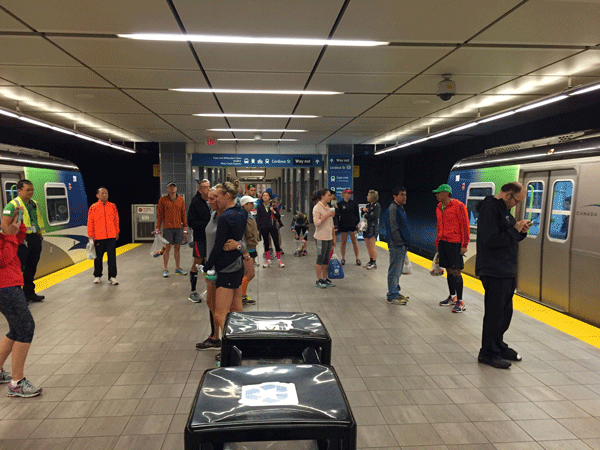 Runners awaiting the train at the station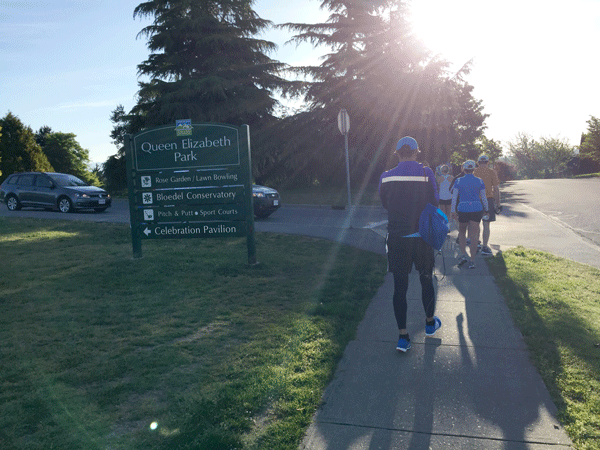 The walk towards Queen Elizabeth Park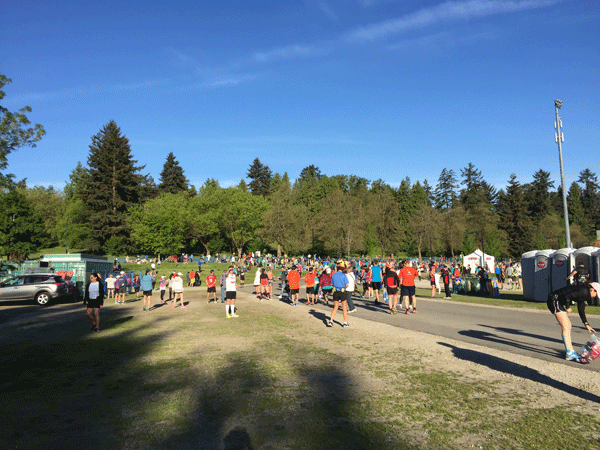 Relaxed vibe at Queen Elizabeth Park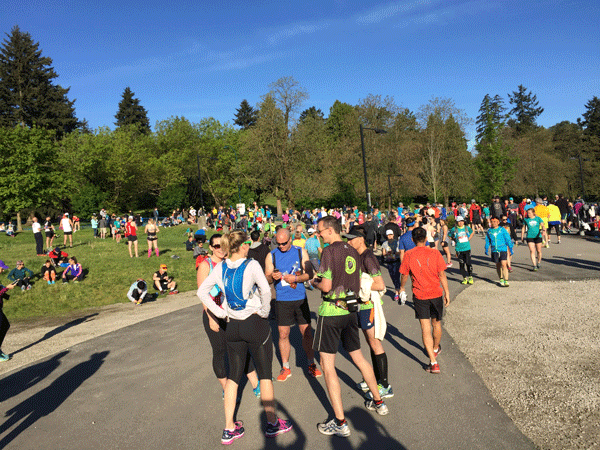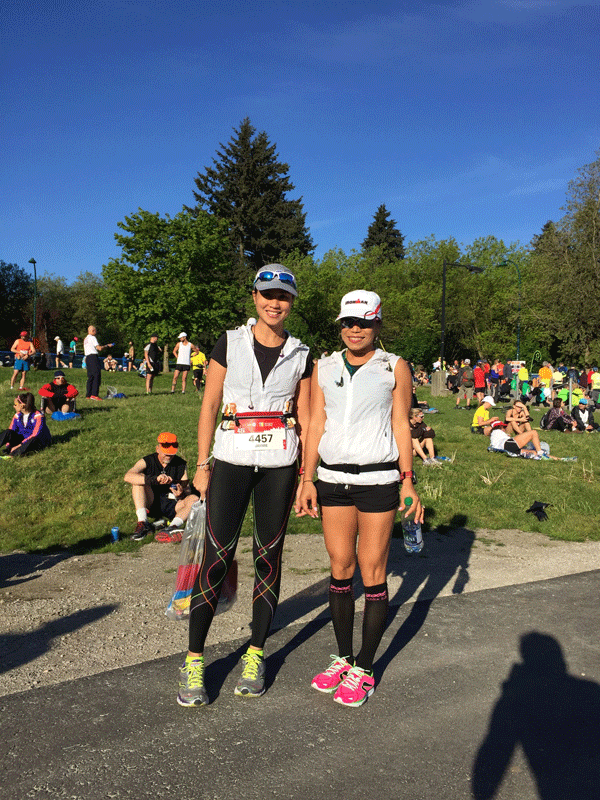 Belle and I right before we parted ways to find our corral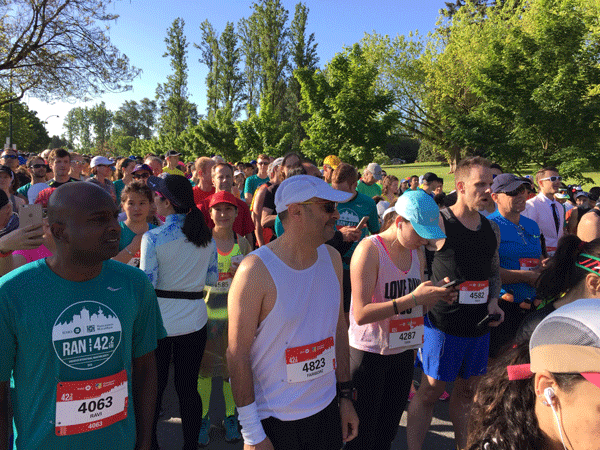 Red Corral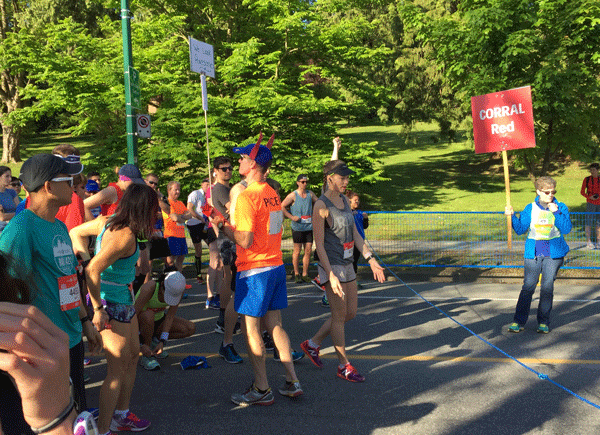 With just around 5,000 runners participating in the marathon, the race assembly had a relaxed vibe to it, which I thoroughly enjoyed. There was no crowding nor feeling like a sardine at the stations or at the assembly area. Lines for the portalet was short and quick.
Wish List: I wish the organizers had informed us early on about closed stations. Good thing we left early and didn't need to panic about lost time.
Tips:
Leave early and just sit at the park and wait for the race to start. Bring a bottle of water, a banana or your fave snack, plus a blanket to sit on while waiting.
For point to point races, it's always better to choose a hotel near the finish line because you'll be too exhausted to travel back after the race. I lucked out on my hotel, Blue Horizon, which was more affordable than Coast Coal hotel (across the finish line) yet it was just a short walk from the finish.
RACE:
Course. The course took us past neighborhood roads, beaches, parks, and along Vancouver's Seawall. Among all the marathons I've ran, this had to be the most beautiful and scenic course.
The first several kilometers offered a lot of downhills. It's a challenge to resist the urge to go too fast since we know that doing so can burn you out later in the race.
My favorite part was along the University of British Columbia area. Long, gentle descents on wide roads overlooking the sea. It was beautiful and awe inspiring. Just one of those moments when you're suffering but all you can think of is how thankful you are for having the opportunity to run.
What goes down, must come up! There were also long ascents, which I must admit I was not prepared for. At 30k, there's a climb up the bridge under the searing heat of the sun.
The last 10k is a run along the seawall. As you enter this area, it's a pretty sight. After all, how often do you get to run along the water? But, after a few kilometers, this last 10k gets to be dragging. You see the road twist and turn ahead of you and the runners trudging along and you think: how much longer will this be?! It definitely feels like forever. But, in fairness, I think we all have these thoughts at the last 10k of every marathon anyway.
Weather. The temperature that morning was a perfect 16°C. I wore a shirt and a light sleeveless vest that Belle and I had purchased at the expo. I could've gone without the vest but it conveniently held all the Gatorade packs in its pockets! I wore my CW-X tights to keep my tight hip flexors and ITB stable throughout the race, but noticed that I was practically the only one in tights that day. Everyone was in shorts!
The race started at 8:30am. By the time the race ended, the temperature was 22°C.  While it was cool when running under the shade, it felt insanely hot in some areas of the race, especially in the areas with none or little shade.  I heard it was the hottest race since the 1970's!  Boo to global warming!
Tip: Put loads of sunblock. Wear a cap and shades.
Traffic. As mentioned, this was a relatively small race with only 5,000 marathoners. Yet, the race had a wave start to ensure that there would be no traffic. Sure enough, there was no crowding at all at any time during the race. The race start was very well organized and made for a relaxed and fun atmosphere.
Hydration and Food. Hydration stations were plentiful with sports drink, Ultima, followed by water at every station. There were also bananas and Powerbar gels given out at some stations.
Tip:
If you have never tried Ultima (like me), do not risk it. Bring your own hydration.
Portalets. There were enough portalets along the course with less than three runners waiting in line at a time… yay!
Crowd support. Unlike New York or Japan where the city goes all out in supporting the marathon, Vancouver Marathon is a bit of a smaller event for the city. However, there were still quite a number of spectators along the route who cheered for us warmly and sincerely. Quite a number of locals called out my name because the race bibs were personalized. This was awesome!
Finish line. The run towards the finish line from the seawall was a slight uphill towards the roads of downtown Vancouver. It was a spectacular set up with spectators cheering and volunteers waiting to hand your medal around your neck. We were given apple juice, bottled water, and offered food as we walked outside of the finish line chute and unto the street.
There's a huge finish line festival, which I heard was great. But, I skipped this and walked a few kilometers up Burrard Street and into Robson back to my hotel. My hotel being close to the finish was great.
Tip: Book a hotel in downtown Vancouver. It's just more convenient in the days leading up to the race.
Baggage deposit and claim. With my hotel being a stone's throw from the finish line and the weather being warm enough so that we didn't need any jackets to keep us warm after, I chose not to deposit any baggage.
Tip: If you're hotel is far from the finish line, always leave baggage with food and a change of clothes and even sandals or slippers. You don't want to be in public transportation starving and soaked in sweat.
Medal and Race Shirt. The race shirt was transparent and green. I got the wrong size and wasn't allowed to change the size until the next day of the expo so I didn't come back anymore since I don't think I'll be using it. There was no Finisher's shirt given. On the other hand, the medal was huge and impressive. Well done!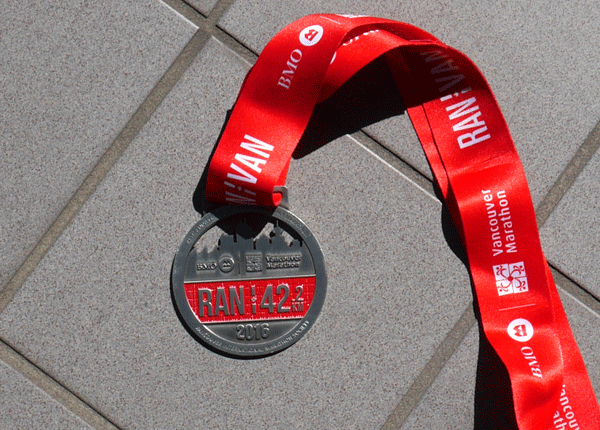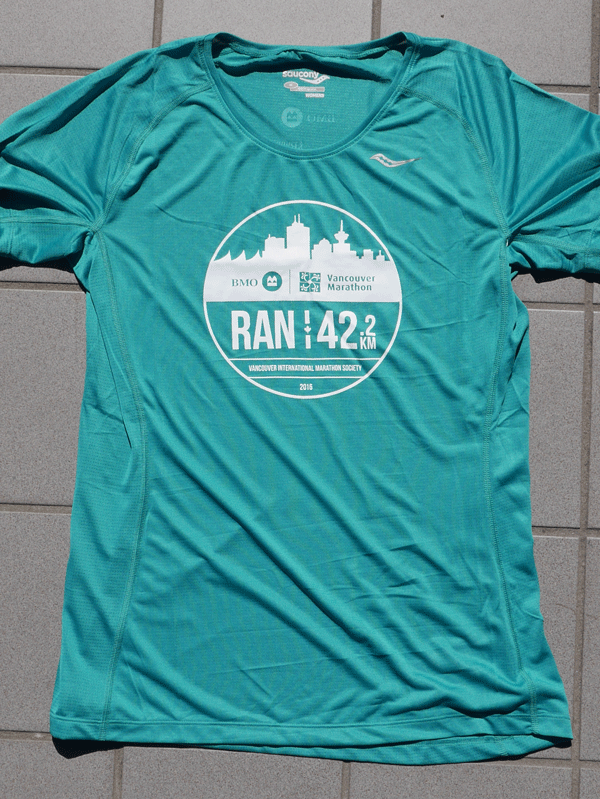 SUMMARY:
Overall, I would rate this race a 3.5 of 5. I loved the scenic and beautiful course, superb race organization, relaxed vibe, and the city in which it was held!  I wish it was a bit cooler, but that'll only happen if they move the race earlier.  I also wish the entire city came out more to support the event just like New York and Tokyo, but I guess that will happen in time if running becomes more popular in the city.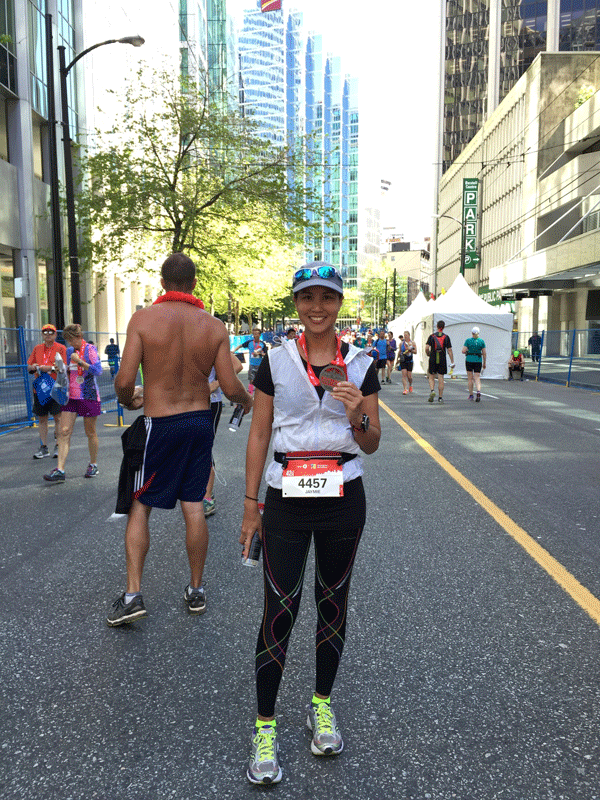 Thank you as always to my sponsors: Gatorade, Otterbox, Peak Form, Fitness First, and Oakley for your unwavering support. Thank you also to Runnr for providing my CWX compression tights, Cascos Inc for my Zensah compression socks, Saucony for my Saucony Ride 7, Myofit for my foam roller, and Stride and Stroke for my Spibelt.
Thank you, Vancouver, for an awesome experience!
Previous: Race Report: Vancouver Marathon – Pre-Race (Part 1 of 2)