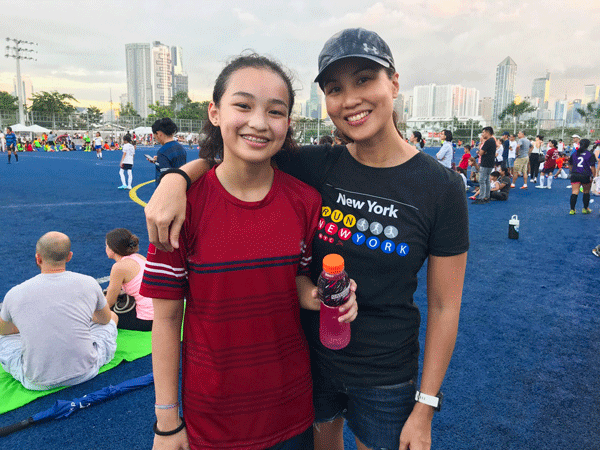 Li'l Miss TBR wearing contacts during a football tournament last year
I had 20/20 vision my entire life until a month before I turned 40.  I took it as a sign of aging.  I was hesitant to wear glasses and, even if it's been two years now, I'm still inconvenienced by wearing glasses all the time.  Ugh.
On the other hand, my kids, both in their teens, have been wearing glasses early in their childhood.  Last year, it was Li'l Miss TBR that insisted on switching to contacts for her football.  At 13, I was hesitant at starting at such an early age.  We dropped by the mall to consult with an optometrist at an optical shop and they refused to give her contacts.  My daughter left frustrated walking away while showing me an article on google that allowed teens to wear contacts.  With her prodding, I consulted two opthalmologist friends who gave the go signal as long as she was taught proper hygiene in handling the contact lenses and that she only use quality brands.
She got her contacts!  And, soon after, TBR Jr. got his contacts too.  After seeing them free from the glasses, I started to get jealous over their freedom from their glasses! Hah!  It was perfect timing then that Alcon Dailies invited me to know more about their contact lenses which are perfect for people who lead an active life, like their endorser Gretchen Ho, and also active teens, such as the daughter of host Dimples Romana, Callie.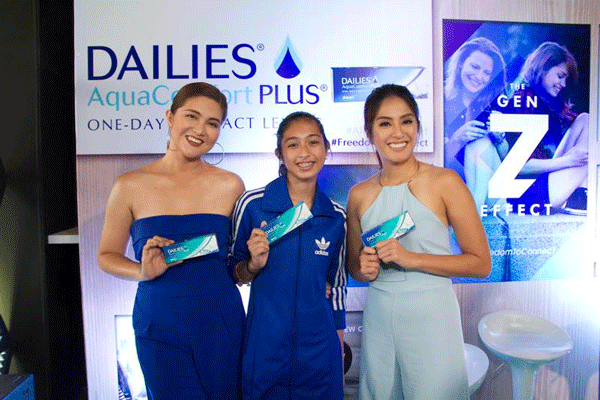 Dimples and Callie Romano and Gretchen Ho
At the event, they taught me how to put contacts on and remove them.  In fact, I wore my first lenses ever during the event!  I didn't even feel like I was wearing contacts.  It was so comfortable!  Getchen Ho said that she used them during her volleyball tournaments, so I was excited to try mine while running and biking.  (OMG, I can finally see the road clearly while biking!  LOL.)  I didn't know why I hadn't done this any sooner, really.  You know what makes the Alcon Dailies even better?  They're disposable.  Open them in the morning and throw them away at night.  No need to bring a big bottle of solution and eye drops in my office or gym bag.  No need to bring a contact lens case when I travel.  Just bring the packs of Dailies and I'm all set.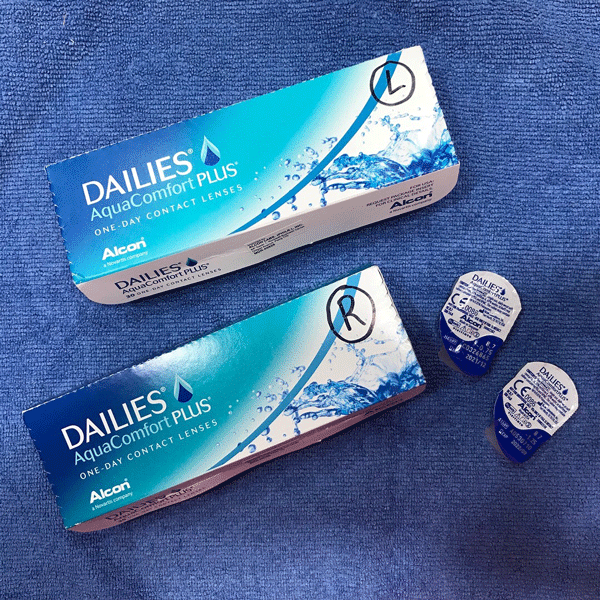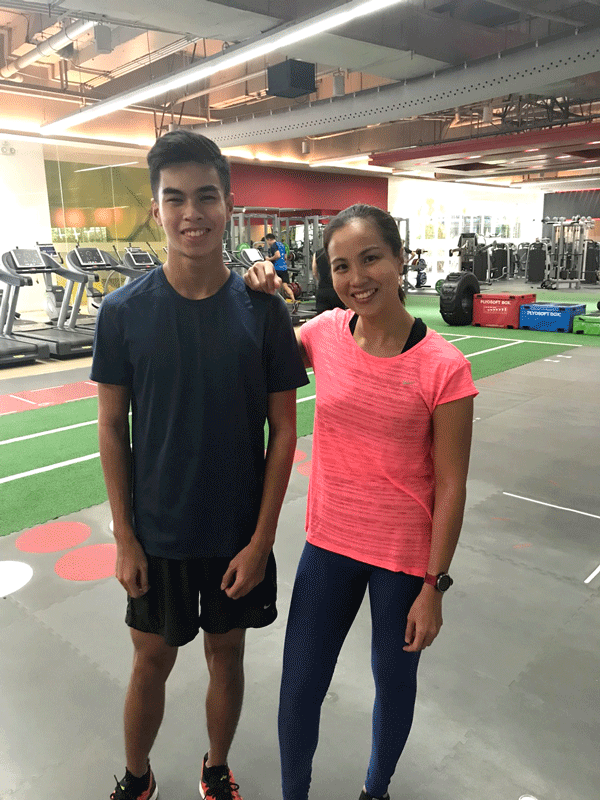 TBR Jr. wearing contacts at his first gym session at Fitness First with his Mama Coach lol
As for my teens, there's a UK study that was discussed during the event that only confirmed what I saw at home.  The study compared teenagers who wore Alcon Dailies contact lenses to those that wore eyeglasses. It showed that Alcon Dailies contact lenses were easy for teenagers to learn to use, even if they have not handled contacts before. After wearing Alcon Dailies contact lenses, teenagers felt safe and comfortable wearing it. Also, teenagers wearing Alcon Dailies contact lenses believed that it was a good way to see well. Authors concluded that aside from improved overall quality of life, the study also showed that Alcon Dailies contact lenses provided several additional advantages for teen first-time wearers.  Aside from considering the move to contact lenses as a rite of passage, teenagers want contact lenses because they want to be free from eyeglasses for social media platforms like Snapchat and Instagram. They can also benefit from wearing contact lenses for special occasions and activities.
So now, all three of us at home wear contacts and we're loving it.  If you want to try it too, a 30-piece pack of Alcon Dailies retails for only P1,495.00. It is available at leading optical shops nationwide. If you print the coupon below, you get 20% off two boxes of Alcon Dailies!