Swimming and I have a love/hate relationship.  I used to only swim in preparation for a triathlon.  Once the race was over, I would skip the pool for the road.  But, after Ironman 70.3 Cebu, I found myself swimming just for the sheer fun of it.
Good thing I've had great company.  Since May, while training for Cebu and even after the race, I've been swimming every Tuesday and Friday under the guidance of Coach Anthony Lozada and with fellow classmates Joey and Elaine.  I try to sneak in an additional swim during the week as homework.  (I hope the Coach read that last line…twice!)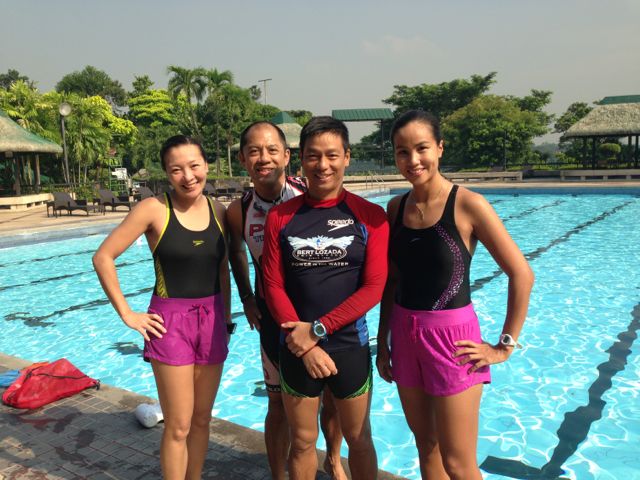 – with Elaine, Joey, and Coach Anthony –
Swimming has been good for me.  And, even better, it's been good for my running.  I've found that, cardio-wise, I'm stronger.  It's most noticeable when I'm climbing hills.  No more huffing and puffing.  Whoakay, maybe just a bit but with less whining.
Swimming has also been perfect for an injury prone runner like me.  It gives my weary running legs the opportunity to train without the pounding.  I've found that it actually loosens up my tired ankles after a run the previous day.
I also like the fact that I get an upper body workout now.  My flabby arms (Argh, it runs in the family. Thanks Mom…I still love you!)  and my postpartum belly (Yes, I still call it that even if I gave birth almost 9 years ago) have tightened up a bit.  Hopefully, like in a year, I get one out of the six pandesals of Ani de Leon-Brown's abs. Wishful thinking. LOL.
Anyway, you get the point.  Swimming has been great for a runner like me.  You should definitely give it a try as a cross training activity.  To convince you even more, I sat down with my Coach and asked him more about the benefits of swimming for runners and triathletes…
TBR: Tell us about your background as a swimming/ triathlon coach
Coach Anthony: I've been teaching swimming for the past 35 years and coaching swimming for the past 16 years. I started coaching triathlon in 2010.  My credentials include:
Member(Coach)-Philippine Swimming Inc.
National Coach – 2004 Athens Olympics
International Triathlon Union(ITU) certified Level-2 Coach
National Coach-2013 Jeju ASTC ITU Development Junior and U23 Women Continental Camp, Korea
International Triathlon Union(ITU) certified Coaches Education Facilitator
TBR: What type of swim technique do you use in teaching swimmers or triathletes?
Coach Anthony: The type of swimming technique that I teach my students, both for swimmers and triathlon, is to maximize their "distance per stroke". The guiding principle behind maximizing distance per stroke (DPS) is economization and efficiency of movements. During a long distance endurance race like triathlon, it will be more efficient to find an ideal stroke rate which translates to a higher DPS than just thrashing and powering your way across the water. With an ideal stroke rate with a high DPS, we are able to delay fatigue and the onset of muscle soreness. But, before my students can achieve that, I have to teach them the proper fundamentals of the stroke.
TBR: Would you recommend swimming for runners? Why?
Coach Anthony: I have to say that Swimming is a MUST for runners because not only is it a refreshing way to train. But runners can continue to develop their cardiorespiratory fitness or endurance while giving their body, more particularly their joints, a break from the pounding of running. Runners have to learn to swim because it is a "Safety Skill" that no one can do without.
TBR: Swimming is the most common fear among the three disciplines in triathlon. What tips can you give triathletes who wish to improve in swimming?
Coach Anthony: First and foremost is that they have to make sure that they enroll at a reputable swim school with years of experience in the field of swimming and have produced top level athletes, as they say "the proof is in the pudding". Their teachers and coaches must have the proper training in being able to transfer their knowledge effectively to their students or athletes. Swimming is not an easy sport to learn and develop, teachers and coaches must be able to motivate and encourage their clients to achieve their goals and fulfill commitments to themselves. I have heard of a lot of individuals who have given up learning how to swim because their teachers failed to create an environment which is conducive to learning.
TBR: Can you give us three tips for swimming in open water during a triathlon?
Coach Anthony:
Tip #1- Never start a race without doing an ocular of the conditions of the swim course and swimming in it as well. Find your markers so that you will target these as you do your "sighting" and swim in a straight line.
Tip #2- Be confident in your training and try to avoid swimming too close to the lane ropes and buoys. In any tri race, these are where athletes crowd and it will be too tiring to keep on stopping or changing directions just to avoid them.
Tip #3- Since most triathletes train in a swimming pool, it will be best to practice turning already 5-meters before the wall (do some sighting drills at the same time) and avoid doing the push-off from the wall as you continue your laps. This will more or less simulate open water conditions where you have to maneuver around buoys.
TBR: Where and when do you teach?
Coach Anthony: I teach or train athletes in Makati, Pasig, Alabang and Sta. Rosa Laguna.. Schedule will depend on the area so it will be best to call me.
Mobile 0917-7932691/0922-8932691
Email: anthony@bertlozadaswimschool.com
Facebook: Anthony Lozada
Website: www.bertlozadaswimschool.com