The past few weeks, I've been somewhat troubled.  It's been so hot outdoors that I've been compelled to run on the treader at my gym.  It's bad enough that I have to run indoors, but it gets worse when I have to run on the decrepit treadmills at my gym.  I love my gym, but man oh man their treaders are dying!  Among the five facing the television, one does not incline anymore and another takes forever to speed up.  I've even run 10k on one that had these words screaming at me on the monitor every few minutes: "Replace belt!"  All the other treadmills seem like they're just waiting to DNF while someone is on it.  Gaah!  Needless to say I've been toying with the idea of switching gyms because the only thing I use at my gym, apart from the mats and the lockers, are the treadmills!
Last week, I was invited to a Fitness First event where they unveiled plans for 2014 that had me drooling with envy.  (It was probably a sign!) Fitness First launched its new logo, new programs, and new innovations for their gyms worldwide.
Fitness First's New Logo
Simon Flint, CEO of Fitness First Asia, and Mark Ellis, Fitness First Philippines' Country Manager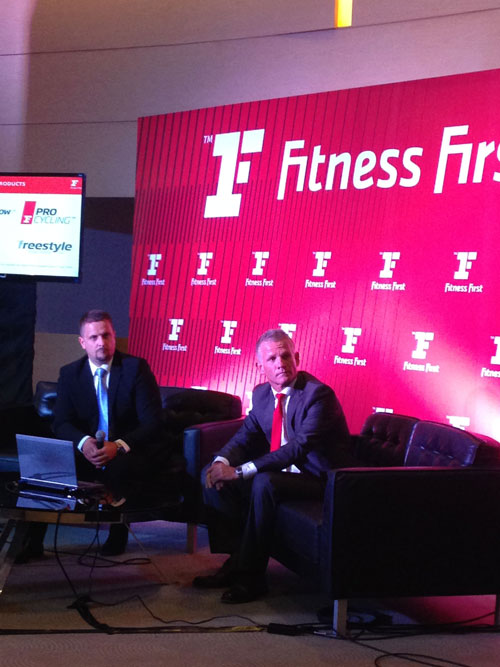 Fierce and fast triathlete friends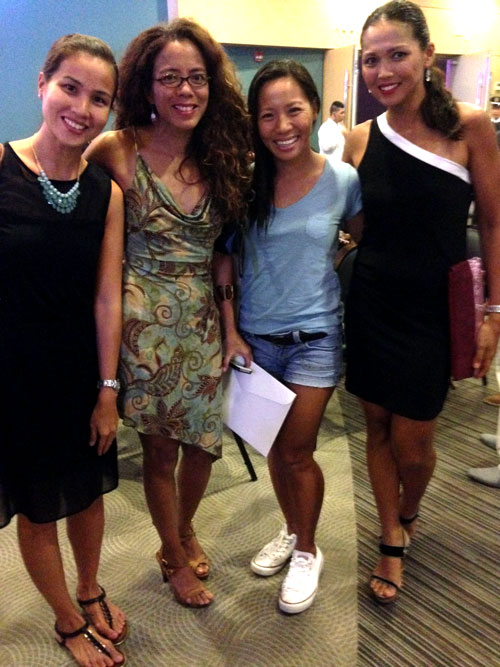 Simon Flint, CEO of Fitness First Asia talked about the new Fitness First Philosophy. The club aims to inspire and motivate people to work on their fitness by engaging and interacting with them through Fitness First's innovative new programs and expert trainers, and not just through exercising on the gym equipment. "With the new innovations of Fitness First, we help you go further in life with the right balance of training, healthy eating and inspiration. With us you can reach your personal best and achieve more than you thought possible. We provide you with fitness that suits your style and your life. And more importantly, we keep you moving forward," Flint explained.
Fitness First has built on the principles of behavioral psychology to radically change their gyms and create workouts that will help people stay motivated such as their four signature fitness programs that are delivered by highly skilled staff. These were showcased during the launch with exciting performances cum fitness demonstrations by Fitness First's professional trainers. The signature programs that are Fitness First proprietary products designed to produce maximum results in minimum time are Pro Cycling, Advance Flow Yoga, Freestyle Group Training, and Hardcore Maxx.
The company is also co-producing a first-of-its kind reality TV show called Fit for Fashion that will subject the contestants to Fitness First's innovative training programmes to help them get fitter and go further in life. The show will transform contestants into fit, stylish and confident individuals who will inspire and motivate viewers watching the show. A fashion show was one of the highlights of the night as Fitness First showed fit and confident individuals of different shapes and sizes who walked down the ramp.
As a fitting end to the night, the newest Fitness First Ambassador Ginebra Gin King and Gilas Pilipinas' renowned point guard L.A. Tenorio was introduced alongside members of the Fitness First Triathlon team who are advocates of fit, active and healthy living.
Fitness First Philippines Managing Director Mark Ellis said, "Fitness is a lifestyle choice. Ultimately, Fitness First wants to provide members with more than a box of equipment. We shaped our new staff training programme which includes expert instruction on how to motivate members. We want to provide them with the expert support they need via highly qualified fitness expertise, effective exercise programmes and a motivating workout environment. We believe that we can help people go further in life, and our teams are in the forefront of helping members push their limits to go further in life and inspire others to do the same."
Good job Fitness First!  Thank you for the complimentary day pass.  I shall use it for at least a day's respite from rickety old treaders LOL.