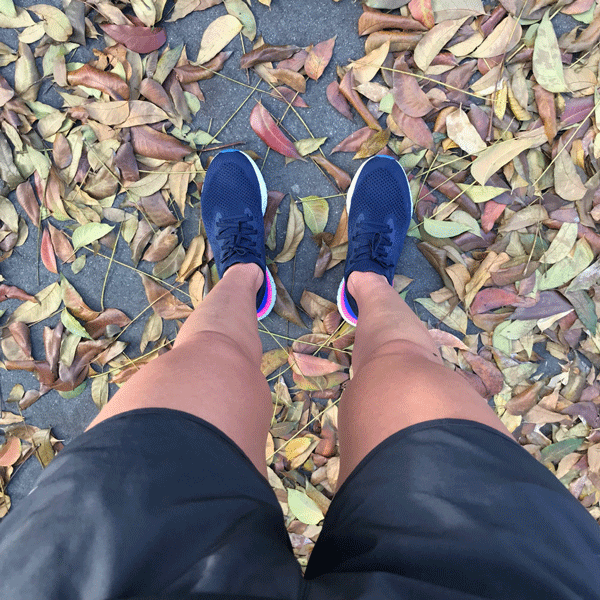 When I'm testing a great shoe, I usually can't stop myself from posting a great review as soon as I possibly can.  For the Nike Epic React, I was so busy training – and running in them as much as I could – that I apologize for the delay in posting; I didn't get to share with you how awesome I think they are (although I think you would've read the millions of reviews by now).  Despite the tardiness, here's my take on them. (Disclaimer: I speak so highly of them that you would think I got paid for this, but, nope, this is really my honest and unbiased opinion on the shoe.)
TECHNICAL SPECS:
Shoe type: Neutral cushioning
Heel to Toe drop: 10 mm
Weight: Men's (size 10) – 239 grams / 8.43 oz | Women's (size 7) – 233 grams / 6.2 oz
Price: Php 7,645
Whenever a shoe is released into the market with much fanfare and boasting of brand new technology, I always have one eyebrow raised. Running for over a decade and reviewing shoes for several years has taught me to always be wary of shoes that get everyone jumping on the bandwagon even if sometimes the shoes look like it came from another planet. Ugh… I truly hated it when everyone started going minimalist (remember, Vibrams?), then a few years later, everyone went maximalist with crazy thick midsoles. C'mon guys! When will we all learn that this is all marketing and experimenting with shoes usually lead to injury.
Anyway, I digress. When Nike came out with the Vaporfly, I was nonchalant. Of course, I was thrilled to watch the Breaking 2 effort of Eliud Kipchoge in his Nike Zoom Vaporfly Elite and I was over the moon watching Shalene Flanagan win the New York City Marathon in her Nike Zoom Vaporfly 4%, but I dunno the thick midsole of those shoes just didn't (and still don't) interest me at all.
Then, the new Nike Epic React appeared… with all the fanfare, and the social media hype, and non-stop comparison to adidas Ultraboost. I was hesistant… but it definitely piqued my curiosity.
Nike sent me a pair for road testing at the perfect time. Not only was I dying to test this shoe, I had also just recovered from my 3-month injury and was starting to build mileage and work on my speed again. I was ready to try out these babies.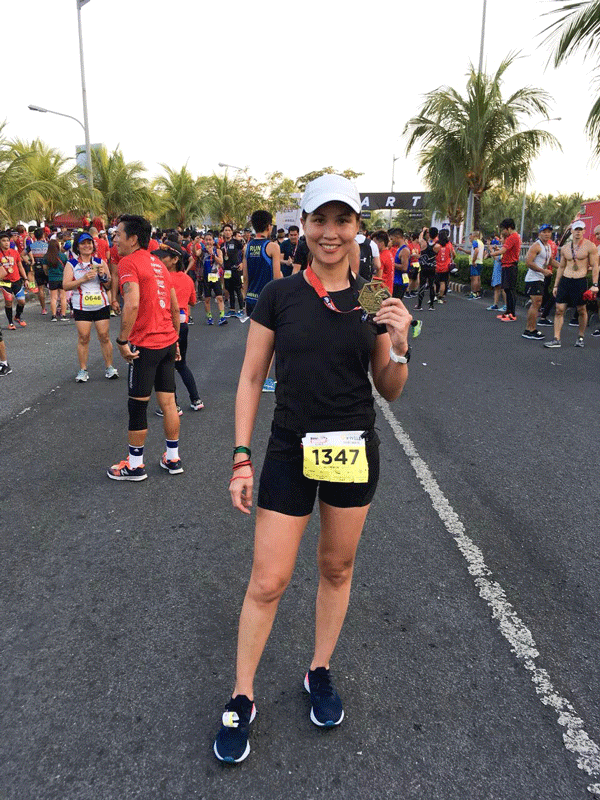 – Used the Nike Epic React at Pinoy Fitness Sub-1 Hour Race. I felt like I was flying! –
FEATURES:
The Nike Epic React Flyknit combines Nike React foam midsole with a Nike Flyknit upper to deliver a lightweight, soft yet responsive ride.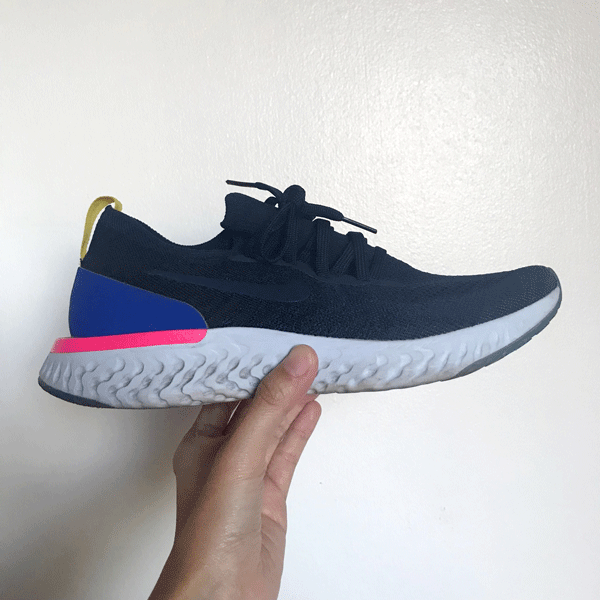 Nike React Foam cushioning is responsive and lightweight. React boasts of 13% more energy return and is more durable than Nike Lunarlon cushioning.
Flyknit upper results in a featherweight, formfitting and virtually seamless upper. With the bootie-style construction, the tongue is seamlessly part of the upper.
Foam outsole resists compression and keeps its shape
Heel shelf stabilizes the back of your foot to help keep your heel from rocking as your foot lands
Synthetic suede heel lining helps prevent slippage and blisters
Fits true to size for a snug fit
TBR REVIEW:
PROS
After running more than a dozen runs in my Nike Epic React, with my longest run at 16k in them, here's what I have to say: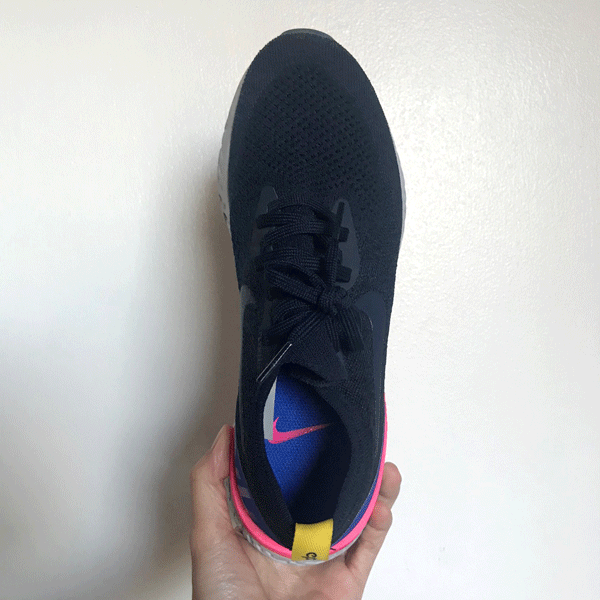 BEST NIKE SHOE EVER in my book! I used to be a big fan of Nike Lunar Glide and ran more than a couple of marathons in them. I had over 8 pairs of those shoes lol. My next fave was the Nike Zoom Structure. But, the Nike Epic React is the best Nike pair I've ever tried. I thought it wouldn't work for my flat-footed, overpronating foot with bunions.  But, since my injury, this is the only pair I can run with comfortably without the need for my customized insoles. Amazing.
The Nike Epic React fits snugly like a sock, just like other Flyknits, but this is the one shoe that I felt crazy comfortable in. I usually test a shoe first by walking around in the shoe store or at home and this one just felt right. It hugs your foot in all the right places, plus the Flyknit allowed for flexibility for my bunions and breathability during these hot summer days.
This shoe offers the right balance between cushioning and responsiveness. There's something about the new React foam that provides just the right amount of bounce along with the soft cushy feel. I can run strong and fast in these lightweight shoes while still feeling secure and stable since it felt close to the ground.
I usually have a shoe for interval and tempos and another shoe for long runs. While I'd say the Nike Epic React is more for the former, I was amazed that it held up (and felt very comfortable) even when I ran long and slow in them.
These shoes are great to look at. How often do you find running shoes that perform and are also "japorm" at the same time? Truth be told though, I cringe whenever I see people using this as a lifestyle shoe. It's such an amazing running shoe that I save mine for training and racing.  Using it for anything else is almost sacrilege.
I like the fact that Nike discussed durability this time since that's always been an issue with me when it came to Nike shoes. I always felt they wore out fast and I always needed at least 3 pairs leading up to a marathon. While I've owned this pair for less than 6 months and cannot attest to its durability just yet, I'm impressed with reviews saying there's no degradation on the running experience since React foam is more durable than Lunar foam. We shall see about this, but I'm hopeful!
CONS
Despite the comfort, I do get a weird blister underneath my big toe whenever I use my Nike Epic React. Thankfully, just a bandaid on the affected area prior to the run solves the problem.
Love the white outsole, but it looks old and dirty just after three uses.
TBR VERDICT
I love love love this shoe. This is, bar none, my favorite Nike shoe since I started running.