I wrote about Coach Andy Leuterio's successful Camp Alpha last month.  Now, he's opened up the summer edition for all triathletes who wish to suffer even more!  I've registered for the May camp on my birthday weekend!  Come and suffer with us!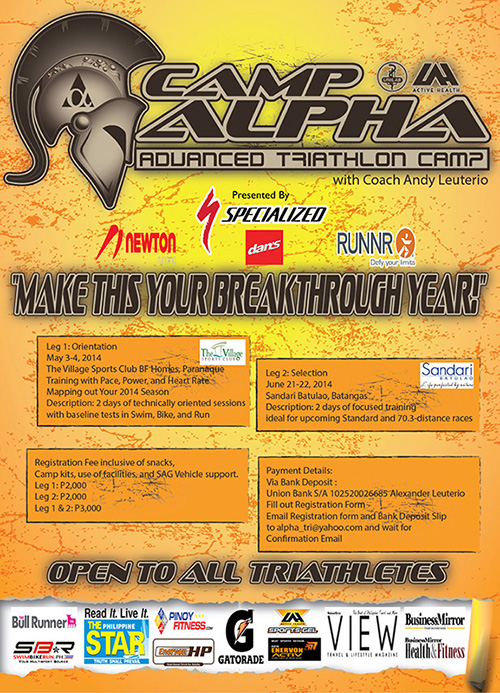 The next two legs of Unilab Active Health Camp Alpha will be on May 3-4 "Orientation" at The Village Sports Club, BF Homes, Paranaque, and June 21-22 "Selection" at Sandari Batulao, Batangas.
Presented by SPECIALIZED, each leg consists of two days of Swim, Bike, and Run training as preparation for summer's major races.
The first leg, "Orientation" will cover fundamental aspects of race-specific training, including familiarization with metrics like Heart Rate, Pace, Power, Training Stress Score, and Race File analysis, among others.
The second leg, "Selection", will be much heavier in volume and intensity in anticipation of the long distance races slated for July and August.
Both legs can be joined as standalone training camps, but for those who wish to "tri out" for limited "Black" slots under the Alpha Training Systems online coaching program, they must join both legs. Invitation to a "Black" slot will be based on several tests from both legs.
Registration Fee is P2,000/leg, or P3,000 for both, inclusive of limited use of camp facilities (pool and lockers), lunch, bike mechanic on standby, SAG Wagon support, handouts, and event shirt. Gatorade is the Official Sports Drink of the Unilab Active Health Camp Alpha.
HOW TO REGISTER
To register, download and fill up the Registration Form, indicating which Leg(s) you wish to join.  UPDATE: Slots are full.  Registration is closed.
Registration is on a first-come-first-served basis only.