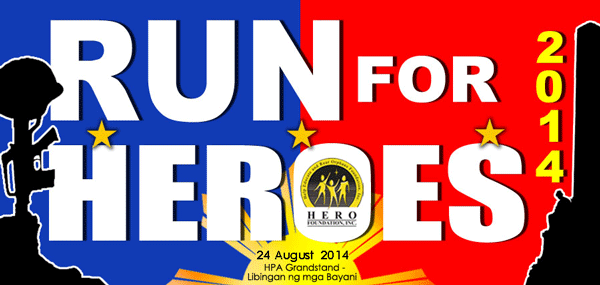 August 25 is National Heroes Day in the Philippines.  It is a national public holiday, held every last Monday of August, to honor and remember the country's National heroes, men and women in Philippine history whose acts of courage enabled the Philippines to grow as a nation. Our known national heroes are:  Jose Rizal, Andres Bonifacio,Emilio Aguinaldo, Apolinario Mabini, Marcelo H. del Pilar, Sultan Dipatuan Kudarat, Juan Luna, Melchora Aquino, Gabriela Silang.
During National Heroes Day, honor and salute are also given to those unknown heroes whose lives were given up for our peace and democracy.  Although there are commemorations and parades and wreath laying at shrines, etc., many of our youth no longer appreciate or know the significance of this day. Hence, HERO Foundation, through its upcoming activities, in cooperation with the Armed Forces of the Philippines, hopes to draw attention back to the importance of this day, to celebrate, with gratitude, for all our heroes.
This 2014, HERO (Help Educate and Rear Orphans) Foundation, Inc. (HERO),  a private NGO, together with the support of the AFP,  will stage a fun run on Aug 24 (Sun) called "Run for Heroes, 2014" to start and end at the grandstand of the Phil Army. There will be a 3k, 5k, 10k run where runners get to run solemnly around the Libingan ng mga Bayani to pay homage and respect to our heroes who sacrificed their lives for us.
What sets this run apart from all other runs is that each runner may choose to run in honor of their chosen hero. Runners will write the name of their hero on the bib – may be their father, son, husband or a soldier's fallen comrade or it may simply the name of their HERO's name. We have many soldiers who will also run to honor their fallen comrades, relatives and friends who had gone before them. This is the first time something of this sort will be done in the country.
I'm an ambassador of Hero Foundation and I do hope you can make it to support our orphaned children!
HERO will also have Saludo : a concert for heroes, 2014 at the Activity center of Market!Market! Taguig City, on Aug 23 (Sat) from 2-9PM.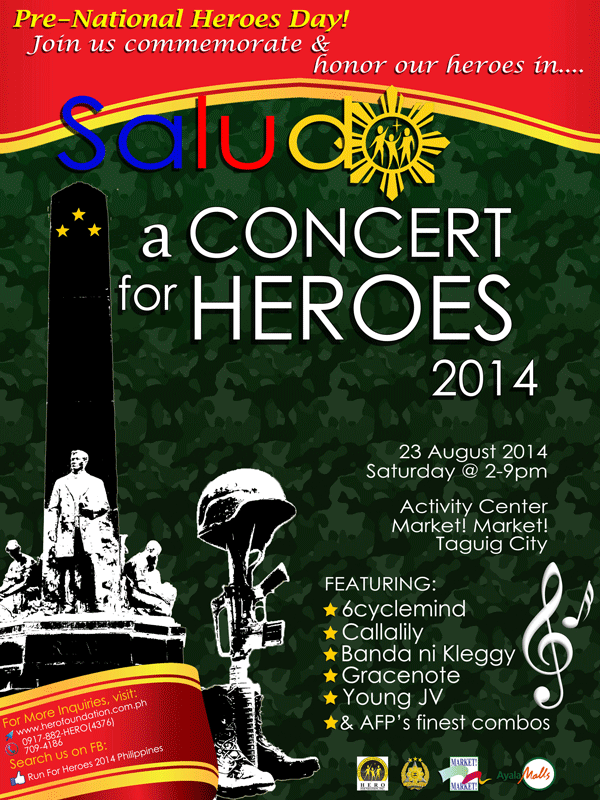 ABOUT HERO FOUNDATION
HERO Foundation, Inc. was established 26 years ago on August 24, 2014 by the late president Corazon C. Aquino with her then AFP's Chief of Staff, Gen. Renato de Villa and country's top business leaders led by Don Jaime Zobel de Ayala, to provide educational assistance to children of our fallen (KIA) or incapacitated soldiers (WIA) due to enemy action or disaster and rescue operations. HERO has helped 2496 scholars since 1988, graduated 989 and is currently supporting 700 scholars from elementary, high school, college nationwide. And as long as there is conflict, there will also be military orphans to support.
HOW TO REGISTER
Proceeds from the run will be for the benefit of the HERO Foundation, Inc.
Registration can be done during the concert or online.
To register online:
Go to: Run for Heroes 2014 FB fanpage. Then, click More Information, then click Register.
Or go to:
Phil Army Wellness Center, Fort Bonifacio, Taguig City
Phil Navy, Fort Bonifacio, Taguig City
Phil Air Force Gym, Villamor Airbase, Pasay City
AFP Wellness Center in Camp Aguinaldo, Quezon City
HERO Foundation, Inc  — 2/F AFP-GIC Bldg. EDSA cor. Col. B. Serrano Ave. Quezon City
MORE INFO:
For more info, Pls. visit www.herofoundation.com.ph or search for Run for Heroes 2014 Philippines.
HERO Foundation: Michelle S. Chan/ Director for Marketing and Resource Mobilization or Bernadette R. Palo / Marketing and Resource Mobilization Officer
Civil Relations Service, AFP: MAJ CYRIL A SANTANDER, CPT GENESIS R GABRIDO
Facebook Page: Hero Foundation Inc.
Instagram/Twitter: @HERO_Phils.
Email addy: runforheroes2014@gmail.com
Contact: 0917-822HERO(4376)