I joined the Unilab Active Health Camp Alpha Advanced Triathlon Camp last weekend, May 3 & 4, at The Village Sports Club.  I had mixed emotions about this camp: I wasn't too thrilled about all the suffering (past participants jokingly call it "Cramp Alpha"…gulp!), but, at the same time, I looked forward to double or even triple workouts over the weekend and pushing my body hard again.  With Tri United 2 coming up, I felt I needed something to jolt me back into bricks and dual workouts.
Camp Alpha is led by my triathlon coach, Coach Andy Leuterio, and assisted by Keshia Fule for the bike sessions.  The swim coach is Martin Carandang, my swim coach way back in 2012. He basically got me from being a newbie to finishing IM 70.3 Cebu 2012 without drowning.  Needless to say, I was quite familiar with their coaching styles and, more importantly, happy with the way they supervised us throughout the camp.  The coaches provided the right amount of guidance, not too basic nor theoretical, and generously shared more practice tips for triathlon training and racing.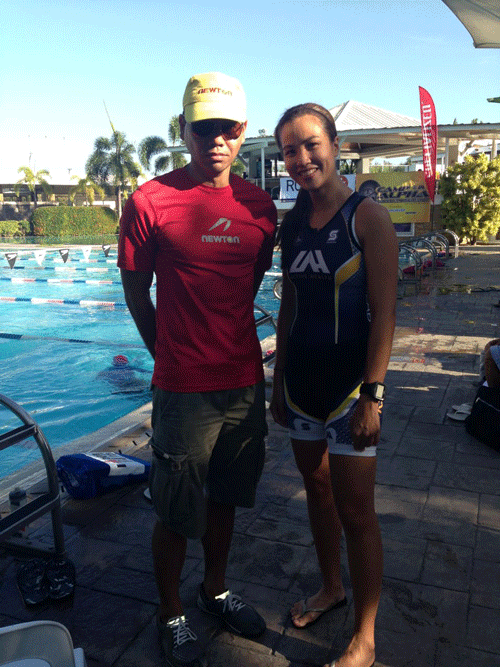 with Coach Andy. Scary eh?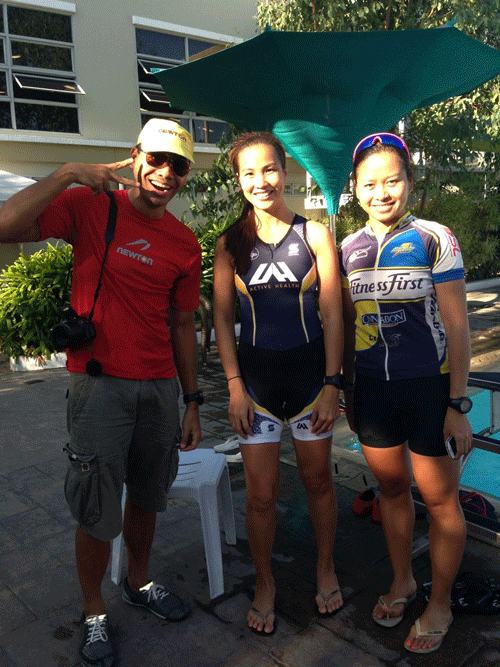 Good thing Coach Andy smiles one day a year. This was it. Here we are with Keshia and my parrot hair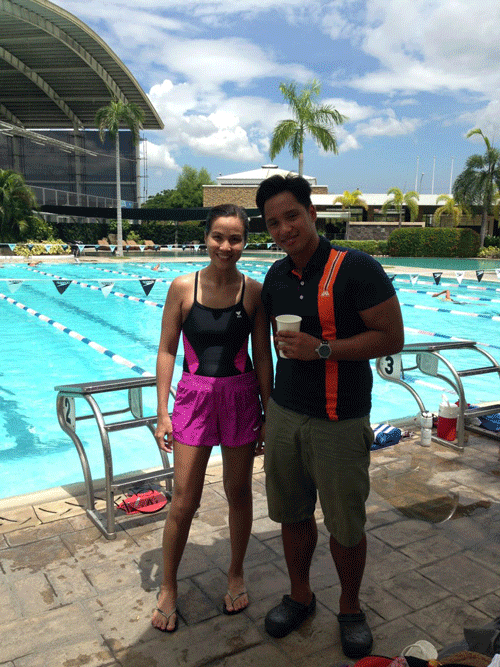 with Coach Martin for swim
The sessions at Camp Alpha were mostly speed sessions and some aerobic activity with a couple hours of classroom sessions for both days.  It was a good mix so that participants were able to maximize the camp in just two days.
Participants were all advanced and experienced triathletes.  Before the event, Coach Andy divided the participants into two groups, Group A and Group B, and emailed the schedule of activities for the weekend.  It was a great way to manage the different fitness levels of the participants and ensure that each one got adequate attention.
Here are photos of the camp for Day One and Two:
DAY ONE:
1) Swim with Coach Martin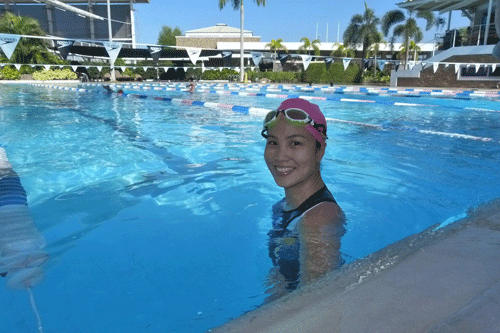 Photo by Coach Andy
2) Run Intervals (my fave!)
3) Practical tips on the bike (flying dismount, flat tire assembly/disassembly, and bottle pick ups)
4) Lecture
DAY TWO:
1) 20k Time Trial in Daang Reyna
2) Aerobic Swim
3) Lecture
What a weekend!  I suffered, survived, had quite a bit of fun, made a few new triathlon friends, learned advanced triathlon tips during the lectures, and, best of all, I lost 2 lbs. in the process! If you're an advanced triathlete looking to improve your performance for an upcoming race or eager to pick up new expert triathlon tips, you may consider joining the next Camp Alpha.
The next leg of the Unilab Active Health Camp Alpha will be on June 20-21, 2014. Presented by SPECIALIZED and sponsored by Newton Running and RUNNR, the camp is open to all triathletes who would like to make 2014 their breakthrough year. Inquiries can be sent to Coach Andy at alpha_tri@yahoo.com .