In one of our previous contests, I posed this question to runners:
What is the single most important gift that running has given you?
The answers were so varied, from improved health to self-respect, yet all with equal and significant importance.  Isn't running just so amazing?!
This little exercise reminded me to be thankful for the gift of running (especially in this heat when every single step is like 10x the effort…grrr!).  You are blessed to be able to run.  Don't forget that!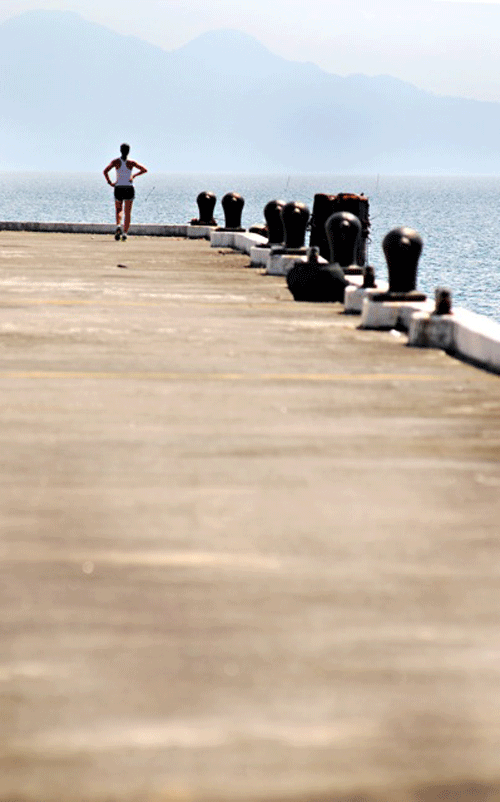 Photo: Levi Lacandula
Sharing with you the great answers from the contest.  Thanks to everyone who sent them in!
Matet Magpantay
The most important gift that running has given me is the life full of motivation that I CAN do everything.
Linno Carlo
Running has taught me to be more patient in every challenges that comes my way.
Rina Galzote
Running gave me that positive outlook in life to be ready for anything knowing that pushing ourselves to the limits of what we think we can do is so much more rewarding.
Russell David
I never thought that running would bring back the confidence within myself because every time I'm facing challenges, my heart speak-up and always said "Nothing beats my willingness to win the race of life!"
Chek
Running made me stay healthy and introduced me to people which I can also call my 2nd family.
Joan Victoria
Runnining resuscitates every delibitated chakra within myself.
John Paul Lipardo
Running teach and gave me Indefinite Resolve!
Engels Precillas
A new perspective in life, that we should not be bound by limits if we want to be victorious in every step we take to a never ending road called life.
June Real
The single, most important gift that running has given to me is the gift of feeling alive and strong.
Joseph Nebrida
My first dead toenail was the most important gift that running had given me, it marked my entry to the 1% of the population (I am a marathoner).
Doty D.
There are three words to remember how running changed my perspective in life–Do Not Quit.
Mildred P. Jocano-Tormes
Running has given me a new definition of strength – it is the the ability to overcome any challenge with the hope that victory is waiting for me.
Marriz Agbon
A second life.
Jah Villa Santander
The single most important gift that running has given me is the true friends I've made and the people I've come across with who all share the same passion as I do.
disquskraft31
It has given me the confidence that in whatever I do, I can go beyond my limits – to go outside my comfort zone, overcoming big goals by small, but strategic steps.
Cente Man
The single most important gift that running has given me is the incomparable feeling of satisfaction, relief and excitement after finishing a run.
Des Oquendo
Passion is the right word that gift of running has thought me, if you put your mind and heart on running everything will follow.
Calvin Lester M. Leorna
Running taught me the value of being courageous to take on life's challenges, regardless of the outcome, instead of running away from them.
Charles
Friends and more friends…
Rae
Running's apparent solitude gives me and my husband a deeper intimacy that surely strengthens our marriage.
Yvonne Urbina
The most important gift that running has given to me is that running teaches me how to live a healthy lifestyle and be the best version of me.
Macky
The most important that running has given me is an exciting and healthy opportunity to make a difference in the lives of others.
Jharo Villaruel
To become physically fit and have a healthy lifestyle.
zhiella1
The most important gift that running has given me is the ability to start a small community with the sole desire to stay fit and healthy while having fun.
Joy Cerame
RUNNING gave me the truest friends i could ever be with,no faking or anything we're just united with our passion for running and for that i would always be thankful for.
Maan Hamis
Perseverance & Self Confidence.  I'm 44 yo and was able to finish strong in my 1st 21K. I used to think that people running at 10K are such a jerk but cant believe I, myself are now running 21K.
Odie S. Cacho
Running has given me strength of heart and character.
Goldy dela Cruz
Running let me discover the beauty of life that God had given me.
Colleen De Guzman
Perseverance to finish strong, as never in my mind have I thought I would be able to run 21K continuously (now wanting to join TBR2015) from a feels-like-forever-to-finish 5K before, and (perseverance) to become a better version of myself.
Allan Gregor Bulos
Running has given me self-respect.
Dennis De Castro
Running helps me realize the greater appreciation of life.
Yñiguez Yoel Uy
Life – the further appreciation of being alive, and doing and being the most that I can for myself, family, loved ones, friends, and strangers while I'm alive.
Val
Running constantly feeds and satisfies my competitive edge, against other runners, the clock, and especially myself!
Mike Janeo
The opportunity and privilege to bless others through running, by helping them in their journey towards reaching their goal of finishing a marathon.
Mark Cayetano
Endless supply of difficult but fun challenges to look forward to
Deanna
The greatest gift running has given me is the camaraderie of the running community.
Cheryl Golangco
Confidence. Running has made me believe that I can do anything I set my mind to. Practice, training and discipline are all I need.
Joe R. Soledad
Self-assurance, running has given me more confidence in myself.
Dennis P. Mascardo
Humility.
cflchoa
For the past 8 yrs I've been tied up with my kids and my work… Running has been the only thing that was able to make me leave them!!
Cyn David Icasas
There are so many wonderful things that running has given me — discipline, health, fun, friends, achievement and a few awesome medals.
But the single most important one is time with my hubby, where it's just me and him and the distance we want to run. We've watched more sunrises and sunsets together since we started running together, and I would never replace those moments for anything.
Jhunie Oro
To believed in myself that I can do what I think is impossible before.
Joshua Felix Tadena
Being an offspring from both parents having hereditary diseases, running gives me a chance to live a healthy life and keeps me confident that I will not acquire those ever.
Clarissa Rebulanan Almeida
As a diabetic, the single most important gift that running has given me is a healthy lifestyle. 🙂
Gabriel Felix
I started running to get in shape and be healthy, BUT I kept going because I found myself and a renewed passion for life.
Marvin Tiu
I earned Respect.
Rena Loves the Queencity
The best gift that running gave to me is teaching me to celebrate life everyday and face it with fearlessness.
Jun Buensuceso
running has given me a healthier lifestyle
Sherwin Tiglao
Running made me realize that things i thought i could never accomplish in life, i can and i will with perseverance, focus, determination and a good pair of running shoes. Hehe 🙂
Snailrunner
Running gave me more confidence that I can complete tasks and finish what I started, and because I am ready for anything I am traveling to Wisconsin to pursue additional training in my chosen field in medicine and running my first international Half Mary in Marathon City.