Over 10,000 runners participated in 2014 Run United 2 yesterday. I joined the 21k.
For the first time, Run United started at Km 0 in Luneta instead of SM Mall of Asia where the past year's races had started. The change made for a more unique experience as no other race has done this. It was awesome for runners to see the Rizal Monument at the starting line. If Run United Philippine Marathon starts here, it would definitely be more meaningful.
The downside of this change was the inconvenience of having to travel this far and brave the traffic just to get to the starting line. Not to mention we had to do it in the wee hours of the morning as race start was 4:00 AM. No thanks to you, Heat!
We arrived at the assembly area at 3:30 AM which was pretty well organized. I liked this ambiance more than MOA. No long lines at the potty since there were quite a number of portalets. As we waited for the race to start, the crowd was controlled and quite disciplined. As always for Run United races, the race started on time.
When the gun went off, I bid my friends goodbye, put my Yurbuds on, and focused on my race. I planned on racing this fast. I knew I wouldn't break my half marathon PR, but I hoped to at least run this at sub-2 hours. At the back of my mind though, I had my doubts. The longest I had run was 16k in the past few months so I lacked training, but I thought I might as well give it a shot. Good luck to me LOL.
The out and back course through flat roads and just a couple of flyovers was fantastic! Wide roads except for a few crowded areas due to road work, no sharp turns except for the major turnarounds, and the climbs at the flyover weren't bad at all as they allowed the legs to take a break from the flat course. Hydration, kilometer markers, and marshals were plentiful. I loved it. It was a PR course!
But, for me, not a PR day haha! I was fine for the first 15k then, suddenly, I hit the wall. The last 5k was dreadful! There's no one else to blame but myself. I hadn't trained for the 21k properly and one just doesn't wing a half marathon.
The humidity made race conditions even more challenging. I think, by now, we all know how doubly difficult it is to run under this crazy summer heat. The best race organisers can do is make race start early so most runners finish before the sun rears its ugly head.
A friend, Bea, mentioned on Facebook that too many runners would stop abruptly during the race unmindful of the runners behind them. She experienced this at 10k and I also did at 21k. It's an issue that isn't just for Run United or even the Philippines. It's common in races abroad as well. When I ran a half marathon in Laguna Phuket International Marathon, a foreigner yelled at me as I slowed down at the side of the road.  I yelled back: "As$H@%!"  Tell me, what kind of runner yells at fellow runners this way?  Aren't we all supposed to have fun?  Is your PR so important you lose your manners?  The key is for local race organizers to inform runners, especially beginners, about proper race etiquette.  This is more of a problem on proper education for runners rather than manners. (I'll do the same at TBR Dream Marathon from now on.)  Runners who walk or slow down should move to the side of the road to avoid blocking faster runners. As for experienced runners, you should NOT yell at the runners nor embarrass them. Sure, I cursed to myself when I almost tumbled over a runner last Sunday who stopped right in front of me, but I didn't pick a fight with him. As an experienced runner, you should practice proper etiquette yourself.
I crossed the finish line at around 2:12 disappointed with my bad time, but I took this all in stride. I think I've reached a point in my life where I love the benefits of running and triathlon, but I never allow it to affect my life negatively. At the end of the day, I run for fun. Why cry over missed PRs? Just train harder and crush it next time.
Congratulations to Unilab Active Health and Runrio for a fantastic race!
Ton, Lit, and I didn't break our PRs that day but we laughed it off over breakfast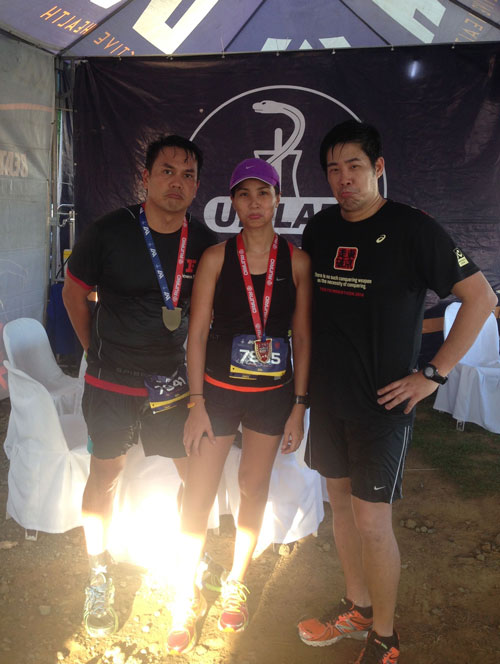 Bounce back before laspag attacks!  I took my Enervon HP after the race.  You should too.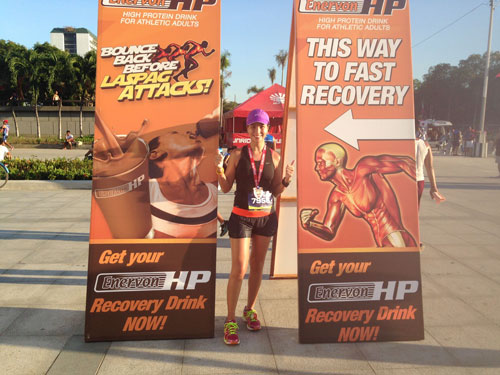 With teammates Ani and birthday boy Dan Brown and Ting Joson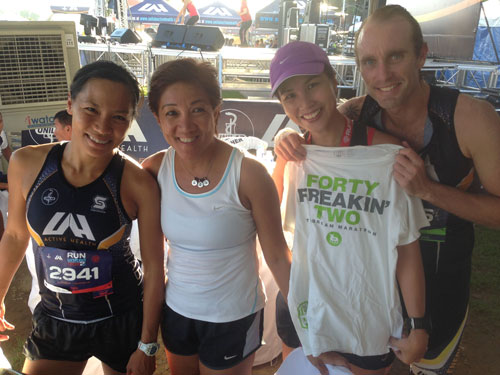 with these fierce and fast triathletes from Fitness First: Ton, Doray and Mark Ellis, Keshia, and Belle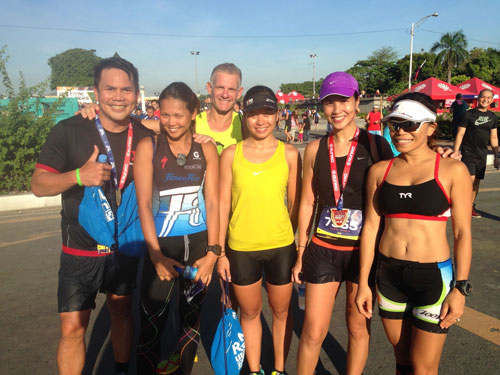 with strong triathletes Reujen and Lala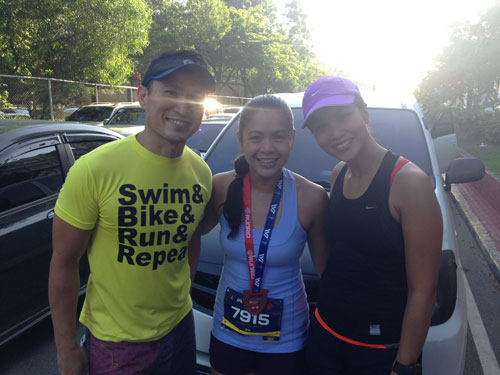 My car was parked on this road turned parking lot.  We couldn't leave the race.  Thank God for Starbucks!