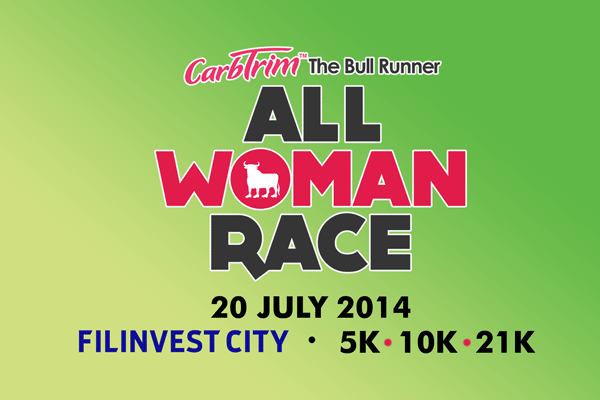 Dear Carbtrim – TBR All Woman Race Participants,
First thing's first, we would like to assure you that we are pushing through with the Carbtrim – The Bull Runner All Woman Race on July 20, 2014, Sunday, at Spectrum Midway (near Filinvest Tent) at Filinvest City.
As you know, Typhoon Glenda wreaked havoc on most of Metro Manila, not excluding our race venue, Filinvest City in Alabang, Muntinlupa. A large number of once strong and beautiful trees that lined the roads of Filinvest City had been torn apart or uprooted. As of now, there's also rolling brownouts in the area and Meralco cannot give us assurance as of yet regarding electricity on race day.
We worked very hard to ensure that we push through with the event while simultaneously ensuring everyone's safety. First, Filinvest has assured us that all the roads included in the race course will be cleared of trees by race day. We extend our gratitude to Filinvest for working long days and nights since Wednesday, despite the other concerns they have to attend to resulting from the typhoon, to remove major roadblocks and clear roads for our race. Secondly, we will have a generator as back up to ensure we have electricity during the event. Third, we will have marshals and roving medics for any emergencies.
Having said that, we would like to request for your kind understanding and also extra vigilance during the race. We have prepared a list of precautionary measures for everyone's awareness and safety:
Watch your step. It may be common sense for us to say this, but we just want you to be extra careful while running. While Filinvest will clear the roads of trees and large branches, there may be debris on the road that you may trip on or cause you to slip.
Watch out. There may be hanging branches from trees that may fall, especially if it's a windy day. Just be extra cautious.
For the 21k runners, bring flashlights or headlamps for back up. Just in case there is no electricity, there may be areas without lamps to light your path before the sun comes out.
Thank you for understanding. Rest assured that we have taken extra measures to ensure that you have a pleasant and fun experience despite the devastation from Typhoon Glenda. No storm nor obstacles can stop women from running, right?! Girls rock! We look forward to seeing you all on race day!
Gotta Run,
Jaymie Pizarro
The Bull Runner