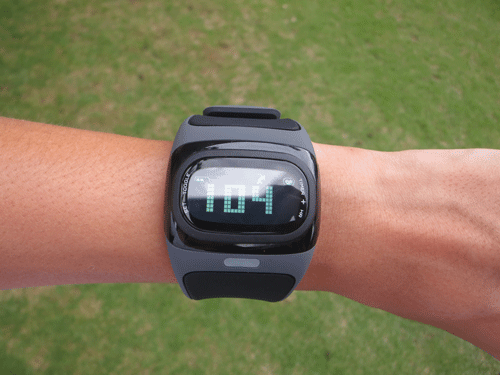 The Mio Alpha arrived at my home in a simple, inconspicuous black box with an image of the watch on it.  To be honest with you, I had never heard of this watch so I wasn't particularly excited about it, but one line completely changed all that for me.  One panel of the box read: "The world's first performance level, strapless continuous heart rate sport watch!"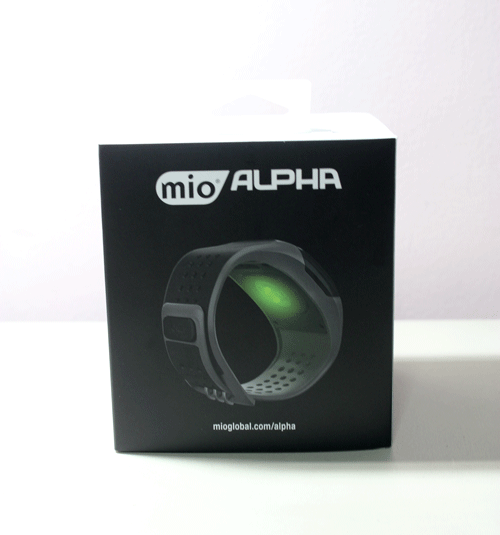 Strapless!  After giving up on monitoring my heart rate during workouts because of the discomfort of strapping on these monitors around my chest, the thought of a strapless monitor on my wrist was thrilling.
I unboxed my black Mio Alpha and completely loved its look.  I used the watch for over 5 workouts already and I continue to do so.  Here are my thoughts on the Mio Alpha:
[ LIKES ]
+ Continuous and accurate heart rate monitor.  The heart rate monitor offered what seemed to me as accurate results and a real time tracking of my training intensity.  It never lost contact with my pulse or skipped a beat (no pun intended).  Mio Alpha compares its Mio Continuous Technology to ECG and chest strap solutions and says it has tested accurate at performance speeds.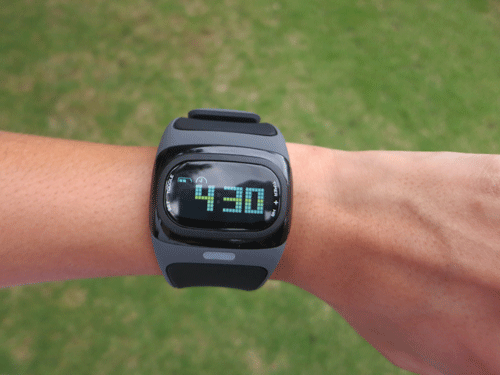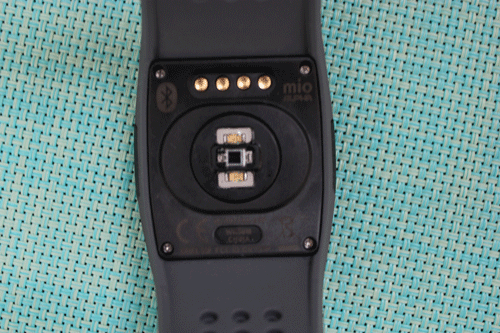 + Strapless.  Say goodbye to uncomfortable chest straps that slip or cause chafing during training or worse during a race.  Mio Alpha developed their technology with Philips.  Performance level continuous optical heart rate sensors measure your heartbeat in real-time using two green LEDs and an electro-optical cell integrated into the back plate of the watch.
+ You can customize the watch by inputting your heart rate zones.
+ Pairs with some fitness apps and devices (such as your iphone, Garmin, etc.) via Bluetooth® Smart (4.0).  Click HERE for a list of products the Mio Alpha is compatible with.
+ Snug and comfortable fit.  The soft silicone wrist strap is one of the most comfortable watch straps I've ever worn.  It wraps around your wrist perfectly and leaves no extra space that make it uncomfortable while working out.  It comes in 1 size but fits wrist sizes 5.7"-7.8".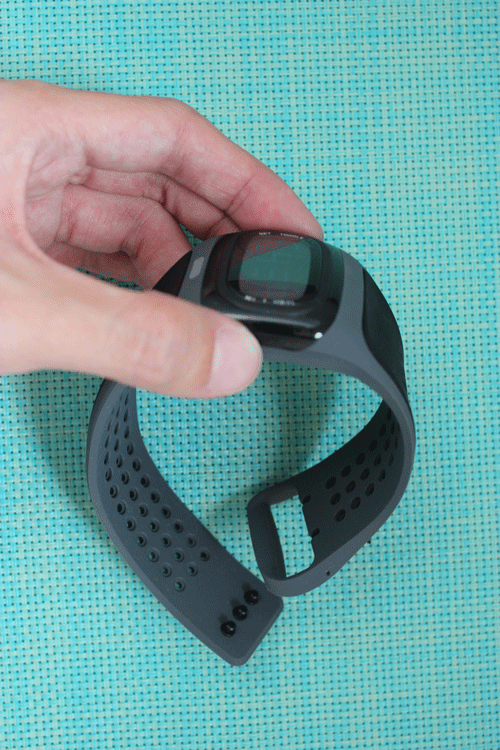 + Clear mineral glass display.  This display is easy to read even while running. It shows time, exact heart rate, & exercise timer
+ Attractive.  The watch looks sleek and cool. Not too chunky and not too small either.  It looks good for both a male or female to wear.
+ USB Charging.  The watch can be charged via USB connected to the computer.
+ Battery life is pretty good.  On exercise mode, it will last from 8 to 10 hours.
+ Water resistant up to 30m depths.  You can use the watch while swimming.  Just don't press the buttons underwater!
[ DISLIKES ]
+ Not user friendly.  I'm a bit spoiled.  I like products that one can use without downloading lengthy user manuals.  I immediately figured out how to monitor my heart rate within a few minutes of opening the box.  But, it took me further study to figure out how to save my data and to learn about the other features of a watch.
+ Limited function for runners/triathletes.  It's probably one of the most convenient ways to monitor your heart rate.  But, I wonder if athletes like me, who use other sports watches to track distance and pace, are willing to run with only the Mio Alpha or wear two watches at a time?
+ Buttons are difficult to press.  The hidden buttons make the watch look sleek and handsome, but these are quite difficult to push.  Even a bit tougher when you're bouncing up and down during a run.
[ TBR VERDICT ]
I love this watch for monitoring my heart rate without the discomfort of a chest strap.  It provides accurate data and it looks awesome too.  I use my Alpha Mio when I workout at the gym or during yoga and occasionally when I run.  I highly recommend it for fitness enthusiasts and athletes who monitor their heart rate.
As for runners, if you don't mind wearing this watch on one wrist and your Garmin, Timex, Suunto, or Polar on the other wrist, then go for it.  Don't laugh but I've done this quite a number of times because I'd rather wear this comfy watch than the annoying strap on my chest.
[ WHERE TO BUY ]
Mio Alpha is available at Chris Sports, SecondWind Running Store, Bike King, Altera, and One Life Studio.
Price: Php 8,888.00
Social Media:
FB: Mio Watch Philippines
IG: mioph (miowatch)
* The product was given to TBR at no cost for review.  The gear review was fair and unbiased and was in no way influenced by the supplier.