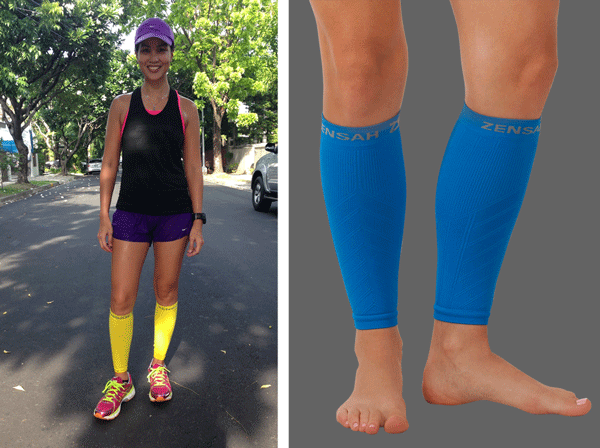 Compression technology is still a bit controversial. Some say it works, some think its benefits are all in the mind. As for me, I've tried quite a number of brands and I'm a huge believer in compression technology.  Now, if that's all hallucination, I'm not quite sure because I can be quite cray at times LOL!  Kidding aside.  Compression works wonders for me.  I use them for training runs above 15k, occasionally for races, never ever leave home without them for a marathon since I use them during the marathon and after for quicker recovery.  For races abroad, I even wear calf sleeves on the flight home to aid with blood circulation.
I have quite a number of compression brands in my treasure trove of running gear, but I've never tried Zensah Compression.  Last month, Zensah sent over quite a number of their products to test and, upon seeing all the bright colors in their product line, I was the most willing road tester (as evidenced in the photo above! Heehee)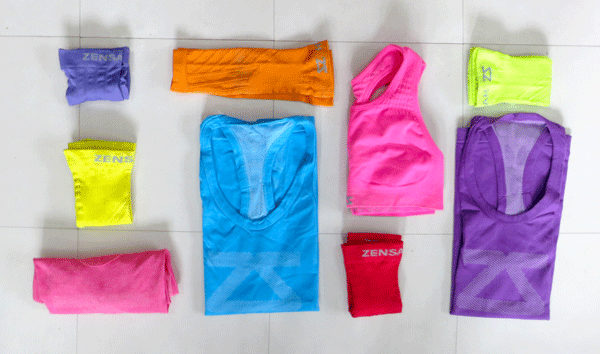 During the road test, I wore the Zensah top, sports bra and calf sleeves–all at once!  What can I say?! It added a lot of color to my run that day.  I felt like a runner in Harajuku, Tokyo!  Zensah sent over arm sleeves and compression socks too, but I'll save those for other runs.  I can't wear compression socks yet because I'm paranoid over the return of my nasty Morton's Neuroma.  It's currently too hot to run with compression arm sleeves so I'll test those on a bike ride or Chicago Marathon.  I've worn all the items more than a couple of times already on other runs.  Here's what I thought about Zensah Compression products:
[ LIKES ]
+ The best fabric.  The one thing that makes Zensah stand out above the competition is its fabric.  The material is ultra soft, comfortable, and stretchy.  It's almost like a cross between lycra and Nike's new knit technology.  Other compression materials just don't compare.  Even during the run, I was raving about the fabric.  I particularly adored the top and calf sleeves.  Love love love.
+ Seamless.  All their products, from the calf socks to the tops, are seamless.  No painful chafing at all.
+ Bright and funky colors.  The colors in their line are vibrant and fun. Nowadays, it can get kinda boring when you're always wearing the basic colors.  Adding a little more hues to your attire can actually make a difference in the mood of your run.
+ It works!  Zensah helps improve circulation, delays fatigue, and aids in recovery after the workout or race.  How do I know? I just felt like I had fresh legs even after tough runs.
[ DISLIKES ]
+ Slightly heavy when soaked.  They say the fabric is moisture wicking, but I've noticed that I'm a little bit more soaked in sweat wearing Zensah sports bras and tops compared to other dri fit materials.  I'll probably use this for shorter runs below 21k.  As for the calf sleeves, I haven't tested them in runs above 21k.
+ No pads in sports bras.  Okay, this may not be a problem for other "lucky" women, but it is a huge issue for me and many other Asian women!  As a solution, Zensah told me other women wear double sports bras.  Layered look!  Love it! Haha
[ TBR VERDICT ]
The super soft, comfy fabric and funky colors of Zensah products have made me a huge fan!  I particularly love the Zensah tops and calf sleeves.  I would recommend it to runners or athletes who wish to obtain the benefits of compression technology while looking great and feeling comfortable.  Since its moisture wicking capabilities is an issue for me, I prefer to use the top, sports bras, and calf sleeves for runs below 21k.  I'm willing to use them for longer runs in cooler climates.
[ PRODUCT DETAILS ]
Zensah products are now available in Runnr (Fort, Trinoma, Alabang Town Center), Planet Sports (Glorietta, Rockwell, Shangrila, Alabang Town Center, Trinoma), R.O.X. (BGC), The Athletes Foot (Two Parkade, BGC)
Below are the features of Zensah: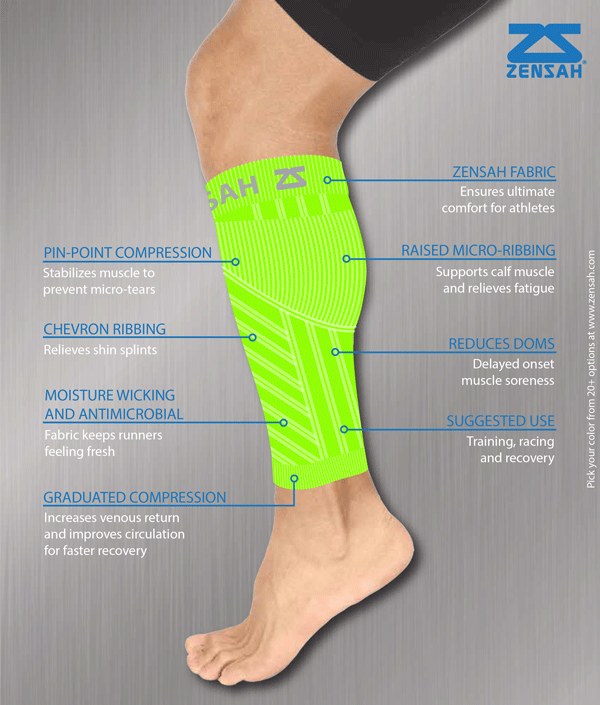 * DISCLOSURE: The product was given to TBR at no cost for review. The gear review was fair and unbiased and was in no way influenced by the supplier.