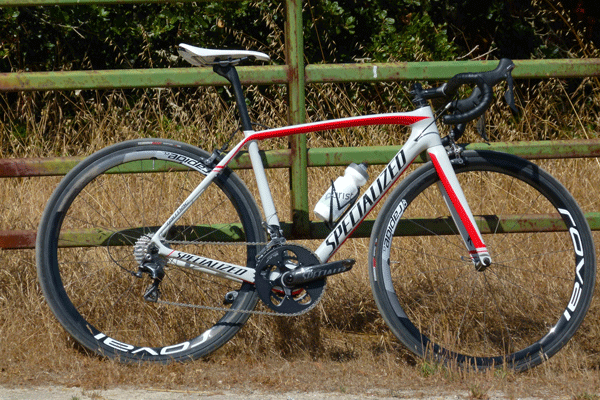 NOTE:  This is a guest entry by Coach Andy Leuterio who just arrived from dreamy Monterey, California for the annual Specialized Product Launch.  Just by reading this article you know that he's still on Cloud 9.  For all you biker dudes out there, this one's for you.  Read and drool…
I'm sure you have a fair idea how the Law of Attraction works. Stay near the things you like the most and chances are you'll get more of the good stuff flowing your way sooner or later. Well, when I was a kid my most treasured possession was a BMX. I rode it everyday through rain or shine, through sidewalks and up neighbors' lawns until my dear Lola – bless her sweet, cranky soul – screamed at me to go home in time for the 6'o clock Angelus. My first purchase a few days after I quit my first corporate job (what an accomplishment!) was a "Kona" mountain bike from the corner bike shop. Full suspension, yessiree. I paid a princely sum of P3,700 and wondered why the hell I couldn't find my particular bike on the Kona website. Then I wondered why the shifters wouldn't shift, why the brakes were so fiddly, and why I kept getting flats. I also wondered why the local cyclists were giving me funny looks whenever I'd do laps on their favorite hunting grounds: the local memorial park. After how many upgrades on that turd, I got my first, genuine, branded bike: an aluminum road bike with a carbon fiber fork and seatstays that saw me through several treasured podium finishes.
These days, as you may well know, I ride for Specialized. Though I will never have the wattage of Grand Tour winners like Alberto Contador or Vincenzo Nibali, much less the palmares of Ironman World Champions like Craig Alexander or Peter Reid, it makes me extremely happy to be able to ride the same bikes they do. On a good day, up a steep hill and under the heat of the sun, I believe I am a certified badass on my Venge as I drop my buddies for the mythical finish line just before the sari-sari store. On blah days, I have to believe that powering through the headwinds on my Shiv will take me to an Age Group podium like it has for Jordan Rapp. When I look at my bikes, I see freedom and speed and single digit body fat percentages.
And if you're a bike dork like me, July is Christmas because this is the time of year when Specialized invites dealers from all over the world to their annual Product Launch. Yes, you fly across the ocean, enduring hours in a flying steel tube, for the chance to be among the first to try out the best and latest from the Big S.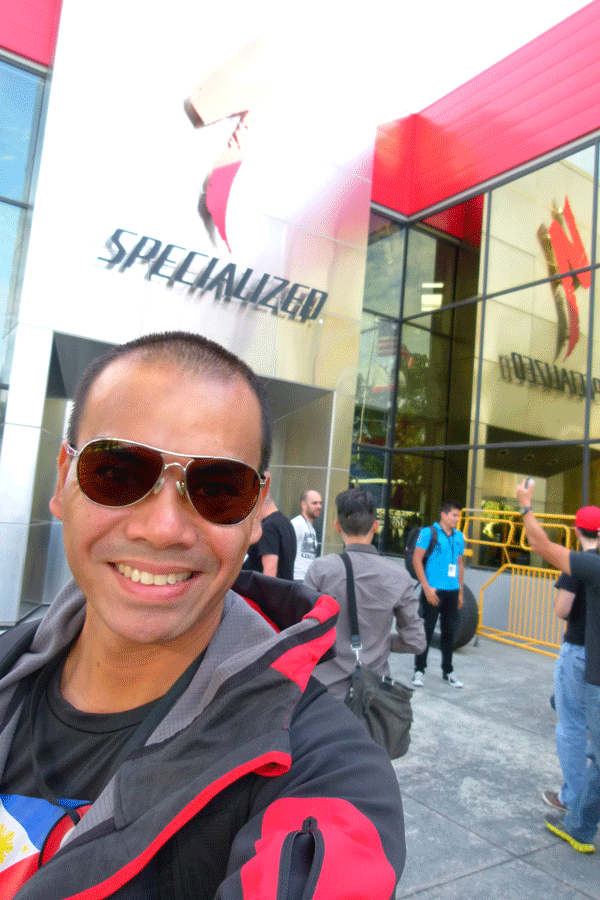 This year, the launch was held in breezy Monterey, California. Only a short drive from the Specialized Headquarters in Morgan Hill, we got the chance to test the newest bikes in their Mountain, Road, and Urban lines. Aside from the bikes, we also got a tour of the WIN(d) tunnel, the museum at Specialized, and a very interesting presentation on their latest additions to the Body Geometry FIT system. 
[ MOUNTAIN ]
650b
While the 29er is here to stay, Specialized is introducing the 650b format. It has the agility of the outdated 26" MTB but upsizes this a bit for added rolling comfort and speed for those who feel a 29er is too big for them.
FAT BIKE
Of course, if you really want a fun bike, they have the Fat Bike! This is like a monster truck on two wheels, and the jumbo tires are great for riding on snow, sand, or very muddy conditions. At the MOUNTAIN Demo, I chanced upon Exterra World Champion Conrad Stoltz playing with a fattie up a very steep hill, making it look like child's play.
EPIC
Introduced last year, this was my first time to try this World Championship-winning frame. While I'm just an average mountain biker, I loved how light the Epic is. This full-suspension XC bike has "Brain" technology so the suspension always delivers just the right amount of rebound and compression. I tried out the World Championship model with the single chainring drivetrain. At first I had my misgivings about not having a granny gear, but it turned out I had enough gears to grind my way up the 14% gradients of "White Trail" in Toro Park (lovely place, by the way). When it was time to go back, I bombed down the trail at 60+ kph. I know, that's peanuts for experienced downhillers, but this roadie is a pussy on a mountain bike and it felt like warp speed to me. There were more than a few hairy jumps and dips that threatened to have me flying ass-over-teakettle, but dare I say the bike more than covered for my shortcomings.
[ ROAD ]
TARMAC
The all-new Tarmac is the big news for roadies this year, offering enhanced aerodynamics over the outgoing SL4 Tarmac. It has size-specific ride tuning to create a wonderful balance between ride comfort and stiffness no matter what frame size you get. With the past SL4, the smaller sizes (48 and 52) could feel overly harsh and chattery while the larger sizes (56 and up) suffered from a bit of flex as the 54 was the one size that was really optimized. I got a size 52 spec'd with SRAM Red and immediately fell in love with it. Setting the tire pressure to 95, the ride was stiff but not uncomfortable, and very responsive. I could sprint out of the saddle and feel zero flex in the bottom bracket or head tube. The bike really feels like it's an extension of your body, and this is very good if you're into road racing or just want an ultralight, ultra responsive climbing bike. There's even a disk brake-equipped version. My only regret was they only gave us 3 hours to test the bikes! Time flies when you're having fun. I could have ridden this baby for hours.
CRUX
Technically not a new model since this was introduced two years ago, but this is an underappreciated bike. Now equipped with Ui2 electronic shifting, the Crux is an even sweeter cyclocross bike than before. It's basically a Tarmac with a higher bottom bracket for clearing rocks and other obstacles, and has nice touches like the CBL-GBR seatpost that works like a leaf spring suspension, and a curved indentation on the down tube for portaging. After getting off the Tarmac, I grabbed a Crux and hit some trails. Compared to a regular mountain bike, the Crux is like driving a rally car on fire roads versus a pickup truck! I love the road geometry and the confident stopping power of the disk brakes. This is a responsive machine that's great for having some fun on trails if you're a roadie who doesn't like the heft of a mountain bike.
[ URBAN ]
TURBO
Now THIS was effin' FUN! This hybrid bike has gee-whiz technology that doubles your pedaling wattage. Using Li-Ion cells attached on the downtube, press the "Power" button, select the "Lightning" mode with the thumbstick, and you can easily hit 45kph! In "Lightning" mode, you've got enough juice to go full power for an hour. There's also an "Eco" mode that gives you 30% electric boost, as well as an "Off" boost mode. Of course, who want to use those modes, right?? The organizers gave me a Turbo to play with for 3 hours, so I pointed the bike in the direction of San Francisco and started pedaling like a madman. A madman with the stupidest smile on his face, though, because even in a stiff headwind, using platform pedals, and wearing a very un-aerodynamic hoodie (it was 16-18 C), I was zipping past cyclists like they were standing still. At US $6,000, owning one of these would be like having a 2-wheeled Tesla. I want one!
TOURING THE HEADQUARTERS
This is Disneyland for geeks like me. First, we went inside the museum where they displayed most of their race winning bikes all the way back from the 70's down to recent years with the Olympic and World Championship-winning Shiv and Tour-winning Tarmac. It's very fascinating and inspiring how Specialized grew from a small operation headed by founder Mike Sinyard into a giant of the industry today. Next, we took a tour of the WIN tunnel, where aerodynamicists Mark Cote and Chris Yu explained to us how their facility has helped them further hone their products as well as determine what gear and setups their sponsored athletes should use for specific races. The tolerances of the low speed wind tunnel are specifically made for cycling, and it has helped them design ever-faster helmets, bikes, and has even helped them determine that, yes, shaving your legs really gives you an aerodynamic advantage! With that, I rushed to the grocery and got a fresh set of Mach IIIs.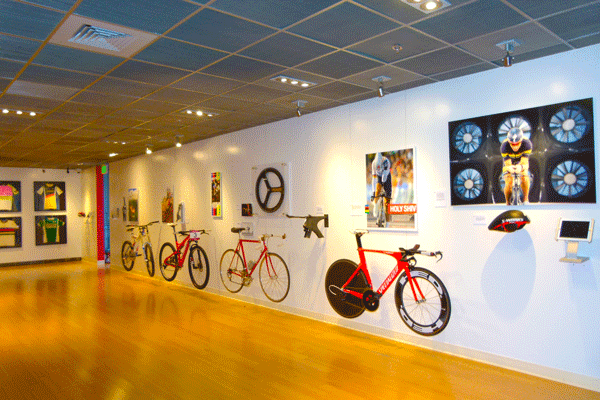 SADDLES and MORE
Apart from the bikes, Specialized also showed off some improvements to their existing line of saddles and other gear.
The Phenom MTB and Toupe road saddle now have additional padding and an improved channel for additional comfort in the jewelry area. Women will love the all-new Mythos road saddle with a strategically placed cavity for added comfort in the soft tissue area.
Women's shoes and apparel now have added style. For their flagship Body Geometry FIT, they have now integrated it with Retul motion capture technology, the MUVE fit bike, and their own video capture system to help fitters get you into the best possible fit. Watch for this amazing technology soon. Until next year!