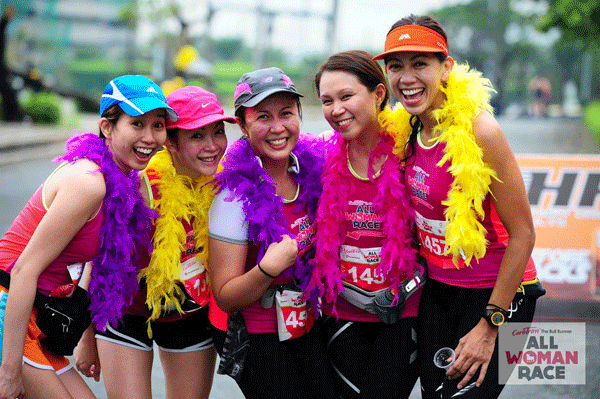 Last July 20, women power reigned over the devastation brought about by Typhoon Glenda as almost 1,000 female runners and men or "honorary women of the day" gathered together to run for womanity at the Carbtrim – The Bull Runner All Woman Race at Filinvest City.
Thank you and congratulations to everyone who joined us!  There was so much energy, laughter, and fun with boas, bling, and tutus everywhere!  I won't say much anymore and I'll just let these photos do all the talking!  (For more Carbtrim – TBR All Woman Race photos, click HERE.)
TOP FINISHERS OF 21K
1st – Keshia Fule 1:41:58
2nd – Belle Grandinetti 1:49:01
3rd – Mariela Martinez-Powell 1:50:15
TOP FINISHERS OF 10K
1st – Nikki Givens 53:56
2nd – Kaye Lopez 56:41
3rd – Liza Paule 57:07
TOP FINISHERS OF 5K
1st – Sofia Bianca Cuevas 22:13
2nd – Genevieve dela Pena 22:22
3rd – Rosemarie Dellova 22.28
Thank you also to our sponsors! Title Sponsor – Carbtrim, Presenters – Filinvest City and Runrio, Official Sports Drink – Gatorade, Official Endurance Multivitamin – Enervon Activ, Official Recovery Drink – Enervon HP, Official Timing Partner – Garmin, Official Insurance Provider – Paramount Insurance, Silver Sponsor – Creamsilk, Regular Sponsors –Dole, Planet Sports, Acquabella by Penshoppe. Media partners – Women's Health, Race Day Magazine, Multisport, Urban Mom, PinoyFitness.ph, SwimBikeRun.ph, MommyMundo.com, and WhenInManila.com. The event was organized by TheBullRunner.com.
* Photos courtesy of Photo – Ops.