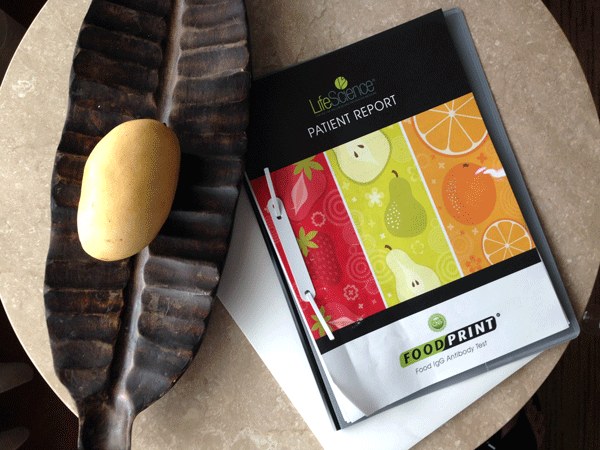 Every morsel of food we put into our bodies has an effect whether good or bad. But, I'm also a firm believer of bio-individuality: one man's food can be another man's poison.
As athletes, it's even more important for us to be conscious of our diet because food is our fuel for training and races. If we eat food that our body loves then we get to run longer distances and break PRs. Conversely, if we thrive on junk then our performance will probably be crappy too. You only get what you put in, right?
Last month, I was invited by LifeScience for a Food Intolerance Test (FIT) Program. The Food Intolerance Test determines what food your body can tolerate and what it can't. Intolerable food items creates a strong antibody reaction and activates your immune system causing any of the following: bloatedness, stomach upset, indigestion, diarrhea, irregular bowel habits, unhealthy skin and itching.  Eating a lot of these food items can cause inflammation in your intestines which leads to incomplete absorption of nutrients. Most of the time, we go about our daily activities thinking that we lack sleep, are over trained, or overworked, but, in truth, it can also be due to making the wrong food choices. Sometimes, it only takes a change in diet to feel stronger, gain more focus, and have more energy.
THE PROCESS
I arrived at LifeScience feeling like I was about to check in at a 5-star hotel, not to get blood tests and physical exams done. The clinic is designed with impeccable interiors with friendly and courteous staff as bonus. The front desk staff greeted me pleasantly and I was led into a private room to await my initial tests.
I filled out a short questionnaire. My blood pressure, temperature, height and weight were taken. Then, I went on to do the Body Composition Analysis, which provided instant results and gave me a new awareness about my body.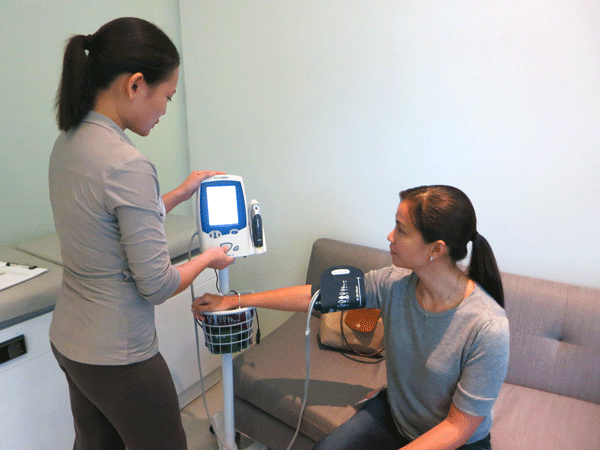 The Body Composition Analyzer gives a comprehensive evaluation of your body providing information such as your fat and muscle mass, physique rating, muscle mass balance, body fat distribution, and my favorite, your metabolic age! My metabolic age is 30 years old. 18 might have been a better number, but hey I ain't complaining!  It was fantastic to get so much info about my body after just stepping on a scale for a few minutes.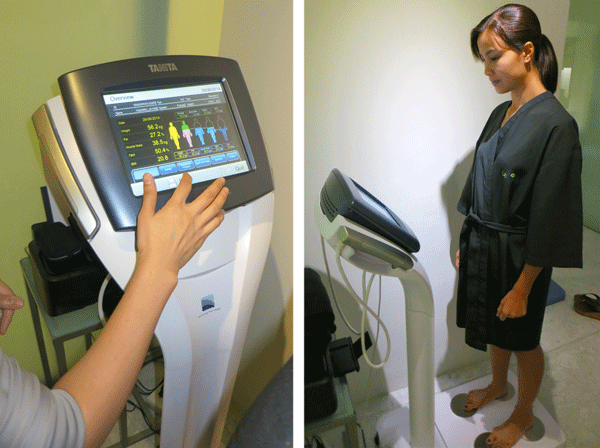 I then met with Dr. Melanie Manlongat for my Preventive Wellness Consult. This was a "getting to know" you consult where we chatted about my health goals and lifestyle.   We also discussed the results of my Body Composition Analyzer.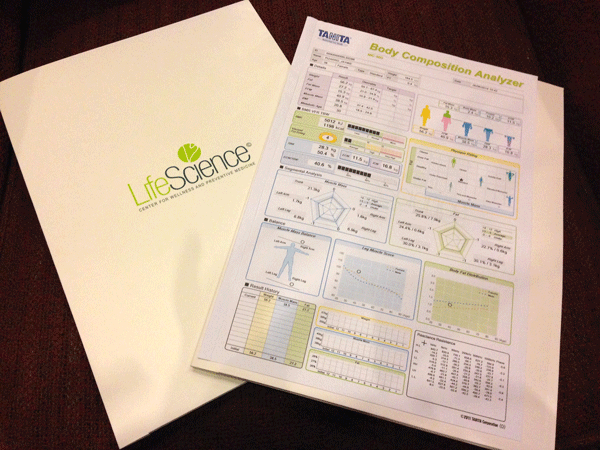 Then, I met Dr. Mabelle Aban for a Nutrition Consult. We talked about my diet, my weight goals, and, since at that time, I was dealing with gastro issues, we also discussed ways in which my diet could help ease my problems. She said my weight was mid-range of the ideal body weight, but I asked for her help in dropping a few more pounds. (For better performance in Chicago Marathon, ya know!)
My last consult was a Kinesis Consult with Fitness Trainer Jessie Zulueta. We discussed the results of the Body Composition Analyzer. He basically told me that while my weight and fat composition was satisfactory, but I seriously needed to build muscle. For endurance athletes like us who spend hours indulging in our favorite cardio activities, strength training is often overlooked or set aside. He reminded me that I really need to make time for this! Jesse also showed me the Kinesis Gym within Lifescience. This gym is by appointment only and they train one to two people only at a time. How sosy!
After the consults, I got my blood test done for the Food Intolerance Test.  That's me below about to turn blue from not breathing during the pin prick!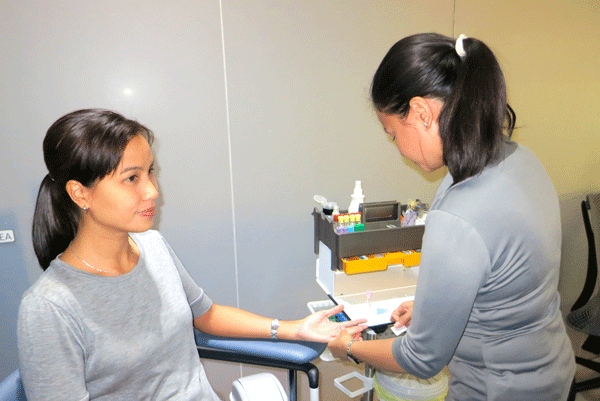 THE RESULTS
After exactly 9 days, I dropped by Lifescience again for my results. I had mixed emotions about this. I was excited to find out what food my body could take and those that it had problems with. And, at the same time, I worried that my favorite food, like wheat, eggs, and maybe karekare (LOL!) would show up as bad food for me!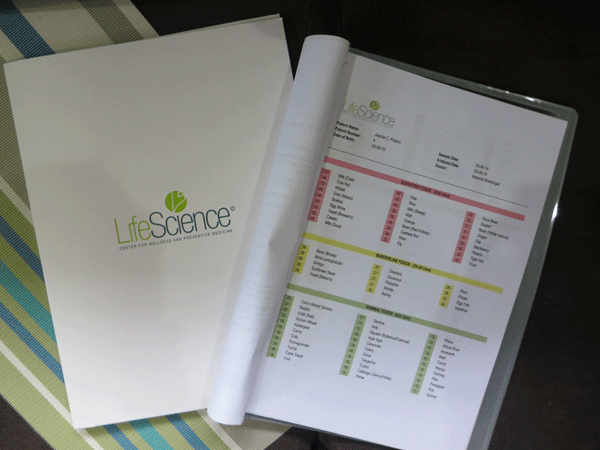 Dr. Melanie met with me to discuss the results. Woah. The report listed over 200 different food items, categorized first as Elevated food (red highlights in the photo above which denotes that food my body is intolerable to), Borderline food (yellow highlights that I can take in limited amounts occasionally), and Normal food (green highlights which are food my body was completely fine with). The food was also categorized by various food groups (dairy, grains, fruit, vegetables, fish/seafood, meat, herbs/spices) to make it easier for me to plan my diet.
Among the Elevated food items for me were: cow's and goat's milk, cola nut, wheat, corn, scallop, egg white, yeast, casein, rice, soya, peanuts, gliadin and more.  I bet you're asking the same thing as I did: What's Gliadin?  It's a protein fraction of gluten so I have to remove gluten-based grains like wheat, barley, and rye.  At least now I knew that I really had to go gluten-free as opposed to what's common nowadays with people jumping on the gluten-free bandwagon even if they don't have Celiac disease (that's for another blogpost!)  Anyhow, Dr. Melanie helped me identify the common food that I should avoid which contains these elevated food items.  Mind you, there were a lot and, to be honest with you, I was a little bit concerned how I could actually execute on this new diet.
Thankfully, Dr. Melanie eased my worries by suggesting alternatives to food that had to be scrapped from my diet.  For instance, for grains, since I had to remove rice and wheat products like bread, pasta, and flour, Dr. Melanie gave alternatives like quinoa (my current obsession), millet, soba noodles, cassava and kamote.  So, I didn't have to really freak out about starving, right?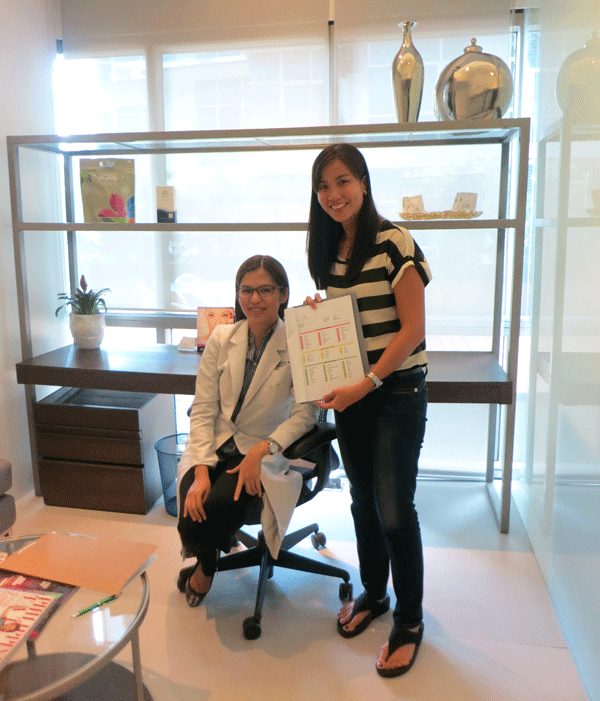 Learning about all this was an eye opener.  You see, most of the food that I ate a lot of and tagged as "healthy" for me turned out to be food items that my body was intolerable to, namely eggs (I love omelettes), wheat (I choose wheat bread over white all the time), peanuts (I down 2 tbsp of peanut butter daily…and, waaah, karekare!) and the list goes on and on. No wonder I suffer from diarrhea frequently (oh, sorry, TMI!) and I sometimes feel bloated even when I didn't overindulge. I wanted to overhaul my diet right that minute!  Like I said, bio-individuality tells us that our bodies react differently to various types of food.  It's best to know what we should eat so that we can feel great and perform well at races.
CHANGING YOUR DIET
Of course, this Food Intolerance Test is useless if you don't change your diet.  Dr. Melanie taught me how to gradually change my diet to avoid the elevated food items and eat more of the normal food items.  She also reminded me to make sure I eat a wide variety of food items despite the limitations from the test.
The results also came with a comprehensive Patient Guidebook explaining how to plan your diet, monitor the symptoms, and how to scrap gluten, eggs, wheat, and more if you are intolerable to it.  They also advise that, after three months, one could re-introduce the banned food one at a time to check if there are still symptoms of food intolerance.  (But, a little birdie told me that when you scrap these food items and feel great, you'll most likely choose never to indulge in them again!)
With all the knowledge gleaned from the Food Intolerance Test and from the experts at LifeScience, I headed home excited to plan my own 3-Day Detox Program.  I was definitely going to test if eating clean, tolerable food items would make a difference in how I felt.  (More on my Detox Program on a separate blogpost.)
CONTACT LIFESCIENCE
Food Intolerance Test Program (includes the consults with the doctors) is P19,000.  For the Food Intolerance Test alone, it would be P15,000.  They also offer the Food Detective (take home Food Intolerance testing kit) for P6,850.
If you're interested in a Food Intolerance Test, please contact LifeScience.
Address: 8/F Accra Law Tower, 2nd Ave. for. 30th Street, Bonifacio Global City
Phone: 02-828-LIFE or 0917-573.LIFE
Web: www.lifescience.ph
Next: SPORTS NUTRITION PROGRAM AT LIFESCIENCE (Part 2) within the week!