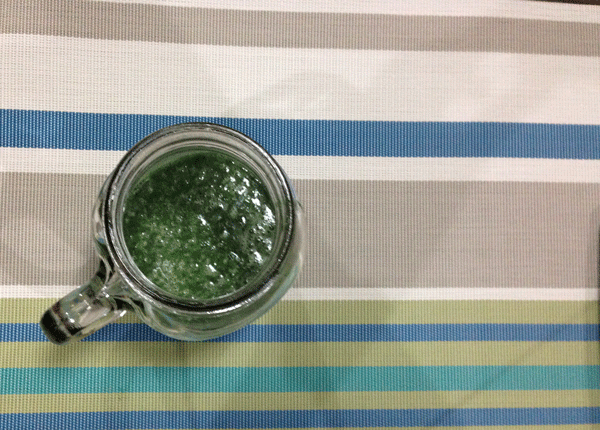 Note: Wellness Wednesday is a new regular column on TBR where, as the name suggest, I'll be posting articles on nutrition, health, and wellness every Wednesday.  Expect articles on eating clean, recipes on healthy meals (yes, I cook healthy food now!) and green smoothies, work-life balance, positivity, and anything nutrition and wellness!  
One of my life's mantras is this: Keep on learning.  I don't have those three words tacked unto my office bulletin board nor do I have to jot it down as an annual New Year's resolution, it's just engraved on my mind and blended in with my soul.  I just live it.
So, last year, I took a huge leap of faith and went back to school at the age of 37.  Nutrition school, that is.
As a teenager, I equated health and fitness to thin-ness.  I was constantly thinking of ways to make me skinny.  I stole my Mom's "Thinner Thighs in 30 days" as my first workout book, spent weekends at my best friends' house working out to Jane Fonda's Betamax tapes (yes, Betamax!), and ate as little as possible (remember the Skyflakes for dinner diet?!)  Once I hit college, I packed on more weight as I nibbled on junk while studying and let's just say prioritized parties over the gym. I hit my heaviest in college, but also lost the weight before I graduated.  I did it the easy way: diet pills and starvation.  Who cared how I did it as long as I fit into my pair of jeans, right?  When I started working, my weight problems didn't go away. I weight myself every morning fearful of gaining even half of a pound.  I was the officemate who was perennially on a diet, turning down food, and, sadly, I was forever hungry.
After I had married, given birth to my 2 kids, and picked up running in 2006, my idea about health and fitness changed.  Suddenly, I discovered that there was a way to lose weight without starving…Exercise!  Duh!  Still, I thought eating right was about counting calories, limiting my carbs, and that all kinds of fat were pure evil.
In 2010, as I was training for New York City Marathon, I met a guy named Harvie de Baron who offered to help me out with my nutrition.  For 4 months, I learned a whole new way of eating.  I scrapped most salt and sugar, I ate every 3 hours, and, for the first time in my life, I learned to love food, not fear it.  I had never been so fit and energetic in my entire life.  It was fantastic!  However, eventually, I realized that this super clean way of eating was not sustainable for me because I spent most of my days planning meals, jotting them down, and counting the days until the next cheat day so I could have my Cheetos.  I ended my program with Harvie, who eventually went on to teach more "obedient" students (unlike me! LOL) through his new program "The Baron Method," but the lessons he taught me stayed with me. He taught me the basics about eating healthy and wholesome food.  From then on, I never went on a diet again.  I simply learned how to make better food choices and didn't stress over the number of calories I put in my mouth.  Eating clean became a lifestyle.
I wanted to learn more about living an active and healthy lifestyle.  So I decided to learn from the experts.  I enrolled in a school that taught me about nutrition, wellness, and living a healthy life. It further broadened my knowledge and further motivated me to live cleaner and better.  I had the best time of my life studying and learning (yes, even as I raised two kids, trained for Ironman 70.3 Cebu, and worked at the same time).  Last May, I graduated from the Institute of Integrative Nutrition based in New York and received my certification as a Nutrition and Lifestyle Coach.
Where do I go from here?  This is personal for me.  It's a process of learning and practicing it by striving to live a happy, healthy, balanced life for me and my family.  Eventually, as I've learned from my passion for running, I feel it's yet another opportunity for me to help others.  With my team, we've inspired people to run and finish marathons, so I'm thinking, hey, if I can take it a step further and get people to eat healthy and clean too, we can change the world!
"The place God chose for you is the intersection where your greatest joy and the world's greatest need meet." – Frederick Buechner