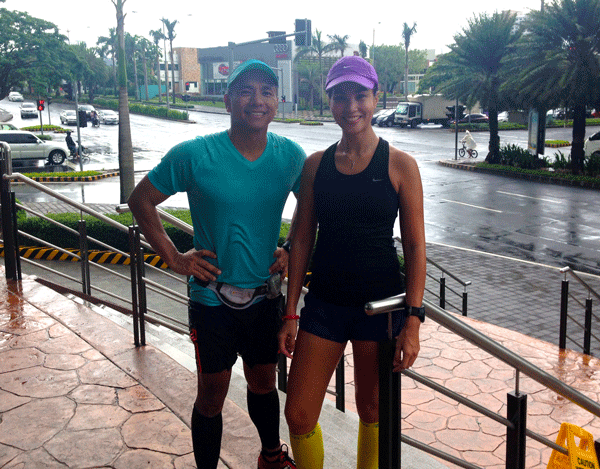 with Gene last Saturday (missing in pic: Gerrick who ran longer)
Four more weeks to Chicago Marathon!
I was so looking forward to last week.  It was to be a recovery week sandwiched in between two major back-to-back run weekends.  I thought I'd finally get to rest my tired legs and maybe squeeze in a recovery swim or Bikram Yoga session again.  Thing is, I completely underestimated recovery week.  It was more like a recovery DAY where Sunday wasn't as long a run as it usually was. LOL.
Tuesday I ran on the treadmill in a gym where the air conditioner was down, the treadmill felt like 100 years old, and a stupid gym mate who I've seen for the last 2 years and never spoken to interrupted me during a run because he just had to ask how many months the baby in my tummy was.  I smiled sweetly, said I wasn't pregnant, and waved him goodbye.  Good thing I got a piece of his hair so I can mail it to my local mangkukulam. (I kid! I kid!)  Despite all that, it was a perfectly executed interval run for me and I was quite happy.
Come Thursday, I met up with Ardie, my super fast, super strong running buddy from the South who is currently training for his first marathon, New York City Marathon, which I'm pretty sure he'll run sub-4 in.  I had to run a 16k tempo run to hit a total of 19k including warm up and cool down.  My joke with Ardie is that he has to make baon a lot of kwento because at the pace we run in, I can only nod or shake my head as I struggle to breathe.  We ran through the rolling hills of Alabang hitting my target pace (one that is probably too slow for Ardie), but I died at 8k.  I hadn't run hills in ages and they certainly got me.  I let Ardie go ahead as I made my way back to my car feeling disappointed and extremely exhausted but I still finished the 16k.
I bumped into the girls, Bea and Lea, on Friday after my super hot solo run on the road.  What was up with that weather?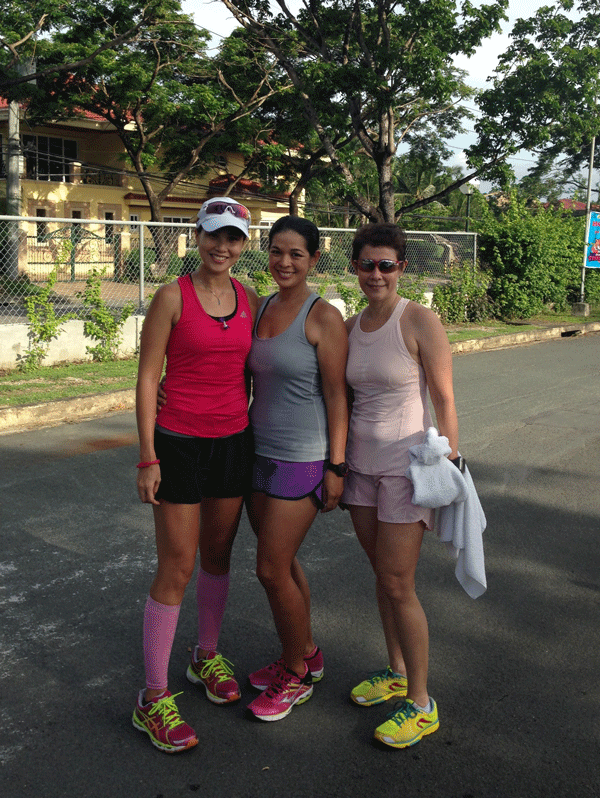 with Bea and Lea
Saturday was a treat!  I tagged along with Gene and Gerrick and together we ran the course of my All Woman Race in Filinvest City.  Even better, it started to pour midway through our run.  I forgot how fun it was to run under the rain and I just savoured the moment.
I woke up on Sunday to hear pouring rain on our rooftop.  Rain again?!  One short easy run under the rain was fun, but to run longer again was risking getting sick!  After a dozen text exchanges in the wee hours of the morning, we all decided to make a go of it.  Rain or shine, we run…and, yes, we were glad we did!  Yep, we got rained upon again (thank God for my Nike Storm jacket!) but, at the end of the run, we were all pretty satisfied with the cool weather and the easy pace.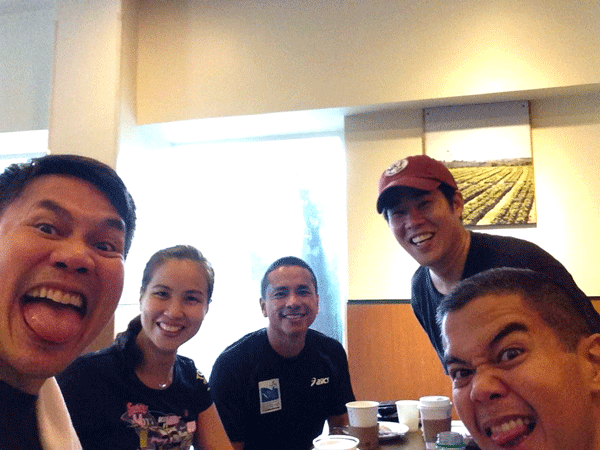 After our Sunday Run
Next blogpost: Tips for Running Under the Rain (since I got soaked twice this week!)
Thank you to Unilab Active Health for supporting my big adventure, Chicago Marathon!