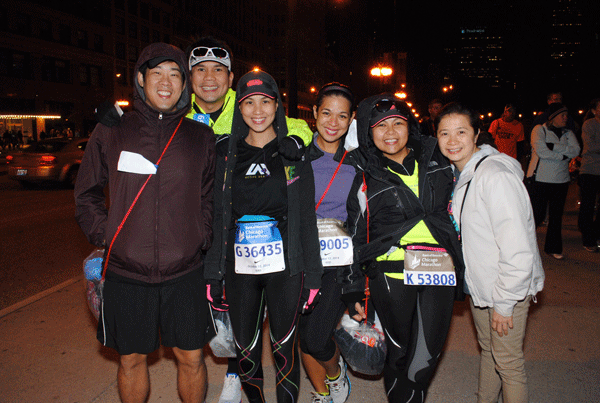 Lit, Ton, myself, Bea, Angel, and Trish at Grant Park
Date: October 12, 2014
Runner Check In: Before 7:45 AM
All or Nothing
My goal for the past 4 years has been one and the same: to run the World Marathon Majors. I had completed four of them: New York, Berlin, London, and Tokyo. Boston Marathon, which one can enter by qualifying for a specific time, is a question I have yet to answer because I don't think I'll ever qualify for it. So, the fifth and perhaps the last World Marathon Major on my list was Chicago Marathon.
In the past, there have been marathons I chose to run at an easy pace enjoying the sights and sounds of the event. And, there are marathons I run hard hoping to achieve a specific time goal.
For Chicago, my 11th marathon and my fifth Marathon Major, I thought it was apt that I gave more importance to it. I committed to trying to break my marathon PR of 4:24 set at London Marathon in 2013.
They say that if you always do the same thing, then you'll always get the same results. So, for Chicago Marathon, I experimented on a new program, Hanson's Marathon Training Program with the goal of hitting 4:10.
I never worked so hard for a marathon in my entire life. After 10 marathons, all of which I trained for with running only 3 to 4x a week and averaging around 50 to 60k per week, Hanson's got me running 5x a week and reaching distances of 70 to 80k per week. It was challenging and completely exhausting and I wasn't even sure if it was going to work. But, despite my occasional doubts, I stuck to the program so that I could find out in the end if it really worked. It was all or nothing.
The night before the race I laid out all my gear as I always do before race day. I felt optimistic about this race. I was all set.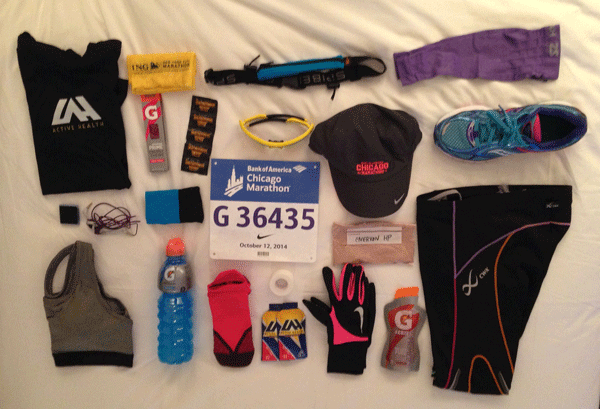 Race Start
The weather was cold and chilly on the morning of race day. Together with friends, Ton, Lit, Angel, Bea, and Trish, a friend of Angel's who was coming to support us, we took a short walk and quick 10-minute subway trip from our hotel, The James, to Grant Park.
The night before, Ton, Lit, and I, practiced the entire route from our hotel to Grant Park timing the entire commute and ensuring we got it right before race day morning. Good thing we did since, by race day morning, we were calm and even excited heading to the race venue.
Grant Park is one of Chicago's most prominent parks, which is also called Chicago's "front yard." It is also where the Art Institute of Chicago (my favorite place in all of Chicago!) and Millenium Park are located. Lucky for us marathoners, it was also the venue for the race start of Chicago Marathon.
When we arrived, it was still dark. The entire street was lined with thousands of runners scurrying towards their respective gates. There were official photographers everywhere ready to take snapshots of the runners. It was organized chaos if you will.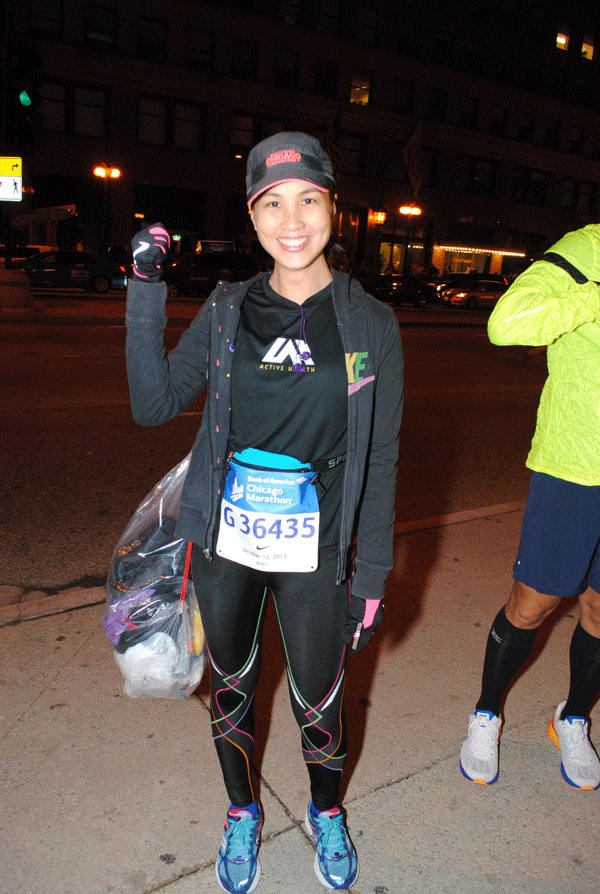 Garbed in our layers of running clothes underneath our throwaways lugging around our race baggage (mine was the heaviest by the way because, based on experience, I like bringing a full change of clothes after the race to ensure I don't freeze to death soaked in sweat), we made our way towards the strict security and baggage screening, which, to me, brought relief after the devastating bombing of Boston Marathon.
Each runners was assigned a specific Corral depending on the time goal inputted during race registration. The Corrals were then color-coded under White, Red, Blue, or Gray, and this was the gate that one should enter on race day.
Lit, Ton, and I were assigned to Corral G under the Blue Gate while Bea and Angel were assigned to another Corral. We bid them goodbye and headed towards the Blue Gate.
We entered the Blue area to find a huge open space with a long line of portalets on the left, gear check area and pre-race hydration and nutrition booth on the right, and information at the center. It was calm, spacious, and very well organized.
We had 30 minutes to spare. Our plan was simple. Fall in line for the portalets, then take our pre-race nutrition (I packed a banana and Gatorade Pre-Race Fuel drink), check-in our baggage, then line up again for the portalet. (Hey, when it's that cold, one can never have too many visits to the potty!) By the time we ended, we had 10 minutes to spare. Perfect.
We then made our way to the assembly area to join the thousands of runners at Corral G. By this time, the temperature had gotten lower and the wind stronger. In my thick throwaway jacket, gloves, and cap and Lit and Ton in their garbage bags for warmth, we sat by the curb along with other Pinoys who were, coincidentally, TBR Dream alumni, Brian, Lynette, and Adel. It was so freaking cold that I was shivering from head to toe and I could barely make decent conversation.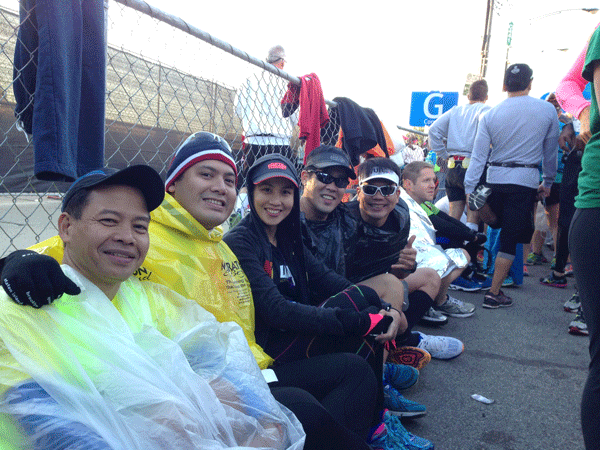 with Adel, Gene, Lit, and Ton. These guys are all TBR Dream Alumni!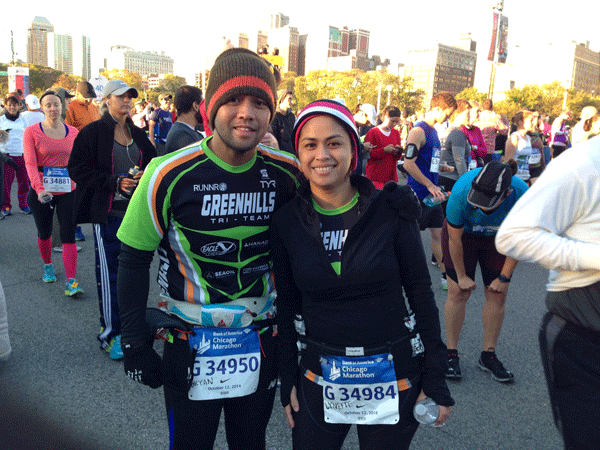 Brian and Lynette Ermac
A bull and guys dressed as trash LOL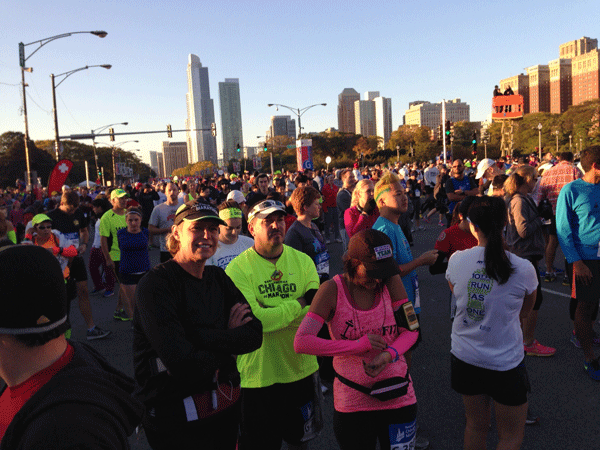 Our corral waiting for the race to start. Fantastic view of Chicago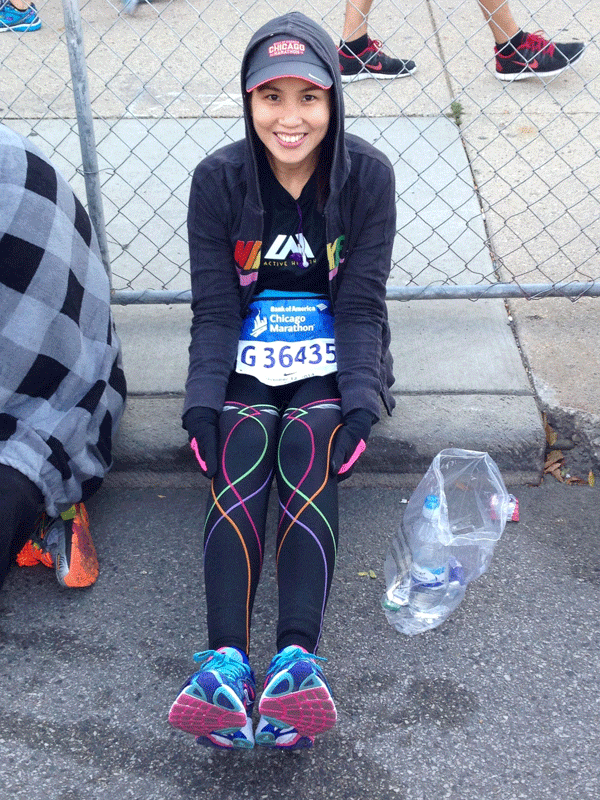 As the host's booming voice announced that we were about to start, I took a gel, sipped on water, and stood up from the curb to join the thousands of runners around me. With Jon Bon Jovi's Living on a Prayer booming on the speakers and some giddy runners, such as Lit, singing along with him, we inched our way up towards the starting line. It was then that the magnitude of the event dawned on me. Despite running over 10 marathons, the start of each marathon just never gets old. It always feels like the first.
With the Chicago skyline ahead of us on the wide roads of Columbus Drive, I was as nervous as hell. Was the Hanson's Program going to work? Was my training enough? Gawd, I hope I don't injure myself during the run! Then, amidst all these worries, an overwhelming feeling of peace swept over me.
It is always a blessing to run a marathon, even more in a beautiful city with your best running friends. I was fortunate to be there with the help of a generous sponsor and partner, Unilab Active Health. I promised myself that I would try my best to exceed myself, but no matter the outcome of the race, I was going to cross that finish line with joy and gratitude.
Previous: Part 2: Chicago Marathon – Race Expo
Next: Part 4: Chicago Marathon – The Race
Thank you to Unilab Active Health for making my Chicago Marathon dream possible! Thank you also to Gatorade, Peak Form Manila, Otterbox, Specialized, and Oakley for the support.