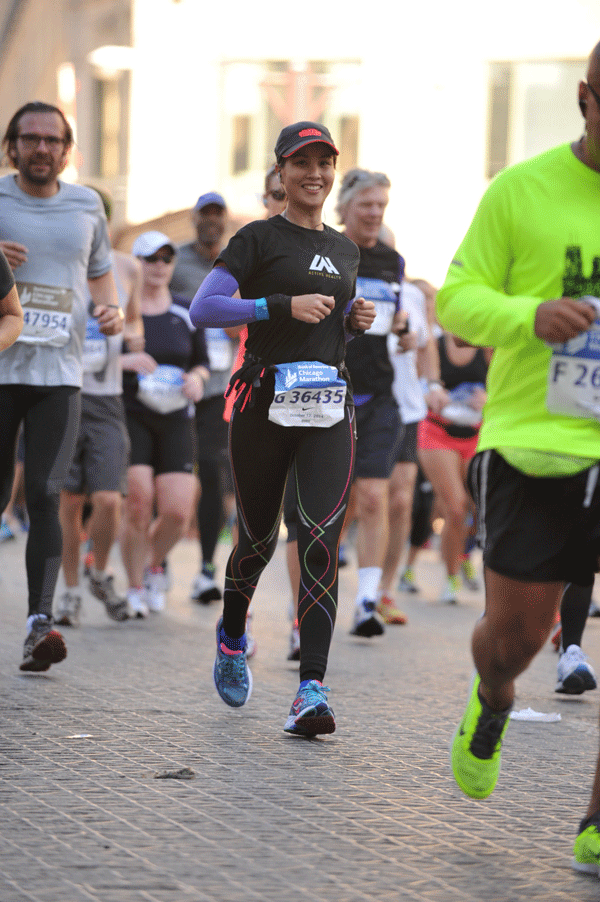 Date: October 12, 2014
Gun Start: 8:00 AM
Each year, Chicago welcomes 45,000 runners from over 100 countries to run the Chicago Marathon. Approximately 1.7 million spectators come out to cheer for the runners.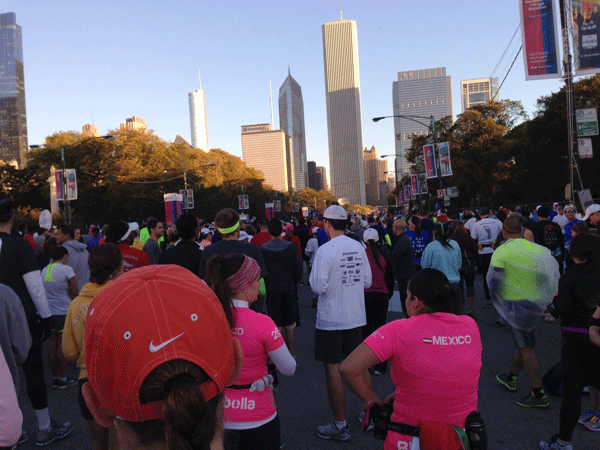 Race start of 45,000 runners from all over the world embarking on a 42k
It is a member of the World Marathon Majors and it is truly one of the world's best marathons. From its fantastic course to its world-class race organization, it's no wonder that so many runners fly in from all over the world to take part.
For a tourist like me, Chicago Marathon was a veritable running tour of Chicago as the course traverses 29 of its neighborhoods each showcasing its own personality and charm.
THE FIRST 10K
When the gun sounded, Lit, Ton, and I wished each other luck. We each had our own goals to run so we didn't expect to run side-by-side throughout the race.
My target pace was 5:55 min/km but, as my online coach from Hanson's, Coach Melissa, had advised me the day before, I intentionally ran more conservatively to save myself for the last half of the race. I ran a comfy 6:10 to 6:15 min/km.
The comfortable pace allowed me to enjoy the sights and sounds of the city. The first 5k took us through the city streets of Chicago where the buildings of the city took center stage. Chicago is known for its world-class architecture so it was a treat for us to run through these structures, especially after learning a little about its architectural history from the boat tour we took the day before. (Take the Wendella Boat tour before the marathon if you can!)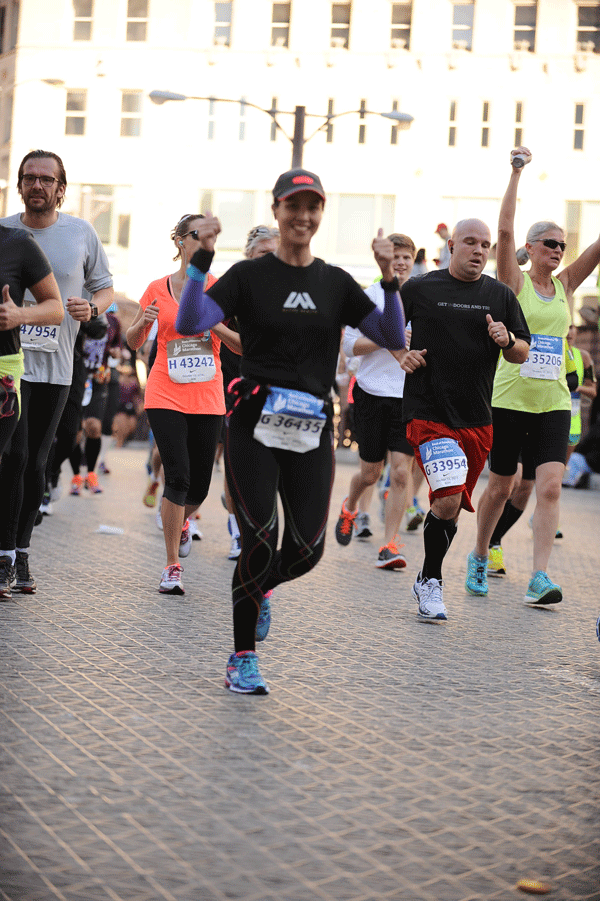 The first neighborhood we ran through was Streeterville, my favorite neighborhood of Chicago, which I had become familiar with as soon as we arrived. This was the area of our hotel and the most popular street of Chicago, the Magnificent Mile, 8 blocks of 460 stores and boutiques! I saved the shopping marathon for another day. For now, I knew I had 41 more kilometers to go.
We ran through Near North and the Loop where tree-lined streets greeted us along with cheering spectators. So far, the course was fast and fun. The temperature was improving as my body had warmed up already. The atmosphere was filled with energy.
Early in the race, I knew it was excellently organized. There was no traffic among us runners at all, which had been a problem at Tokyo and Berlin Marathon. We passed small bridges that were, quite pleasantly, covered with red carpet to make it easier for us runners to run on the iron work. Talk about attention to detail! Hydration was aplenty and, since I have problems with other sports drinks, I was ecstatic over Gatorade being the official sports drink. (No need to carry my own hydration, yes!) Lastly, the spectators lined the roads from beginning to end cheering, yelling, holding up signs, or just supporting us runners in whatever way they could. I don't know about you, but all that support can truly make a difference in one's race.
10K TO 21K
Around this time, I still felt strong and I had high hopes for this marathon. It felt like all the elements for a PR marathon were there and all I had to do was run it well. I put on my earphones and pushed on forward.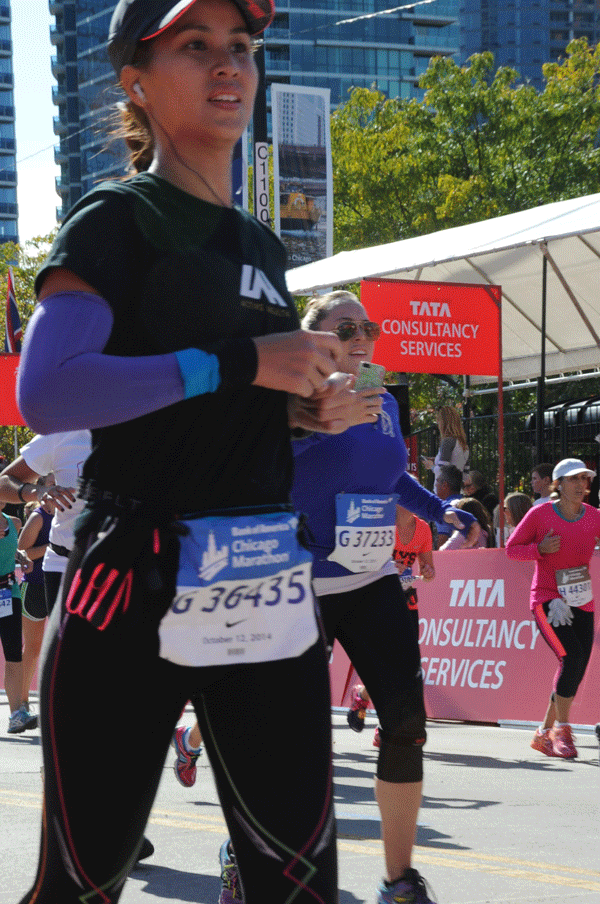 I remember clearly when we hit Lincoln Park. The area was lush and green and a welcome sight from the city streets. As we entered the park, a lot of male runners made their detour into the park to relieve themselves. This was about the time when I felt the urge to do the same. I wasn't willing to waste time lining up at the portalets and, by some stroke of luck, I chanced upon a portalet within the park hidden from plainsight. It was like a portalet gem! LOL. I lost less than 5 minutes for the portalet break and quickly made my way back into the race.
By this time, I was feeling confident that I could run faster in the 2nd half. I took an Active Health gel before race start, the 2nd at 10k, and 3rd at 20k. Plan was to take the next gels at 27k, 32k, and an optional one at 38k if needed. I was proud of myself for focusing on my nutrition, which I felt was the main cause of my cramping at Tokyo Marathon.
I was so focused that I didn't even notice that we passed Wrigleyville, home of Wrigley Field, the second-oldest ballpark in the country and home field of the Chicago Cubs. I do remember passing Lakeview East, which was like a big block-party complete with music, dancing. cheering and costumes.  I did notice that the temperature had gotten significantly higher.  The sun was out and it was hot!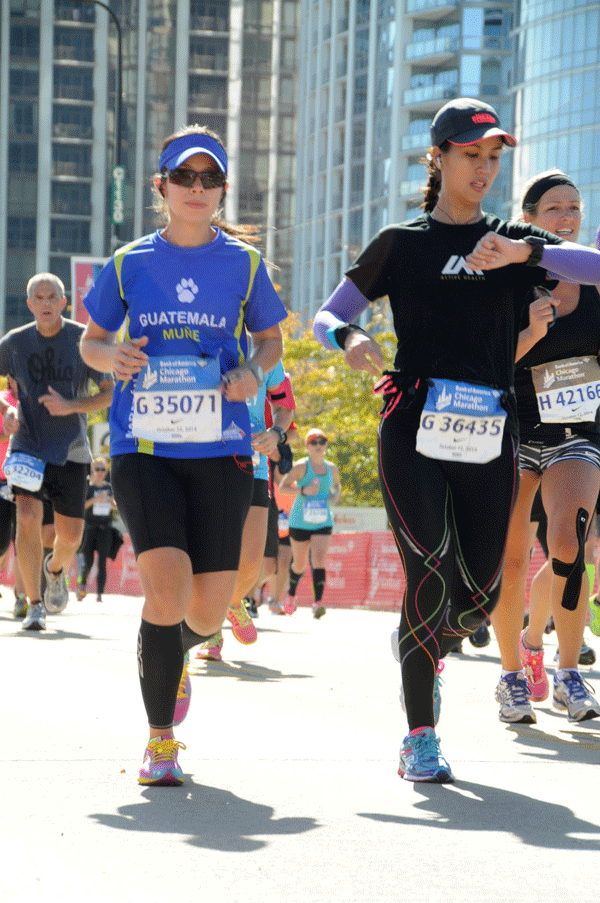 Checking the time!
We hit the half way mark near West Loop Gate, which they say is similar to SoHo of New York.
One of my favorite cheers from spectators that day was when they yelled out to us: "You got this!" It gave me confidence that I was on track to hit my PR that day. I thought, based on my watch reading, that I had hit the halfway point at 2:05, which was still on target. Little did I know that, based on official results, I hit the 21k mark at a slow 2:13.
TROUBLE AT 30K
It's interesting to note that, for the 2nd half of the race, we passed through various cultures and communities in Chicago: Greektown, Little Italy, Pilsen, home to the Latinos, and Chinatown. Now, it's even more interesting to note that I don't remember the sights and sounds around me at this point. I heard there was even Chinese music blazing and dragon-costumed dancers at Chinatown nearing 35k, but I didn't see any of this. To think I'm half Chinese! Everything was a blur.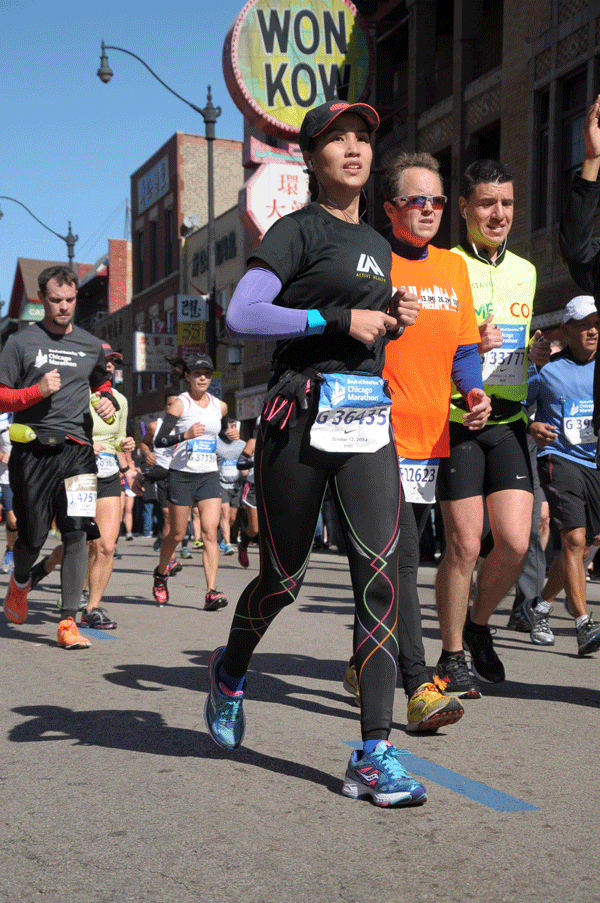 Running through Chinatown
All I remember was taking the gel as planned at Km 27 and feeling strong. I recall thinking my next goal was to maintain the pace and take the next gel at 32k. I was driven and focused. Again, I did a mental check: no pain anywhere, no blisters, no signs of weakness. I was doing great!
Suddenly, at exactly 30k, as if I was struck by lightning, all the energy in my body, especially my legs, disappeared in a snap. I could barely lift one foot in front of the other no matter how hard I tried or what I told myself to keep on going. I repeated to myself over and over: "You trained for the last 10k. You can do this." but the legs wouldn't budge.   I basically bonked.
I started to run and walk. It took me forever to get to 32k. By then, I was pretty much walking more than running. I recall making myself run while counting up to 100 to distract myself from the pain. I would slow down to a walk upon hitting 80.
I was frustrated. No, I was angry. Everything went right that day for a PR, from the weather to the absence of injury, and I knew that the only area where I messed up was the lack of long run above 32k. Something I had always banked on to get me through the last 10k. Something I changed when I experimented with the Hanson's Marathon Program.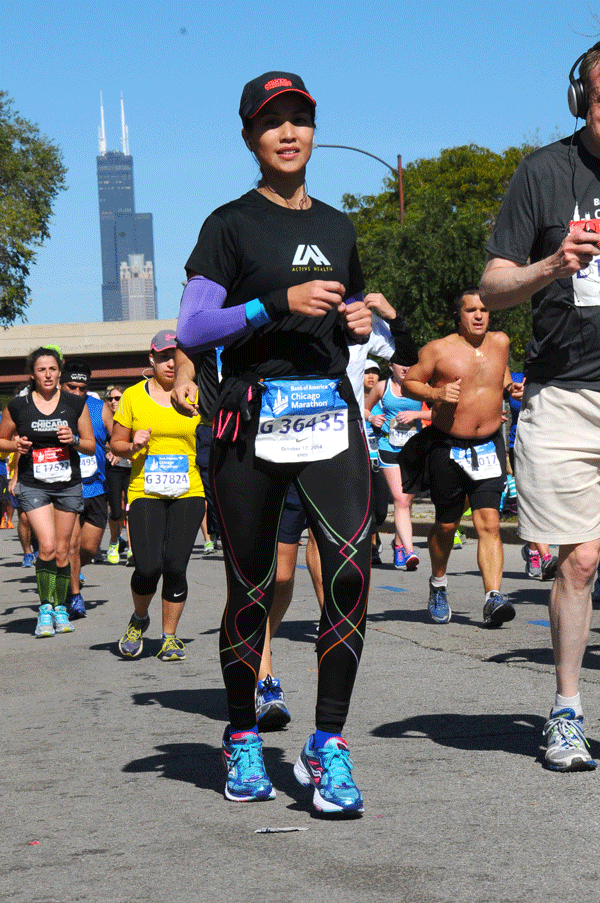 The Hanson's Marathon Program has a maximum long run of only 26k. They believe that the cumulative fatigue from the high mileage training will train you to run strong at the last 10k of the race. I tried this program loosely at Tokyo Marathon and that's where I cramped near the end. It was my worst marathon experience…ever. I blamed the cramp on nutrition. I gave the Hanson's Program another chance at Chicago Marathon and here I was suffering like I never had before in all of my previous marathons. It was the second worst marathon experience ever.
I had learned the hard way that the Hanson's Program was not for me. I wasn't blaming them for my failure. After all, this same program has worked for hundreds of marathoners all over the world. Runners have qualified for Boston Marathon using their program! Even Coach Melissa ran a 2:34 that same day. But, I sure was blaming myself for thinking it would work on me. I already had my doubts weeks before the marathon when I was feeling too fatigued and weak, yet I didn't listen to my body and chose to trust the program.
There's nothing like finishing strong at a marathon where you find yourself running the entire last 10k of the race. I've experienced that and there's nothing like it to make you feel empowered and triumphant. Now, I found myself crawling towards the finish, despite all the hard work and sacrifice the past months. I just wanted the darn race to end.
The last 800 meters was a long climb up before making a left towards the finish line. It was the longest 800 meters of my life. I seriously considered curling into a ball when I hit the top so I could roll my way into the finish line. At least I still had a sense of humor despite all the pain I was in!
I finished the race with a time of 4:45. I was even faster at Berlin Marathon with my time of 4:44. At Berlin Marathon, I run-walked until Km 30, I tripped and fell on my knee, I blistered and stopped at the first aid to have my toe bandaged, and I ran the last 10k and finished with a huge smile on my face because I ran it for fun. Oh, I also trained only 3x a week with a weekly mileage of 50k per week.
I had only one feeling when I crossed the finish line of Chicago Marathon: relief. The last 10k was maddening and excruciating. When they put the medal around my neck, I smiled because I was glad the suffering was over.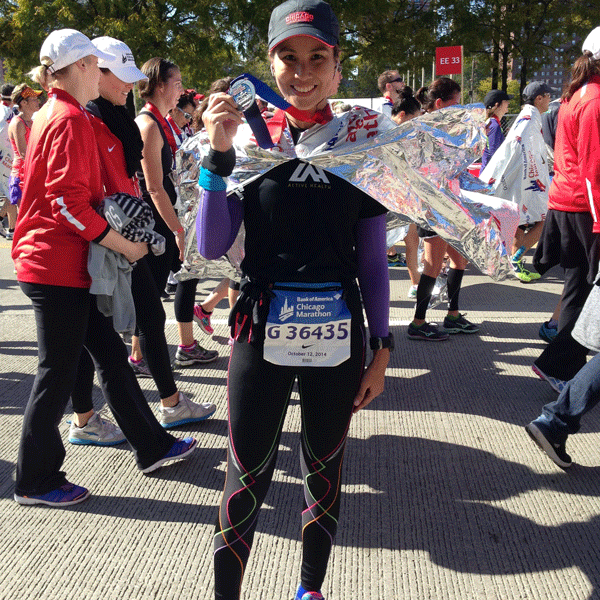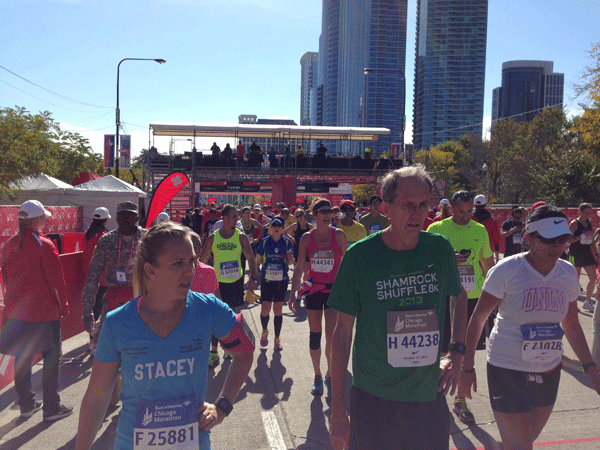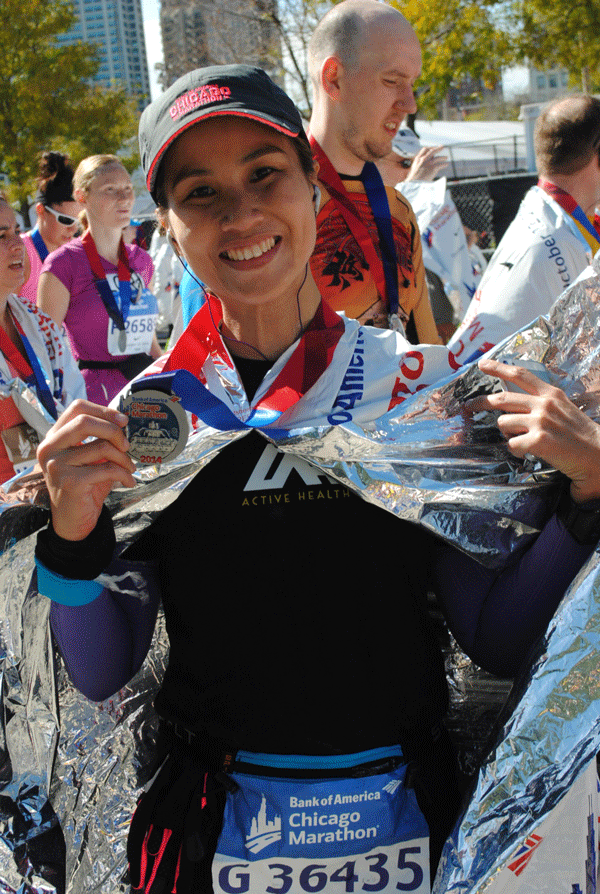 HAPPIEST PLACE IN CHICAGO
After claiming my baggage and getting dressed, I proceeded to our agreed upon meeting place with other Pinoy runners. Unfortunately, I lost my way and, by the time I realized I did, I was near the exit of the race. No way was I going to walk even longer to go back into the race area and search for them!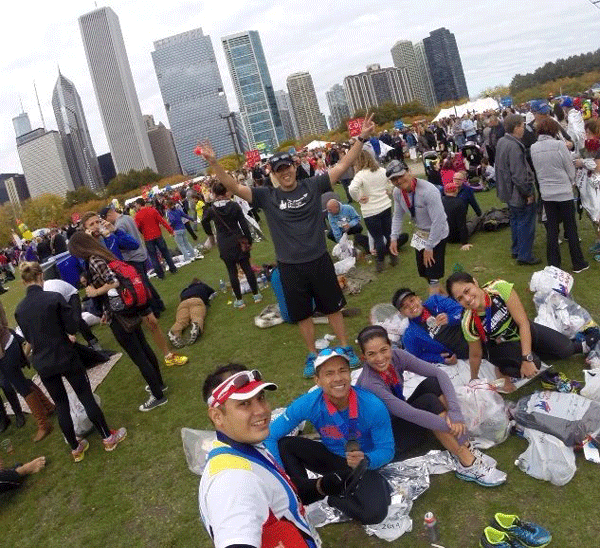 Other Pinoys who successfully found each other at the Park: Lit, Gene, Gene, Bea, Brian and Lynette. Photo: Gene Tiongco
I decided to wait by the steps of my favorite place in the city, the Art Institute of Chicago.
I sat by the steps, along with other marathon finishers and their families, for over 30 minutes waiting for my friends to come. I drank my Enervon HP for recovery.  I stretched my legs on the steps, watched the hustle and bustle among runners, and just waited. It was cold and windy and I was getting sleepy.
I was exhausted. Worse, I was disappointed. But, as I sat on those steps taking in the beauty around me, I realized how stupid it was to complain about lost minutes. They were just minutes! And the marathon is really just 42.195 km!
If there's one thing I've learned from running almost a dozen marathons, it's this: The marathon doesn't define you. There are good marathons and there are the not-so-good ones, but, in the end, they are all the same. You cross the finish line better than the person you were when it started.
As I finally saw my friends walking towards me with the Philippine flag, I felt an overwhelming sense of pride and gratitude. I tucked all the disappointment away and proudly wore the new medal around my neck which marked my 11th marathon and my fifth World Marathon Major.
I'll get my PR some other day. As I said in my Enervon HP radio ad: "The finish line isn't really the end, it's only the beginning of the next big race."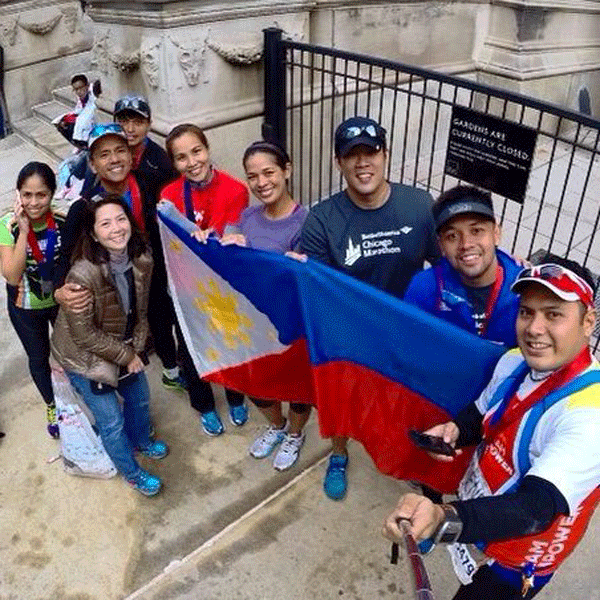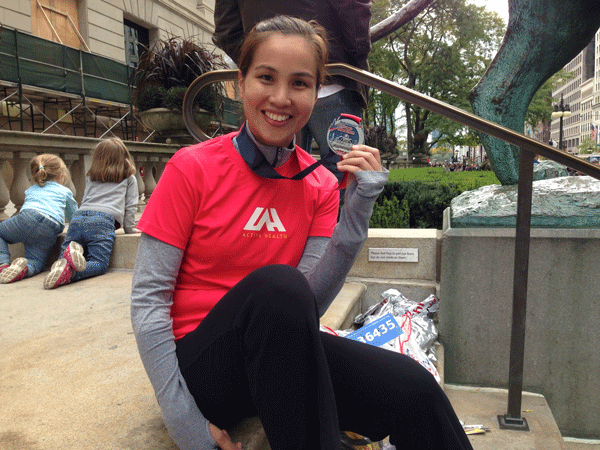 Thank you to Unilab Active Health for making my Chicago Marathon dream possible! Thank you also to Gatorade, Peak Form Manila, Otterbox, Specialized, and Oakley for the support.
Previous: Part 3: Chicago Marathon – Race Start