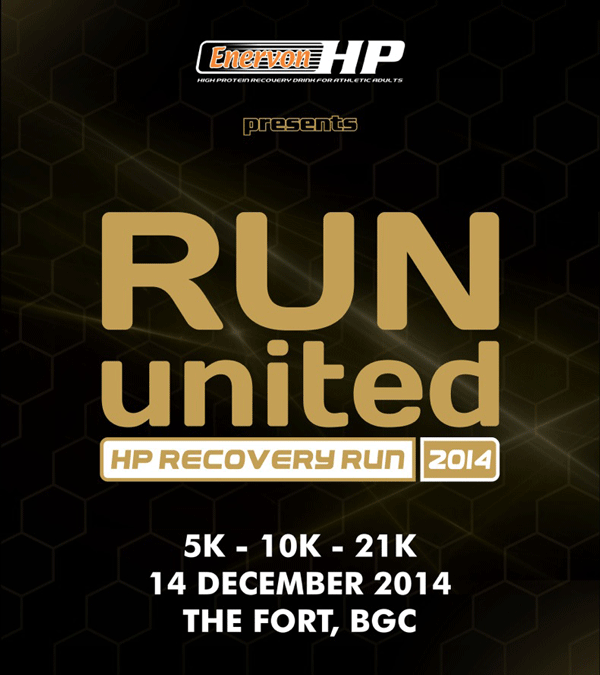 Unilab Active Health will be holding the Run United HP Recovery Run, in partnership with Enervon HP recovery drink, a unique, non-competitive running event exclusive to 2014 Run United finishers that aim to consistently exceed themselves. Only 2014 Run United finishers will be allowed to participate in the event. All activities from gun start to finish aims to educate the running community on how proper recovery practices during and after an intense workout plays a vital role in enhancing race performances.
The participants of the 5km and 10km recovery run categories will be led by guest pacers such as top coach, Coach Ani De Leon Brown, and National Team Athletes like Claire Adorna and John Chicano in guiding them on the best recovery pace for a run. The 5km recovery run category will have 8, 9, and 10 minute per kilometer recovery paces while the 10km recovery run category will have 8, 9, 10 and 11 minute per kilometer recovery run paces.
For the 10k 80 min runners, Coach Lit Onrubia and myself will also be pacers.  Only our group will be using the run-walk method in line with our training for TBR ULAH Dream Marathon.  Everyone is welcome to join our group so I do hope to see you there!
The 21km category is intended for participants who wish to do an easy, long distance run to cap off a full season of long distance running for the year but still want to learn more from expert guests about proper recovery after the race.
"Through this event, our goal is to help progressive runners embrace the value of recovery programs and how its proper application can help establish future personal records. Progressive runners always desire to do a PR and UNILAB Active Health aims to provide them with different solutions in achieving this goal. Recovering as hard as your training can help them continuously become a better version of themselves," says Lester P. Castillo, UNILAB Active Health Sports Events Executive.
After crossing the finish line, all participants gain access to the 1st Enervon HP Recovery Village where all activities have been developed with Sports Science experts from the University of Santo Tomas, College of Rehabilitation Sciences, Sports Science and Physical Therapy Departments. The village will be divided into key zones: physical recovery, sports nutrition recovery, and mental recovery. Some of the activities will feature hot and cold treatment, flexibility exercises, self myofascial release, and periodization counseling.
Participants will also get a chance to enjoy my favorite recovery drink, a cold glass of Enervon HP Recovery drink. Enervon HP Recovery is formulated with the ideal 3:1 carbohydrate to protein ratio that can help repair worn-out muscles and restore lost energy with carbohydrates, B-complex vitamins, and essential minerals. Enervon HP Recovery is best taken within 45 minutes after a workout for best nutrient absorption.
The Run United HP Recovery run in partnership with Enervon HP will be held on December 14, 2014 with 5-kilometer & 10-km Recovery Runs, as well as 21-km Easy Long Run categories, all starting and finishing at 34th St. in The Fort, Bonifacio Global City. Online registration is ongoing. For more details visit www.unilabactivehealth.com
For more details, click on this 2014 Recovery Run Registration Details.