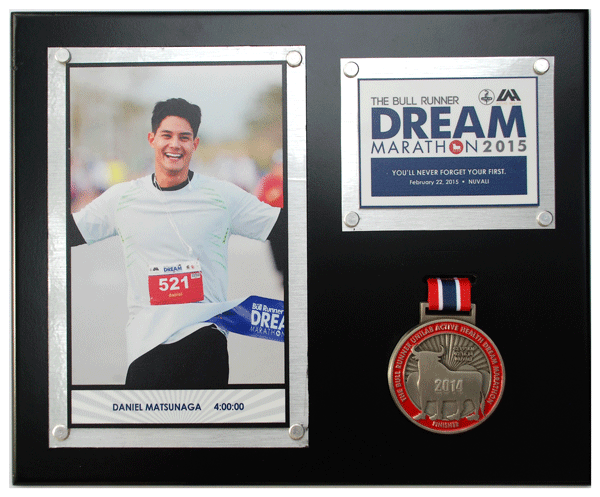 You'll never forget your first.  That's our tagline for TBR ULAH Dream Marathon and we believe it.  Finishing your first marathon is as memorable as your graduation, wedding day, or even the birth of your child.  To preserve your precious first marathon memories, we're coming out with a better TBR Dream Memorabilia!
To TBR ULAH Dream Marathon 2015 participants, we will be accepting orders starting tomorrow at BULL SESSION 4.  We'll also accept online orders.  Please see details below.
NOTE: We will only be accepting a maximum of 150 orders. ONLINE ORDERS WILL BE ACCEPTED UNTIL FEB. 21, 2015 UNLESS THE 150 MAXIMUM IS REACHED BEFORE THEN.
SPECIFICATIONS:
Contents:
1) Finish line photo chosen by organizer. Edited and retouched.
2) Finisher's Name and Official Finish Time
3) Official Event Logo
4) Official Finisher's Medal
Size: 11.5 x 14 inches
Finish: Lacquer paint front finish
Price: Php 1,400
HOW TO ORDER: TWO WAYS
ONSITE:
We will be accepting orders and payment at the following:
Bull Circle 4: Dec. 3, Wednesday at St. Lukes BGC.
Bull Session 4: Dec. 20, Saturday at Nuvali.
ONLINE:
Deposit payment of P1,400 at:

BULL & BEAR SPORTS MARKETING CO.
BPI C/A 1591-0071-53

If you wish for the memorabilia to be delivered, add shipping fee:

Metro Manila: P1,400 plus shipping fee P360 = P1,760
Province: P1,400 plus shipping fee P400 = P1,800

Email deposit slip to:

Email: raceboxph@gmail.com
Include the following information:

Full name as registered in the race
Contact Number
If for delivery, complete address
Wait for email confirmation. If you do not receive a confirmation within three (3) working days, please follow up via email or mobile. See contact details below.
PICK UP AND DELIVERY:
PICK UP: Runners who DO NOT opt for delivery will be notified via SMS on or before April 30, 2015 on pick up of the memorabilia. Pick up point: The Athlete's Foot, Bonifacio High Street, Bonifacio Global City. Items left unclaimed by May 30, 2014 shall be held by the Organizer at their head office and it will be the responsibility of the runners to follow up via email or mobile.
DELIVERY: Memorabilias will be shipped out on a staggard basis from April 25 to May 5, 2015. Runners who opt for delivery will receive their memorabilia before May 20. 2015.
FOR INQUIRIES or CONCERNS, CONTACT:
LOOK FOR:   JUN CRUZ
EMAIL: raceboxph@gmail.com
MOBILE: 0917-833-1709