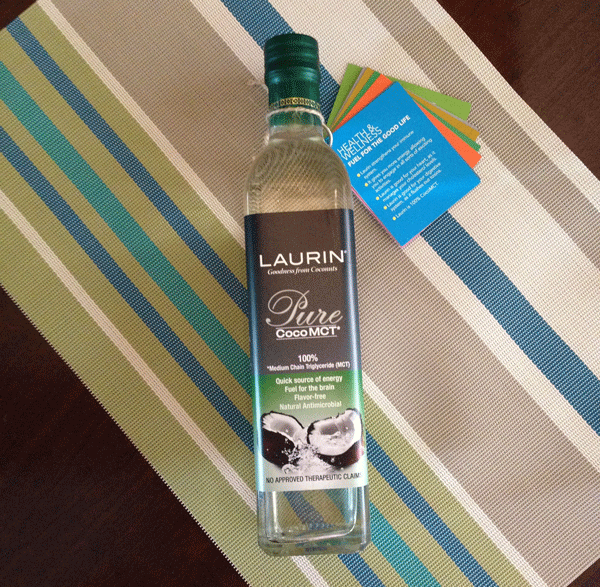 I'm a sucker for anything healthy, for anything coconut, and for anything that can help me run faster or longer.  So, when I received a bottle of Laurin CocoMCT right before Christmas, I was thrilled to be my own human guinea pig and see if it would work for me.
WHAT IS LAURIN?
Laurin is pure CocoMCT, embodying goodness from coconuts grown naturally in the Philippines.  It is one of the purest and healthiest vegetable oils in the market today taking five times more coconut oil to produce one liter of Laurin. MCT stands for Medium Chain Triglycerides which are essential fatty acids offering a wealth of health benefits.
THE TBR LAURIN EXPERIMENT
During the holidays, I started taking Laurin daily. I dropped 1 tbsp of Laurin in my morning tea. Except for that thin film of oil floating in my teacup, it was odorless and flavourless which was great.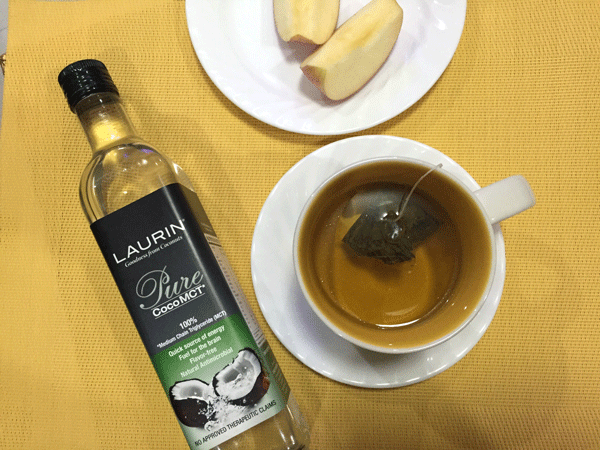 I was a bit hesitant about taking this at the peak of Christmas activities because I didn't know how my tummy would react to it.  I heard that you may see a difference in your bowel movement for the first 3 to 5 days.  Lucky for me, I didn't have any negative response to it.
During this time, I was working out almost daily (mix of running, swim, trainer rides, strength and circuit training) with Monday as rest day. Within a couple of days, I noticed a significant different in my energy level. I didn't feel like a had a punch of power, but I did feel generally stronger during training especially even during long runs.  Even better, I felt sustained energy throughout the day that allowed me to work or do other activities (specifically Christmas shopping!) despite a tough workout in the morning.  I was surprised that I didn't even feel the need to nap despite the bed weather of Christmas!
To be honest, I was quite doubtful about the benefits of Laurin and didn't expect much change in my body from it.  But, after almost a month of taking it, I can tell you I'm a huge fan!  It's a bit pricey with one big bottle at P800, but it lasts pretty long and I do think, considering its many health benefits, it's worth it.
WHAT ARE THE BENEFITS OF LAURIN?
1. Strengthens your immune system.
CocoMCTs have strong anti-microbial, anti-fungal, anti-bacterial and anticonvulsant properties that strengthen the body's immunity killing off harmful microorganisms by penetrating and breaking up their cell walls.
2. Gives your body extra energy.
Laurin not only stimulates faster metabolism, it also burns existing body fat deposits quickly. More fat burned means more energy released for the body.
3. Makes your heart healthy.
Laurin contributes to your heart's overall well-being in two ways. First, it manages your cholesterol levels, promoting a better ratio of HDL (good cholesterol) to LDL (bad cholesterol). Second, it is metabolized quickly by the liver, so it doesn't get stored as fat or enter the bloodstream.
4. Cleans your body.
Laurin is an effective detoxifier. By flushing out toxins in your body, it not only inhibits the growth of bad bacteria and fungi in your colon, it also improves digestion and promotes regular bowel movement.
5. Powerful brain food.
Laurin boosts the body's production of ketones, the brain's alternative source of energy to glucose. Ketones stimulate brain function, enhancing memory, focus, and cognitive functions.
6. Helps with weight loss.
Laurin can help you with weight control because : 1) it speeds up metabolism, providing extra energy with less food intake; 2) it contributes the necessary energy that otherwise might have to be harvested from an extra meal; 3) it is a healthy substitute for other fats and oils. In short, you can do more, and burn more fat, on less food.  Of course, it will only work if you combine this with exercise and a wholesome diet.
7. Last but not the least, for endurance athletes, it can help us train longer!
Laurin a great nutrition supplement for athletes like us engaged in endurance sports. It is a quick source of clean energy which boosts metabolism. More importantly, Laurin provides triglycerides that the body can use while training, sparing the triglycerides and glycogen in the muscles for use later on.
HOW TO USE LAURIN?
Supplement: 1 to 2 tablespoons per serving, 1 to 3x a day.
Food: Useful as salad dressing or as food oil (as pan spray or for frying, grilling, searing, and sautéing). Also great as coffee additive, creamer replacement, and dip for crusty breads.
Topical Oil: Spreads on the skin easily, without a sticky after-feel or smell. Apply to the skin to deal with sunburn, skin scales, dry or itchy skin, and cracked lips.
WHERE IS IT AVAILABLE?
Laurin is produced by Chemrez Technologies, Inc. It is available at:
ECHOstore Salcedo: G/F NDC Building,116 Tordesillas St., Salcedo Village, Makati City
ECHOstore Serendra: G/F Serendra Piazza, McKinley Parkway, Bonifacio Global City, Taguig
Nurture Nook Shop: Unit D 78 Estrella St., Bel-Air Village, Makati http://nurturenookshop.com/
The Flow Shop http://www.flowretreats.com
For more information about Laurin, visit www.laurinmct.com, call 635-9000 or email info@laurinmct.com.