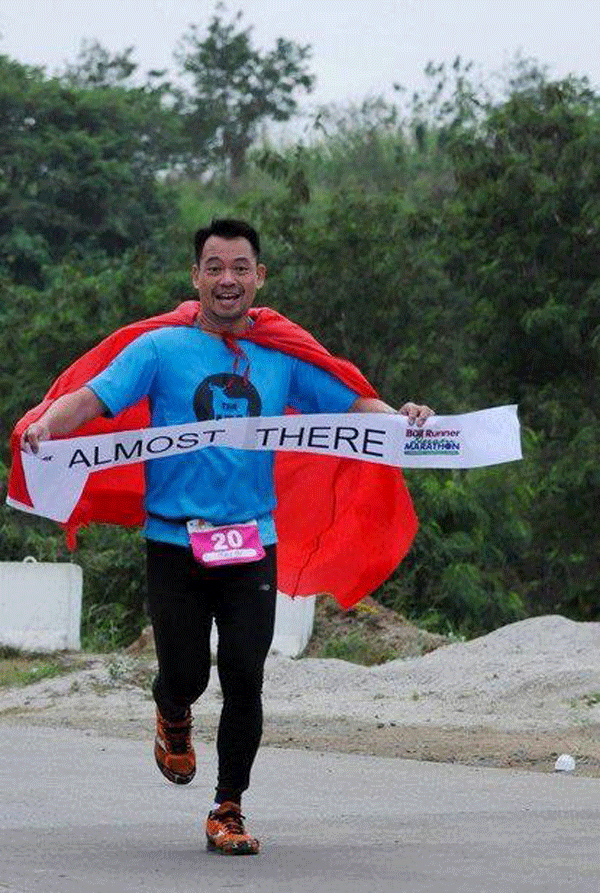 Toel in his red cape at TBR Dream 2011 as Dream Chaser. He wore this in every TBR Dream thereafter (Photo: Vener Roldan)
As many of you may have heard over social media, our dearest friend, Leo "Toel" Tugade, was found brutally murdered near BF Alamanza.  The news has shocked and shaken many of us in the running community not only because of his violent death, but, because, if you were fortunate enough to have known Toel, he was just one of those cheerful, humble, generous, and all-around good guys who just didn't deserve this.
Toel was part of the inaugural batch of TBR Dream Marathon way back in 2010.  In 2011, he was a Dream Chaser.  And, every year thereafter, he was a regular fixture at TBR Dream and even at some Bull Circles and Bull Sessions to accompany the runners he was helping to train.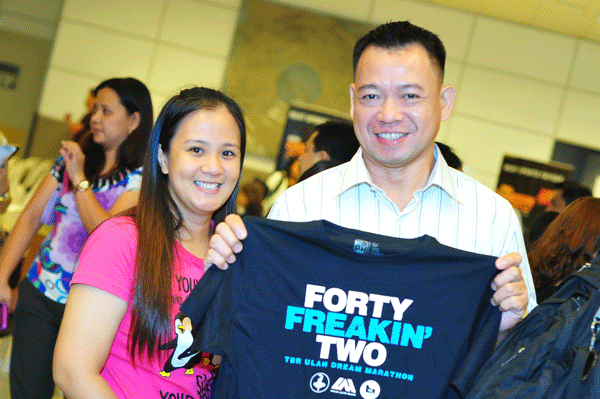 Toel at TBR Dream 2015 Bull Session. I caught him lined up to purchase a Forty Freakin Two shirt and I simply handed it to him along with a TBR visor telling him that both gifts were nothing compared to the help he'd given us and our runners through the years.
I clearly recall one TBR Dream where he had a dozen Snail Runners gunning for their first marathon with us.  He spoke to them like a true leader, a coach, teaching them about pacing, about making sure they follow the rules, and he waited for them at the finish line with tarp posters printed for each and every finisher.  After the race, he found out that one of his runners had inadvertently missed one of the turnarounds.  He spoke to her and asked her to return the TBR Finisher's Medal and TBR Finisher's Shirt.  And, she did.  I remember thinking: Now this is a man with integrity.
Toel and I were not very close, but, like an old friend, I almost always expected to see his huge smile and his red cape at every TBR Dream.  He was just a huge part of it.  And, I just took it for granted that he would always be there for as long as the race was there.
Toel was a real runner.  The kind that ran all his miles alone or with friends and he didn't need to boast about it.  The kind that helped beginners learn to love the sport but also develop the discipline that goes along with it.  The kind of runner that made me proud to call myself a runner.
My heart aches for Toel and his family.  I pray that we find justice for his gruesome death.  I pray that Toel is happy where he is running to his heart's content.
Rest in peace, Toel.  You will be missed. #JusticeForToel