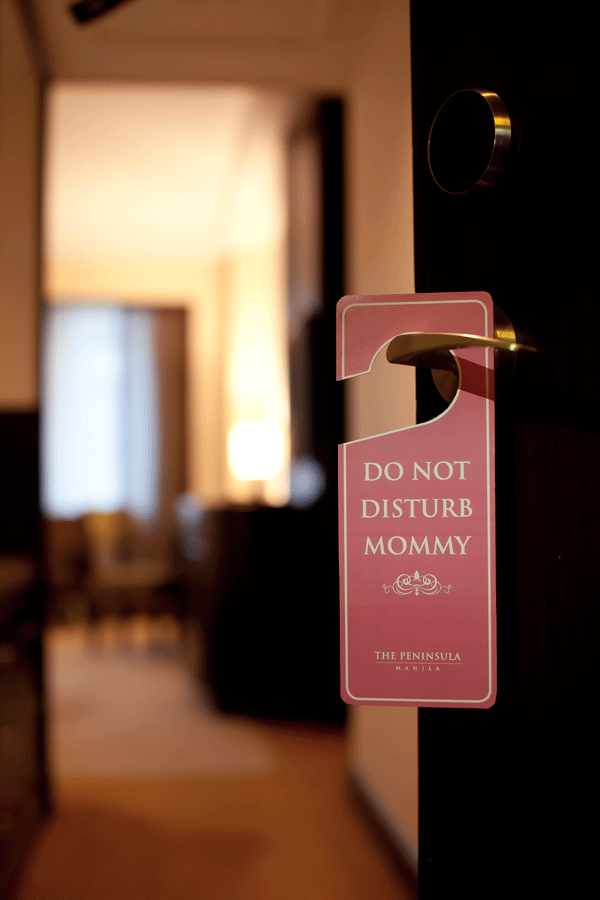 Happy Mother's Day to all Mommies out there!  Put your feet up, relax, and act like a queen for a day (or two!) because you deserve it!
In this fast paced, multi-tasking, high-tech world, many of us Mommies are forever running around chasing after deadlines, dreams, and our kids (literally for some!)  But, every now and then, we should allow ourselves to take a break and recharge.  
The Peninsula Manila recently unveiled its MomMeCation Package, the perfect pampering package that is guaranteed to rejuvenate moms everywhere.  I, along with other Moms, was fortunate enough to experience this special treat right before Mother's Day.
I arrived at the Pen on Friday afternoon with the team of The Peninsula Manila PR group led by Mariano Garchitorena or Garch standing in line to welcome me.  After handing me a beautiful bouquet of flowers, I was led up to my gigantic Suite without delay.  "Just relax," I was told. "This is your special day because you deserve it."  I thought to myself: It can't get any better than this!
Well, I was wrong.  It did get even better as I was treated to two days of pure pampering, sumptuous meals, and luxurious accommodations that simply allowed this tired ol' marathoning mommy to take the backseat and be the one taken care of.
————————–
In my suite, a bottle of champagne and chocolates welcomed me.  On my huge king sized bed, they had laid out a hotel bath robe with my initials monogrammed on it.  And, by the bed, they prepared a framed photo of myself and the kiddos.  The weekend's itinerary was laid out for me.  Talk about attention to detail!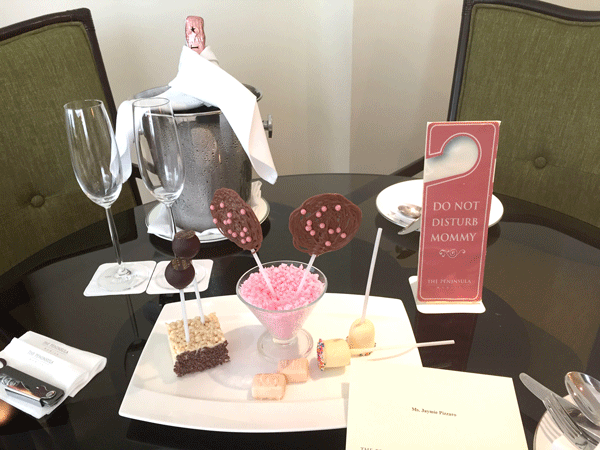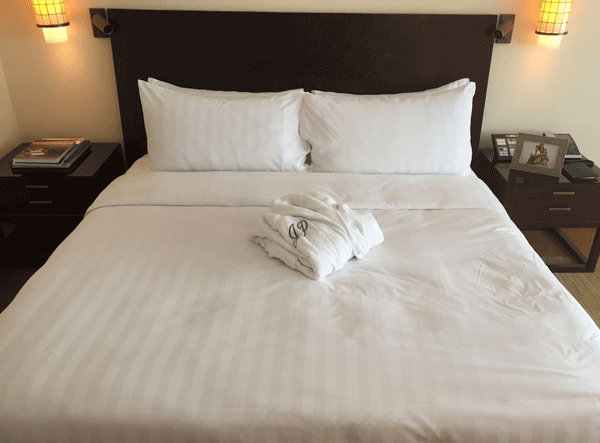 I pulled down the sheets of my bed, clicked on the remote, and did as I was told: I relaxed!  After a couple of hours, I headed down for our next activity.
We were shuttled to Rustan's for a facial at Murad Spa.  A facial?!!  The last time I had a facial was a whopping 15 years ago!  To say that I was thrilled was an understatement.
They gave me a Vitamin C facial for one-hour.  I felt like it cleaned up my pores, moisturized my skin, and gave me a glow I hadn't seen in years (maybe it was hidden underneath all the dirt accumulated from years of running, eh? Eek!)  Needless to say, I thoroughly enjoyed the experience and I'll try to sneak in a regular facial into my busy sched if I can.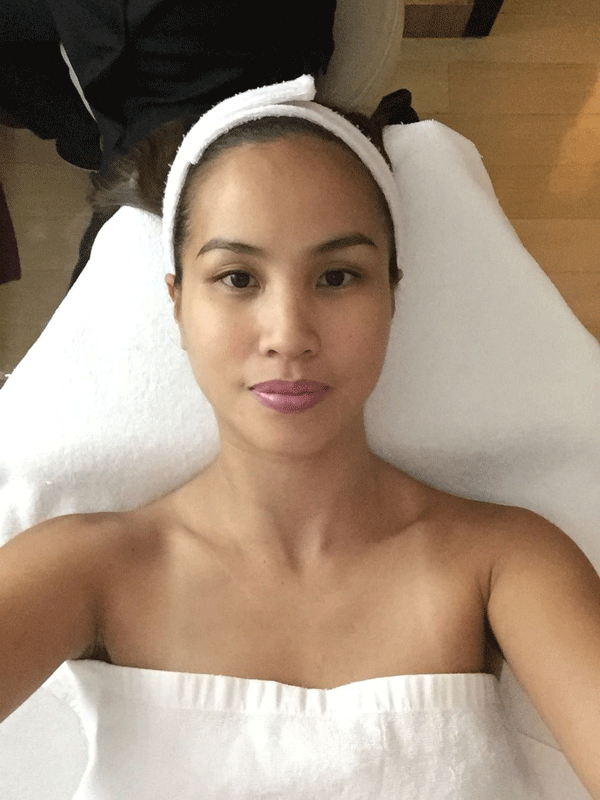 After the facial, we headed back to the hotel, tidied up, and got dressed for dinner at Spices, The Peninsula Manila's restaurant offering Southeast Asian cuisines from Indonesia, Malaysia, Thailand, Vietnam, Singapore, Sri Lanka and India.  The food was flavourful and fresh.  The conversation among new and old friends made the evening even more enjoyable.
After happily filling my tummy (and thinking I better burn this all tomorrow!), we headed next door to Salon de Ning for some music and cocktails.  It was here that I truly felt like an oldie or a "Manang" as my friends like to tease me.  After a few sips of champagne and a little bit of chitchat, I started to get sleepy.  Uh oh, it was way past my bed time.  Thankfully, I think all mommies felt the same.  By 11, we said our goodbyes and headed to our rooms to enjoy our cozy beds.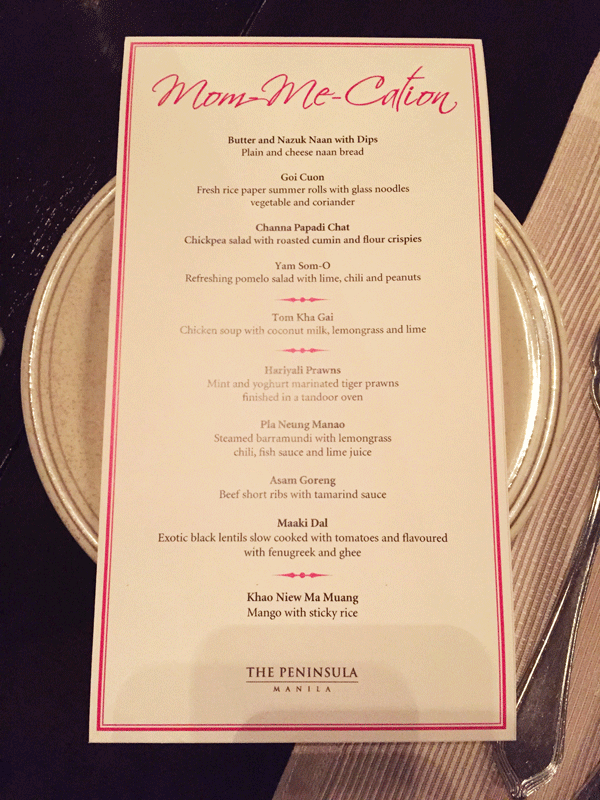 Dinner Menu at Spices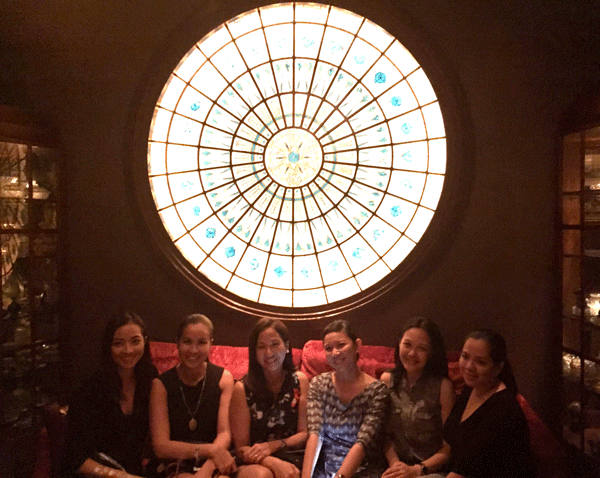 With old and new mommy friends at Salon de Ning: Jackie, Janice (my sis), Neva, Ruth and Shen 
While this MomMeCation package is for Moms to get away and recharge, it was great that the Suite had two rooms to accommodate me and my kids and their cousins who were thrilled to join the staycation.  I had them bunk with me and allowed my dearest hardworking Sis to have her own Suite all to herself.  Lucky for me, the kids chose to sleep on the sofa saying it was just as comfy as my king-sized bed!  Hotel staff simply added two more beds and the kids all slept comfortably in the living room while I shut my bedroom door and felt like I had the room all to myself.  I still got my MommyMe time without missing my kiddos too much!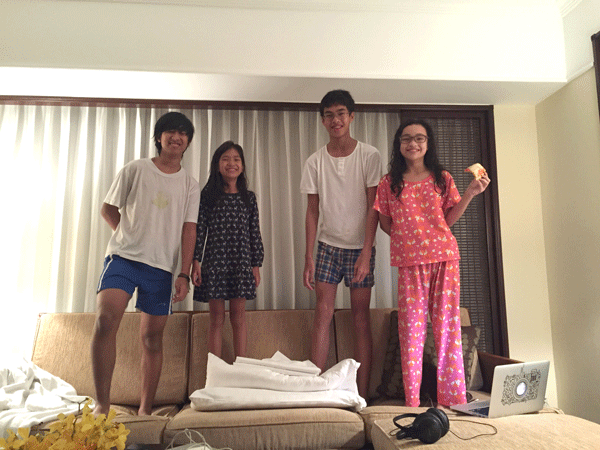 The following day, I woke up bright and early for a morning swim.  I swam 1.4k and spent a few more minutes doing nothing by the pool and enjoy the amazing weather.  If you asked me how I would like to spend my Me Time, it would be one of four things: Run, Bike, Swim, or Yoga.  I love spending time alone with my own thoughts while sweating it out and challenging myself.  I feel like this is when my mind is the clearest.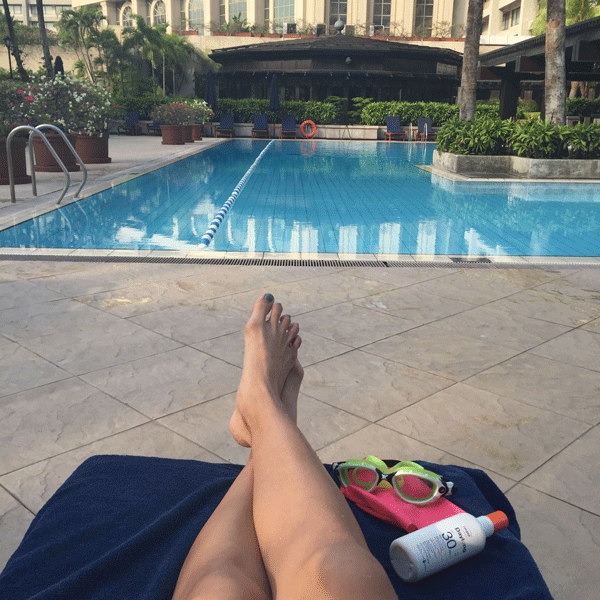 After a quick shower, I had breakfast with Jackie at Escolta.  Breakfast is my favorite meal of the day.  And, when it's a buffet with tons of healthy and wholesome food to choose from then I and my tummy are in food heaven.  For those who prefer the not so healthy food, you would've been happy with the longganiza, adobo, and beef tapa too!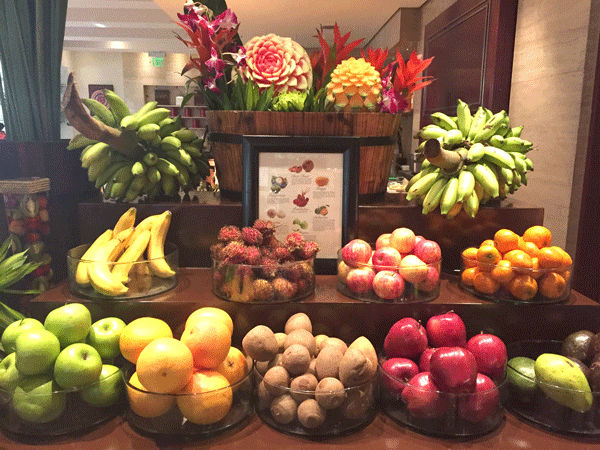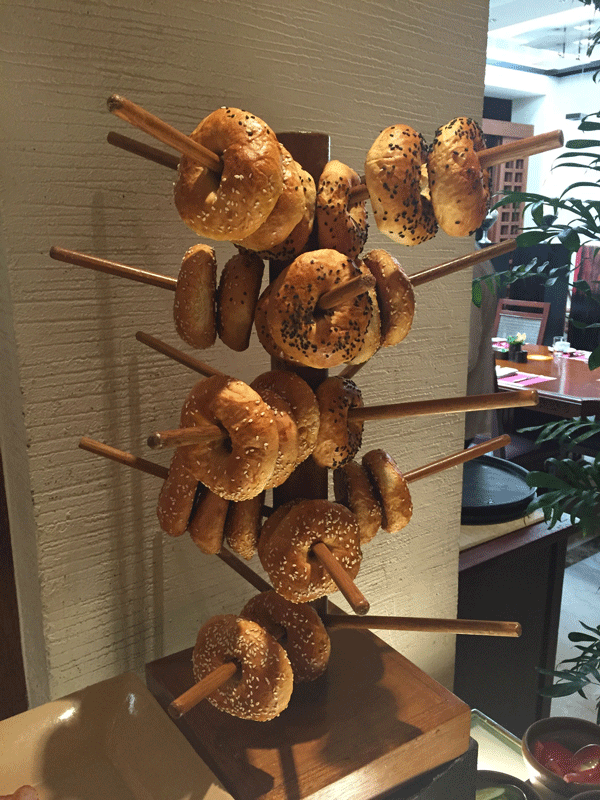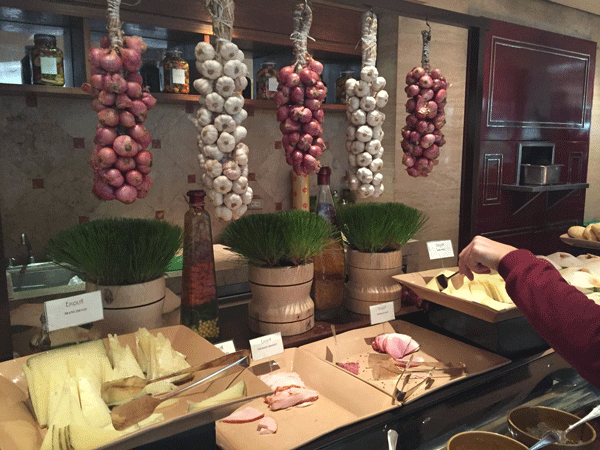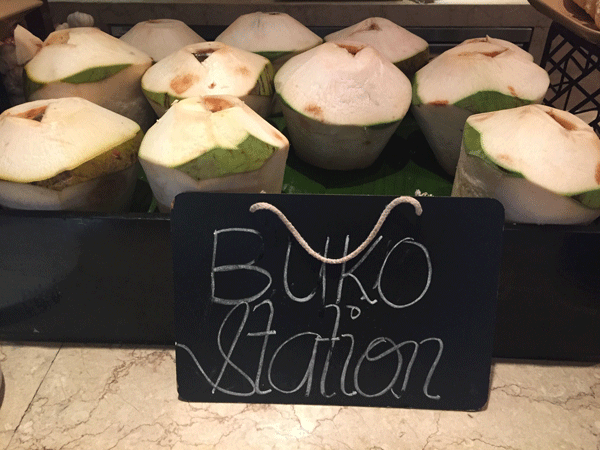 I went back to my hotel room, worked a bit (I know I broke the rules by working, but I couldn't help it!), and soon heard my door bell ring.  It was Kate, the masseuse, ready to give me my Swedish massage in my very own room!  I'm a sucker for massages.  In fact, I consider myself a massage connoisseur (if there's such a thing!) and Kate's was the best I've had in years.  I almost wanted to lie in bed forever!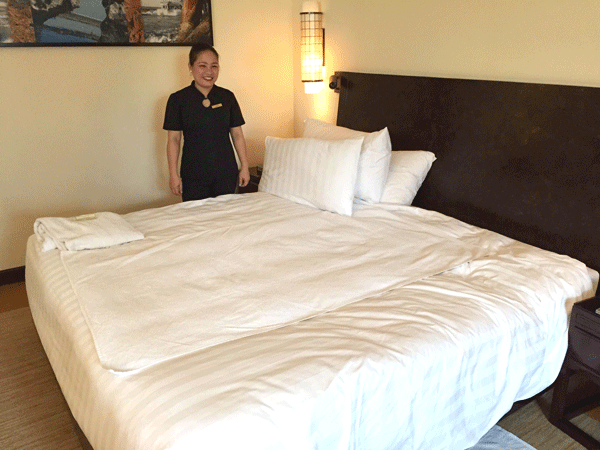 We ended our MomMeCation with lunch at the Lobby of the Pen.  The lobby of the Pen holds a lot of memories for me.  In high school, my friends and I used to meet up here for the famous Pen Pal (who didn't right?!) and I had a lot of memorable dinner dates here.  Now, it was going to hold happy memories of one of the best Mother's Days I had ever experienced!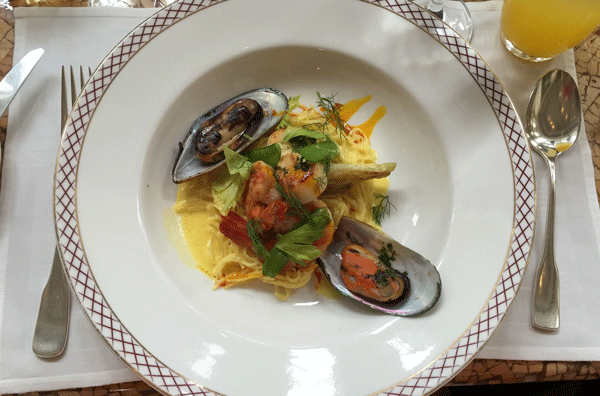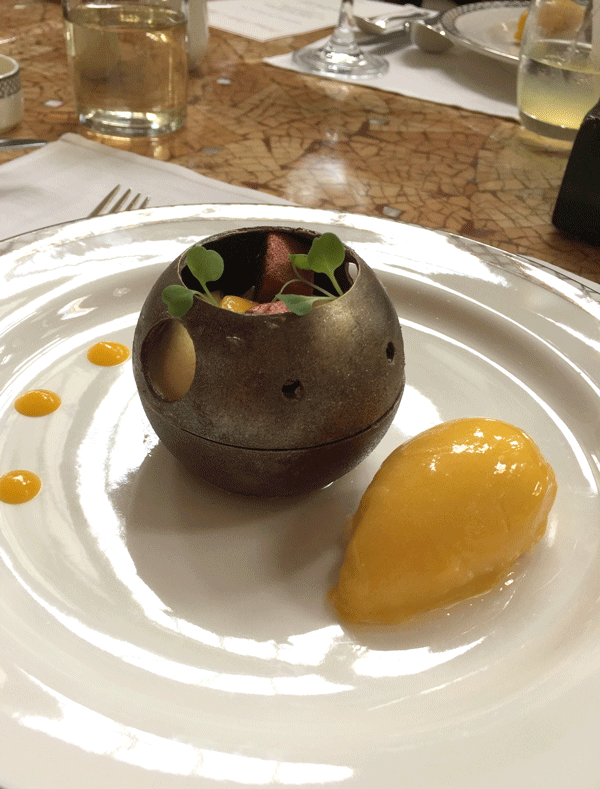 Thank you so much to The Peninsula Manila for honouring us Mommies and spoiling us silly during the entire stay.  Your attention to detail was impeccable and your friendly hotel staff was fantastic.  I hope my kids can treat me here again next year. (ehem ehem)
THE MOMMECATION PACKAGE
This luxuriously indulgent MomMeCation Package can be enjoyed solo or with a friend, and begins with a stay in a Deluxe Room, Grand Deluxe Room or a Premier Suite. Valid from May until December 30, 2015, the MomMeCation Package starts at P 11,500 per night in a Deluxe Room.  Prices are subject to 10% service charge and prevailing government taxes.
The package includes:
60-minute supervised workout with a personal trainer
an hour-long Swedish or Shiatsu massage for one at The Fitness Center & Spa. (A 30% discount is available for one other companion wishing to take a massage)
exclusive beauty gift for one from iconic luxury emporium Rustan's Department Store
P1,000 food and beverage credit at The Lobby
themed cocktails for a nightcap in Salon de Ning or The Lobby.
scrumptious buffet breakfast, valid for two, in Escolta restaurant
MOTHER'S DAY LUNCH AND BUFFET AT THE PENINSULA MANILA (MAY 10, 2015)
Mother's Day Brunch Buffet
Escolta
12:00 noon to 3:00 pm
P 3,500 (with free-flowing Champagne for adults)
P 2,400 (adults)
P 1,300 (children under 12)
Best of Escolta Dinner Buffet
Escolta
6:30 pm to 10:30 pm
P 1,750 (adults)
P 970 (children under 12)
Afternoon Tea Buffet
Upper Lobby
2:30 pm – 5:30 pm
P 1,600 (adults)
P 850 (children)
Mother's Day
À la Carte Lunch
Spices
11:30 am to 2:30 pm
P 1,200 (minimum charge)
Old Manila
11:30 am to 2:30 pm
P 2,400 (three-course menu)
P 2,950 (four-course menu)
CONTACT THE PENINSULA MANILA
For inquiries:  call +63 (2) 887-2888, extension 6630 (Room Reservations), e-mail reservationpmn@peninsula.com or visit the website peninsula.com. Like The Peninsula Manila on Facebook, and follow @thepeninsulamanila on Instagram and @thepeninsulamnl on Twitter.