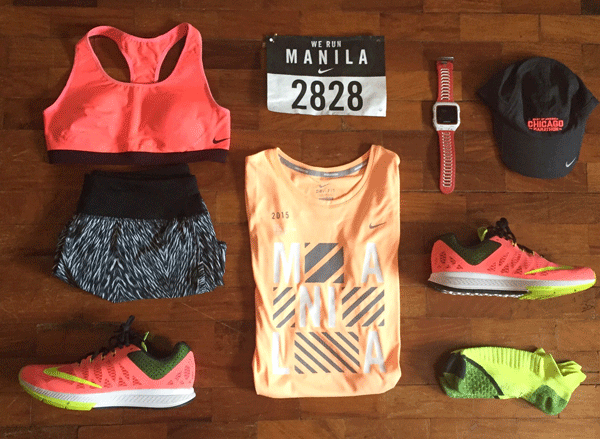 Over 8,000 women rocked it last May 9, 2015 for the inaugural Nike Women's 10k Manila run at Filinvest City. Aside from the unique feature of being an exclusive women's only event, it was also a night race with gun start at 9:00 PM.  (Way past the bedtime of this morning person, but, hey, I couldn't miss this event!)
I arrived as early as 8:15 PM.  With a slight drizzle and threat of stronger rain, I headed straight into the assembly area.  My mindset for this race was to have fun.  Rain wouldn't ruin my mood!  With 3 weeks after Boston Marathon and 2 weeks before Buffalo Marathon, I was (and still am) on full recovery mode.  Plan was to run the race easy and enjoy the Filinvest City course which is one of my favorite places to run in.
The starting line instantly made me feel I was in the perfect race to have fun.  Why?  Well, it had a disco ball hanging right smack in the middle!  By 8:45 PM, the hosts appeared out of the sky.  Okay, I exaggerate, they were hoisted above us and the girls would go wild every time the hosts asked the crowd for some energy.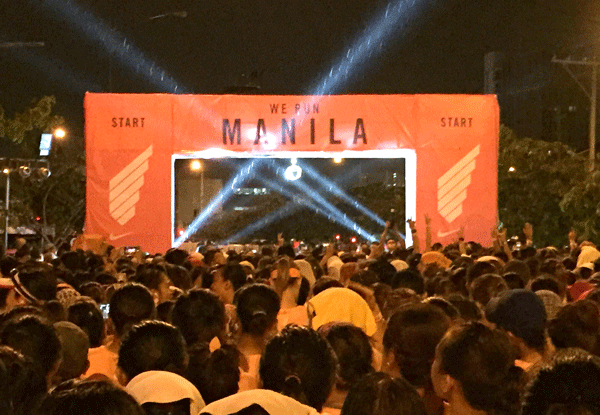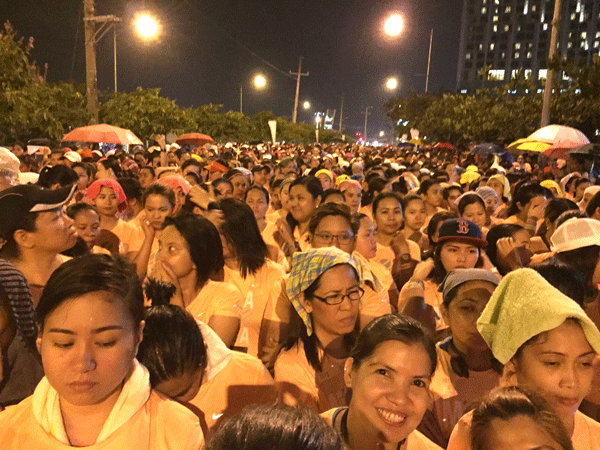 After being witness to a million group selfies and eavesdropping on all kinds of girl talk, we were off.  Fireworks exploded behind us.  Silver confetti floated above us as we crossed the starting line to begin our run.  The rain had stopped.  I wanted to cheer for my girls… Let's do this!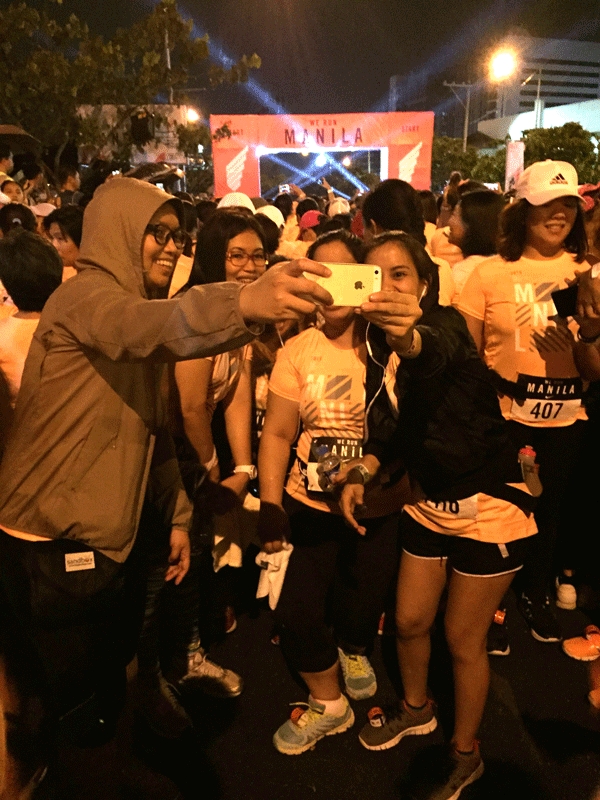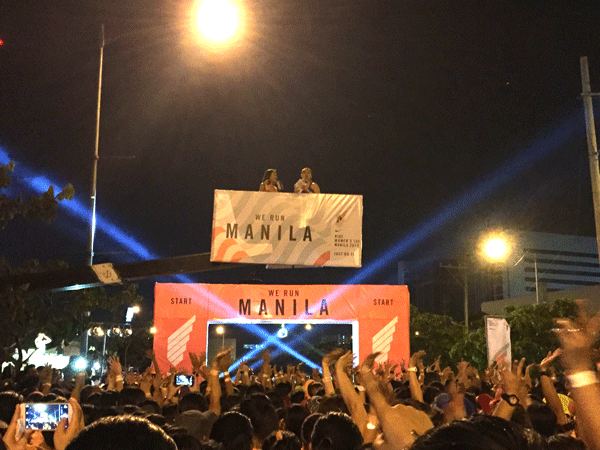 The race course took us through the flat roads of Filinvest City then climbed up into Palms Country Club and near the area of RITM.  I said it above and I'll say it again: I just love this route.  It's my playground.  So, to run this course along with other women with ample lighting, overwhelming hydration, proper directional signs every 2k, competent marshals along the way, and at night away from the heat of the sun, I truly had a grand time.
While the first few kilometres of the race were slightly crowded, especially with quite a large number of beginner runners walking as early as Km 2, I found it quite manageable.  By the time we climbed Palms, the crowd had eased and I was able to run freely.  Friends who started later have shared a completely different experience saying that the traffic was too heavy throughout the entire 10k.  That issue can easily be resolved next year with a controlled wave start and providing more guidance and training for beginners.  I'm crossing my fingers Nike will do this again next year… and the year after.  It can only get better!
At the last kilometer of the race, I bumped into Nike NTC Ambassador Trish who was running her first 10k.  At the last 400m, I advised her to sprint to the finish and I watched her from behind to see her finish strong.  It was so much fun to cheer other women during the race and see them hit their goals in running knowing that this experience would change them as it did for me when I ran my first 10k almost a decade ago.  I crossed the finish line at 1:02 happy with the entire experience.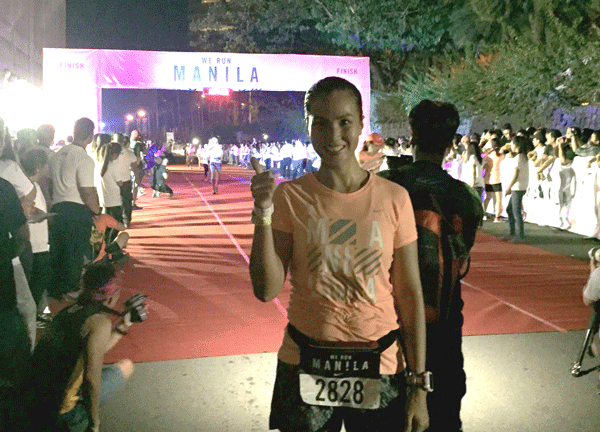 After the finish line, we were led to the steel parking lot near Filinvest Mall.  I was in shock!  The entire parking lot was converted into the post-race activity area. On the first level, we claimed our finisher's kit which included a Nike Finisher's shirt, bottled water, and Gatorade.  Heading up to the next floor, Nike offered their NTC Workouts led by Nike NTC Ambassadors, most of whom are girls that I've met and have come to admire (even if they're mostly a decade younger than I am!)  On the top floor were sponsors'  booths, a lounge area, plus the DJ!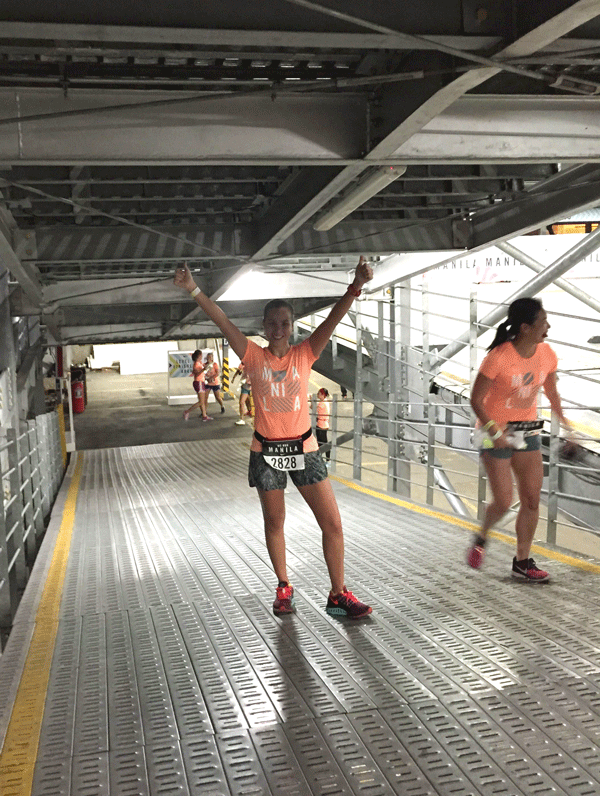 Sweaty but happy!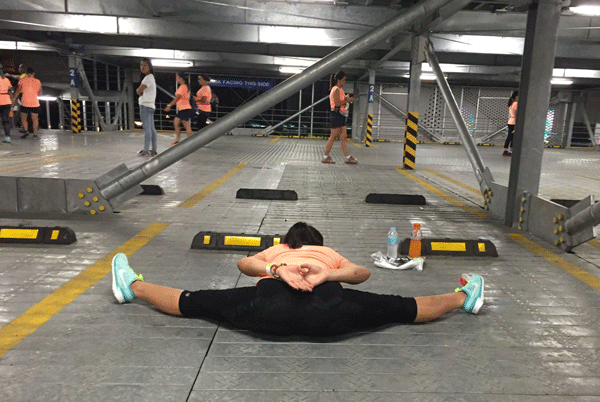 Runner stretches after the race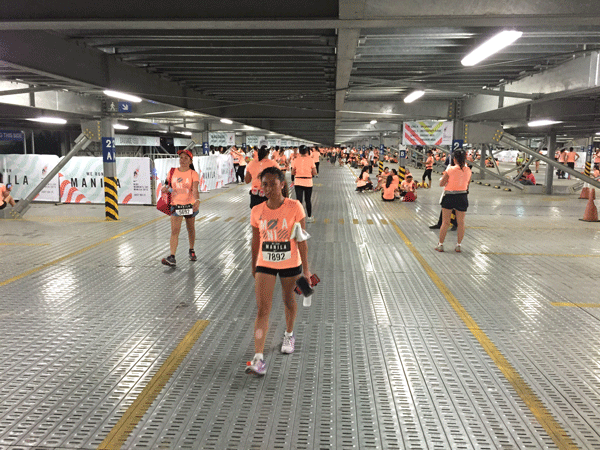 Steel-parking lot converted into the post-race village. Cool!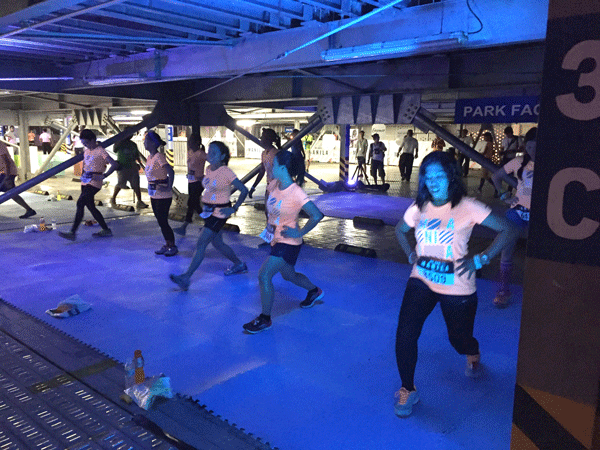 For those who were bitin with 10k, Nike offered NTC workouts!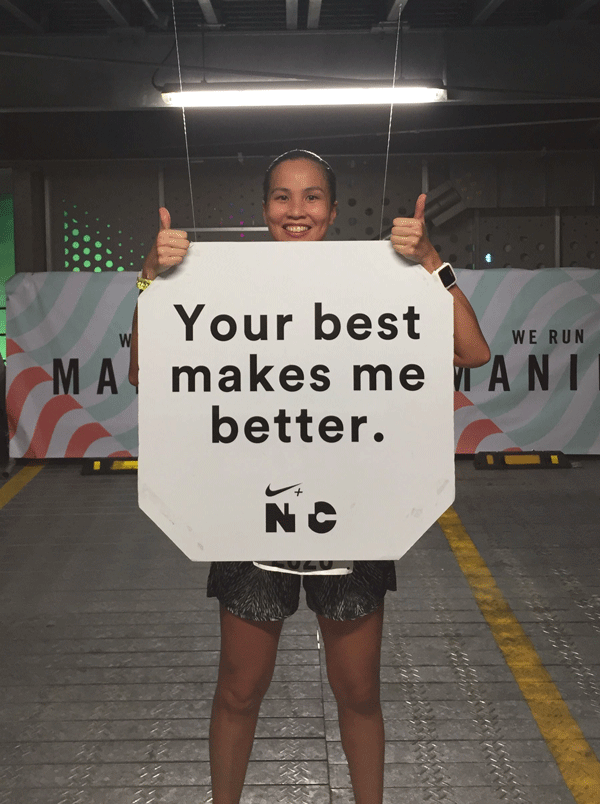 Your best makes me better, baby!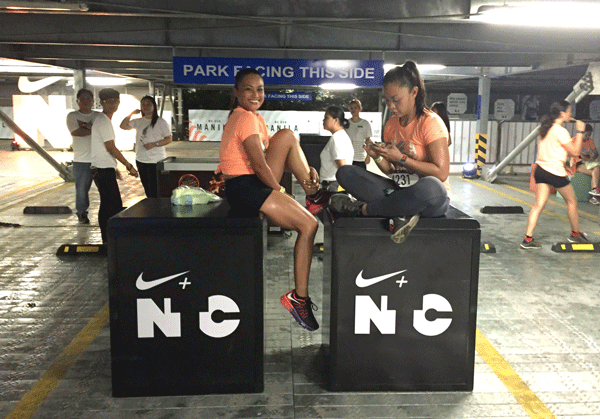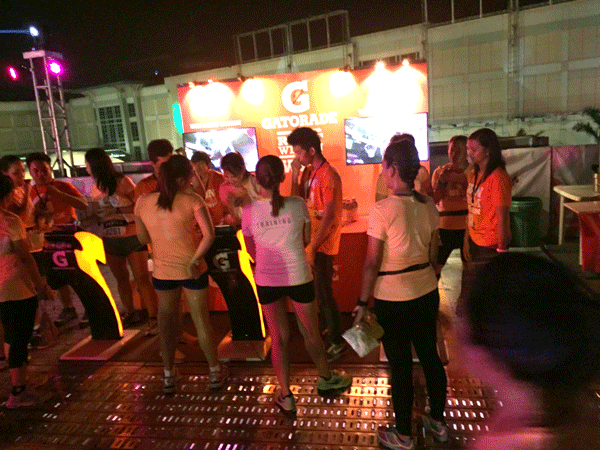 Gatorade booth at the top floor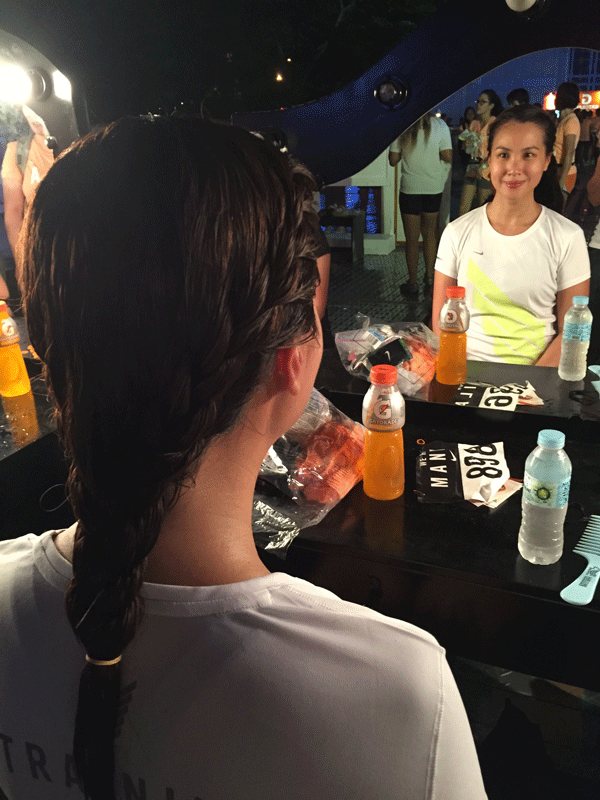 I got my hair braided after the race!  Thanks to my friends at House of Braids for this! I'll try this look again for future races LOL.  (houseofbraids@gmail.com)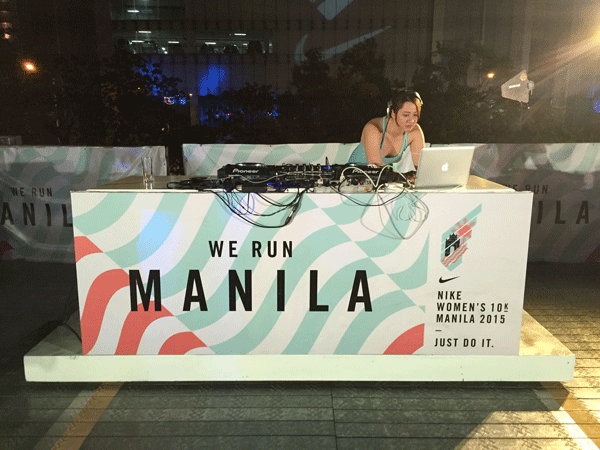 Loved the music at this race!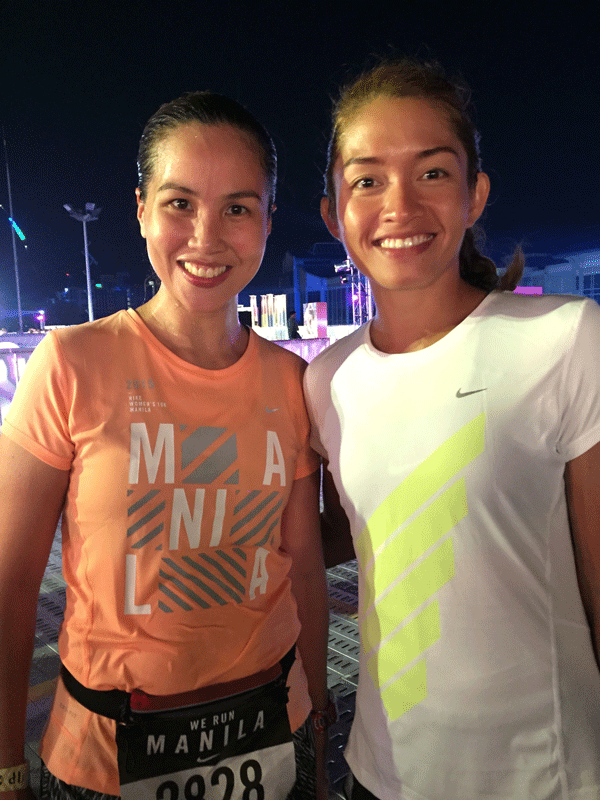 with Nike ambassador, triathlon champ, friend, fellow birthday girl Monica Torres
From the top, I spotted a huge dome with huge flat screen TVs at the parking lot.  I was told that once you entered, your d-tag would be activated and your name and finisher's time would flash on the screen.  Upon entering this air-conditioned dome, I found beanbags for runners to relax and gaze at the dome screen above.  I sat there for over 5 minutes and I didn't want to leave!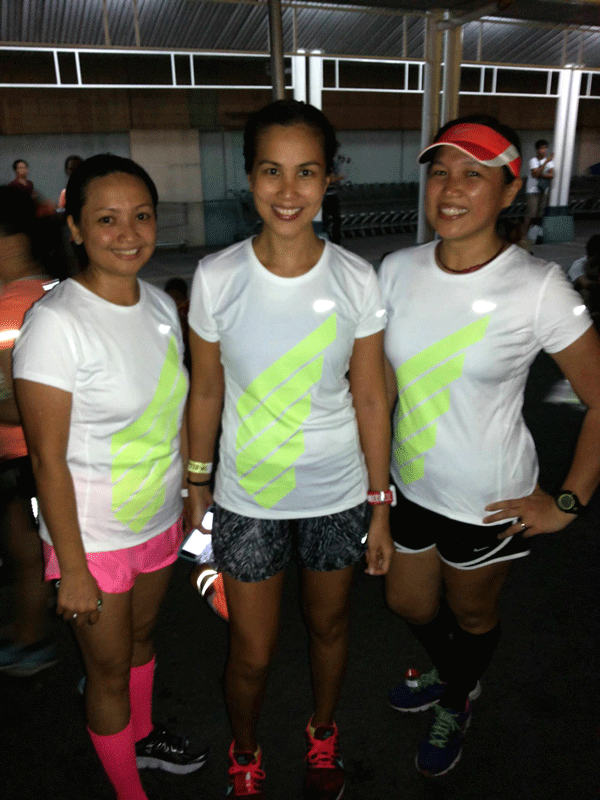 Nice to bump into fierce running girls! (Photo courtesy of Cynthia Castillo)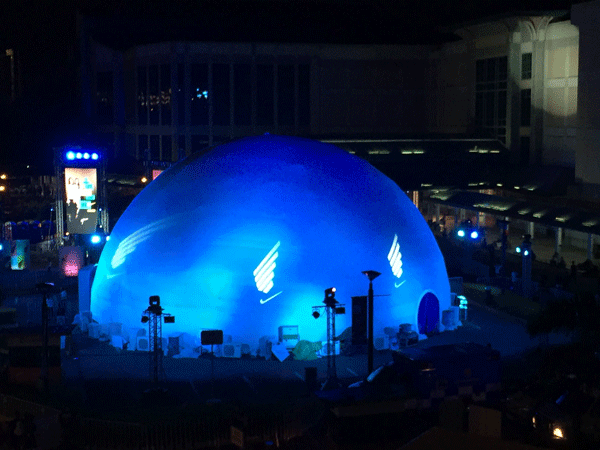 Huge Nike dome at the parking lot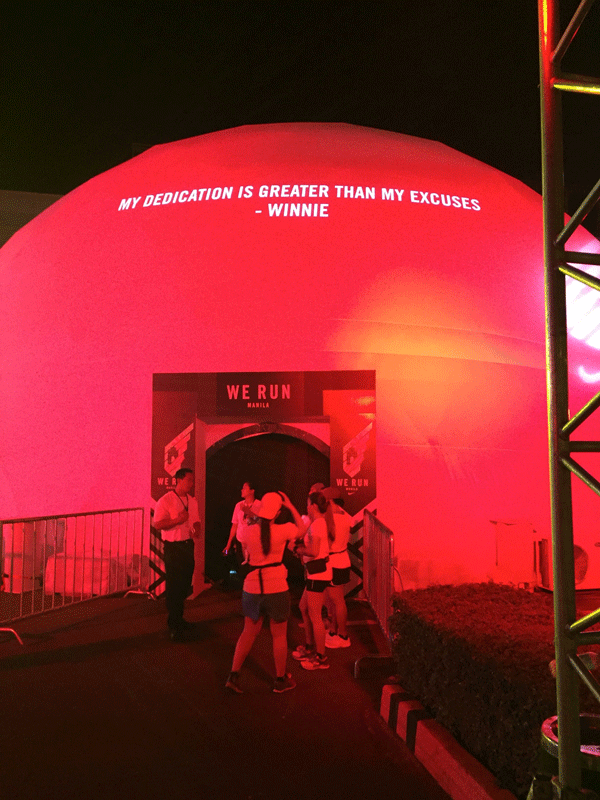 Check out the quotes displayed above!
Look up, girls!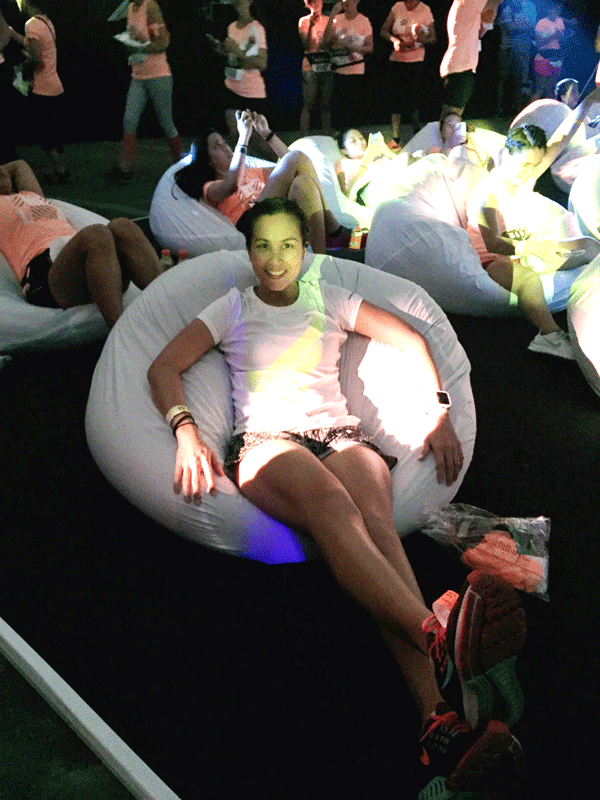 Feeling too at home!
I glanced at my watch and couldn't believe the time.  It was past 11 PM and I was wide awake!  After bidding goodbye to friends and some TBR Alum, I headed home happy to have gone past my bedtime for this event.  Staying up to party run with the girls was truly worth it!