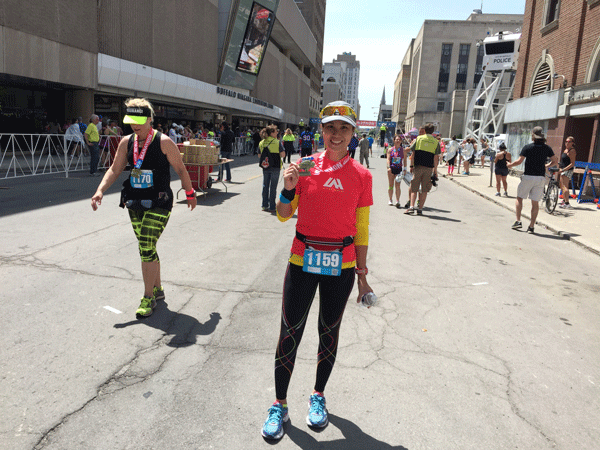 There was no doubt about it. As I stood in the coral of Buffalo Marathon last May 24, 2015, I was certain that I chose the best race I could after a string of World Marathon Majors the past years. While finishing the six World Marathon Majors was a dream come true and exposed me to the world's biggest and best races, I still believe that small, intimate marathons have their own beauty. I was ecstatic to be standing among the almost 8,000 runners in this race.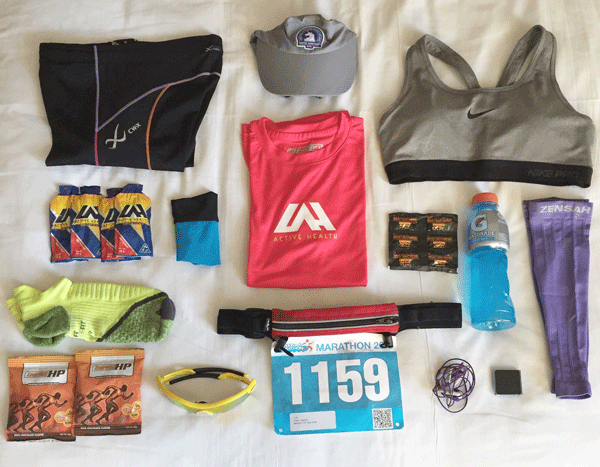 – My gear all laid out the night before the race –
It took me a mere 15 minutes to get to the race start from my hotel, Hyatt Regency Buffalo, which was conveniently located near the start, finish, and race expo. There were no huge crowds, complicated public transportation to figure out, nor road detours to worry about. I loved how easy this all was compared to the usual long hours of waiting for bigger marathons.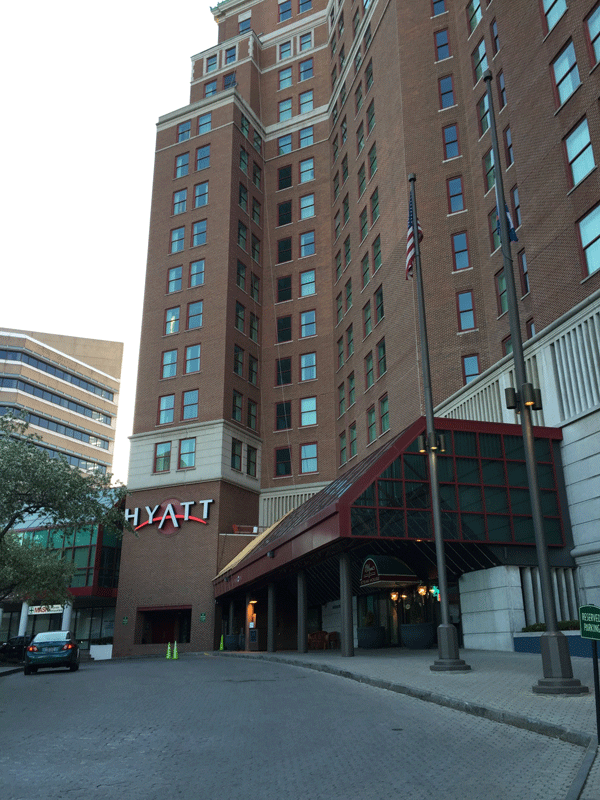 – Hyatt Regency Buffalo –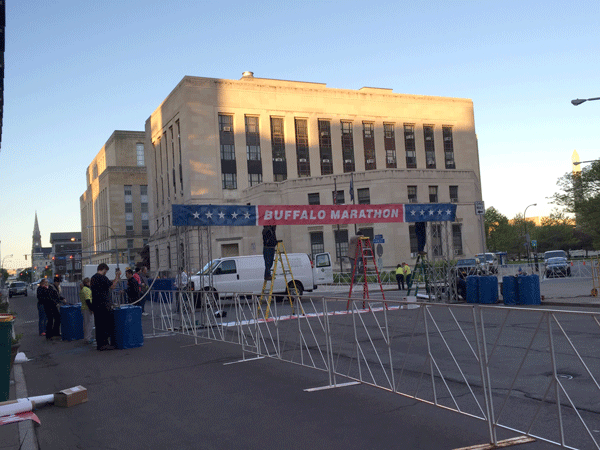 – Race start set up a day before the race –
The weather was perfect. I wore just a dual layer of clothing: my Unilab Active Health shirt with a long sleeved top underneath. I felt like I was overdressed since I expected the weather to warm up a bit later that day.
It's been said that Buffalo Marathon has one of the highest percentages of Boston Qualifiers. I looked forward to running the flat and fast course even if I wasn't planning to race this one. My goal was to just finish and enjoy the experience without pressure over time. Having said that, I joined the 4:40 pace group as guide and see if I could keep up with them.
Despite the many positives to this race, there were also minor imperfections. First, they would only accept race shirt exchanges at 6:00 AM on race day. Say what?! Yup, shirt exchanges an hour before race start only. My shirt happened to be the wrong size and I didn't bother going through all the trouble to exchange it. Second, I found the 2-mile interval per hydration station to be too far in between. There were times I was parched and praying to God a station would be near. Other than that, I can only recommend this marathon to runners who are in search of a PR in a relatively small race in the US.
Back to the race start at Delaware Avenue. Within 5 minutes upon my arrival at the corral, the race started.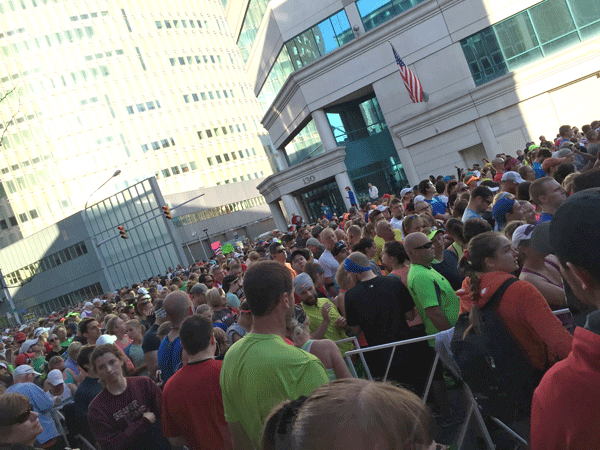 Music was booming. People started cheering. Blue and red confetti flew high up into the blue sky and slowly fell over our heads as we crossed the starting line.
The roads of Buffalo were clean and wide. No, they weren't entirely pancake flat as Berlin. There were gentle rolling hills all throughout the course, but it was still very pleasant overall. Most of the course took us through beautiful tree-lined streets along the peaceful neighborhoods and parks of Buffalo. I thoroughly enjoyed admiring the well-manicured lawns and pretty front porches of the quaint homes or the wide open spaces of the parks as we passed.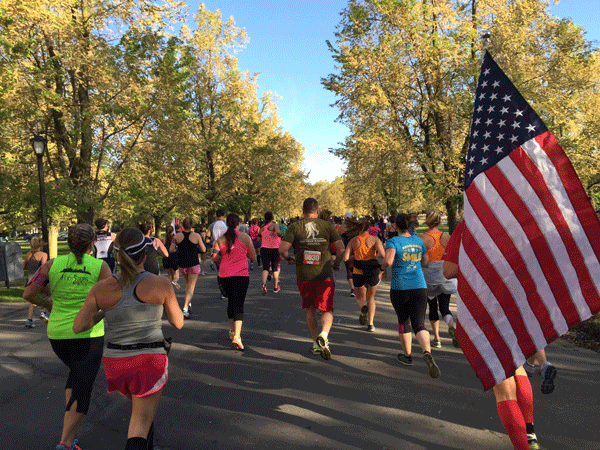 – Loved running through Buffalo streets –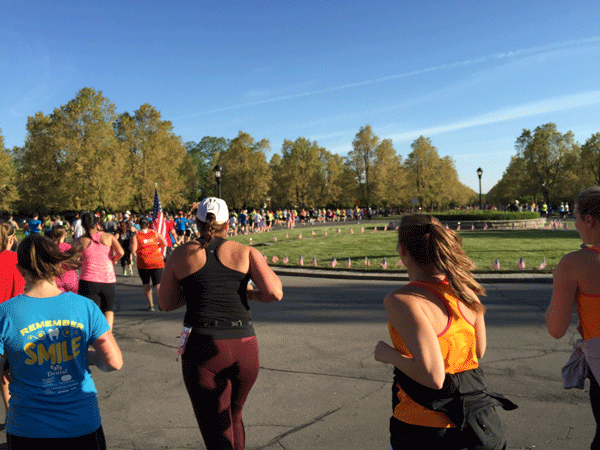 – Running through Delaware Park –
The highlight of the race for me was running through Lake Eerie at around Mile 8 to 11. It was just beautiful and peaceful to run by the water and I felt lucky to be given the opportunity to run this marathon. I remember thinking: This is exactly the way I want to run marathons from now on. The same way I did in CIM and Berlin where I didn't pressure myself with personal records and I simply savored the experience.
I chatted with some runners. I took some photos. I read the sometimes humorous signs and banners of spectators such as "Never trust a fart!" or "Run like you pooped in your pants."
I was enjoying the race entirely up until 13k when my pinky toes on both feet started to hurt because of blisters. Blisters?!! Pffft. I'll be fine with tiny blisters. By a few more kilometers, they both hurt like hell but I was trying to stay positive. No one ever died from blisters! It was to be a long painful race but I could just suck it up and run through the pain. And, that's exactly what I did.
By 19k, I felt a sudden sharp pain on my left pinky toe shooting up to my left leg. What the hell was that?!! I knew then that the blister had burst and it just couldn't get any worse than that.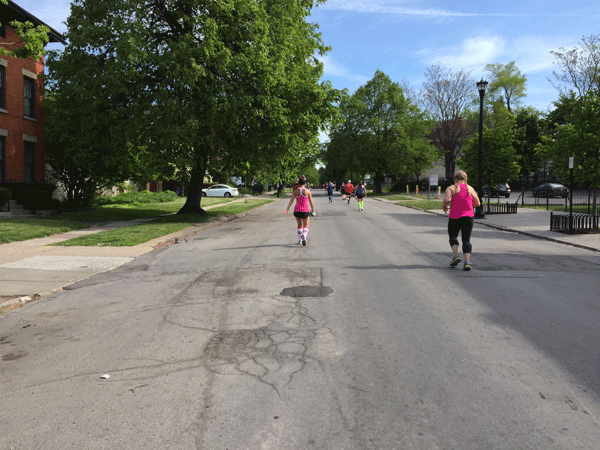 I ran, and ran, and ran. I ran through the blisters and the blood. I ran through the heat. By this time, the sun started to get stronger and I didn't have the energy to remove one layer of clothing so I just rolled up my sleeves and ran with it.
I ran through fatigue. This exhaustion from the race resulted from the lack of training the past month. Due to tight hip flexors after Boston Marathon, my focus was to show up healthy and injury at Buffalo Marathon, so I ran no longer than 10k before Buffalo.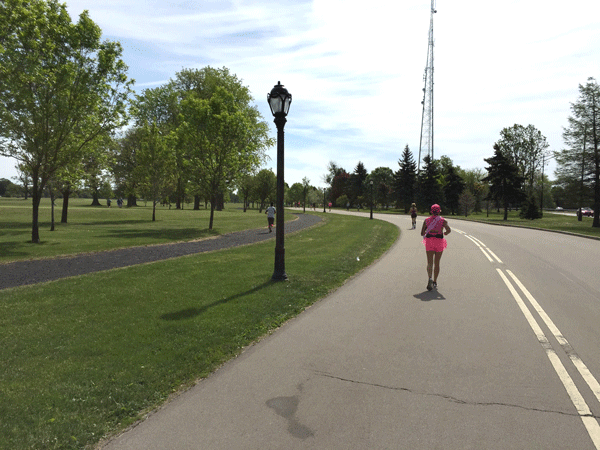 I ran through the fantastic course. Funny how I could still enjoy the race despite the pain and fatigue I was in. I remember feeling a bit conflicted because I was suffering so much yet I couldn't help but admire the scenery around me. At least, it helped to calm me down and motivate me to finish the race!
I crossed the finish line with a time slower than I expected. It was my 13th marathon and despite the blisters, a bloody toe, and pain, I still felt like the luckiest girl in the world for running such an awesome race.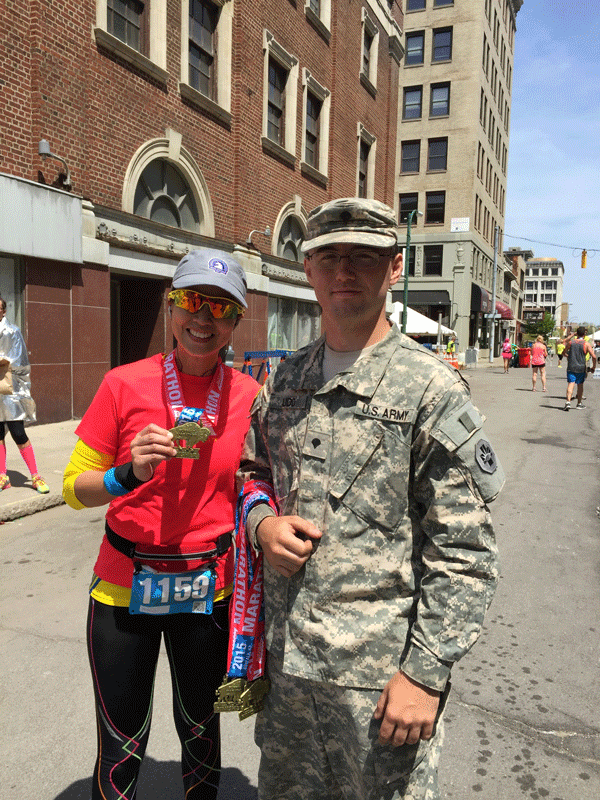 – U.S. Soldiers handed us our medals –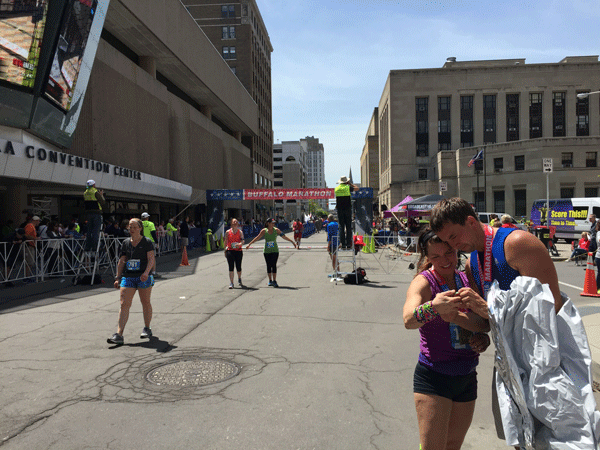 – No huge fanfare at the finish which was completely fine with me. After getting my medal, I crossed the street and headed up to my hotel room to rest. How great was that?! –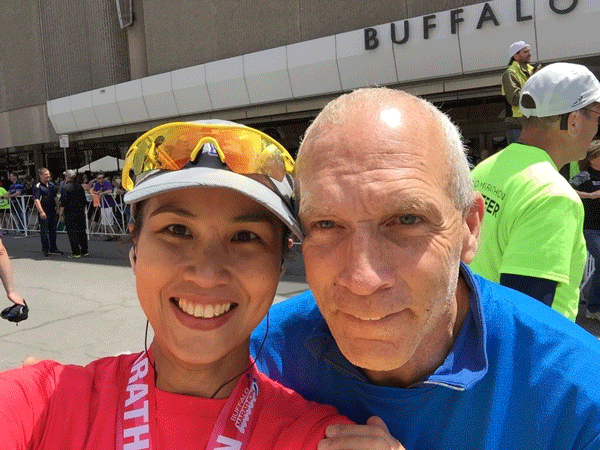 – Selfie with the legendary Bart Yasso who greeted each runner at the finish –
Thank you to Unilab Active Health for sponsoring my son and I on this great marathon adventure! Thank you as well to my other sponsors: Gatorade, Fitness First, Specialized, Peak Form Manila, Otterbox, and Oakley.