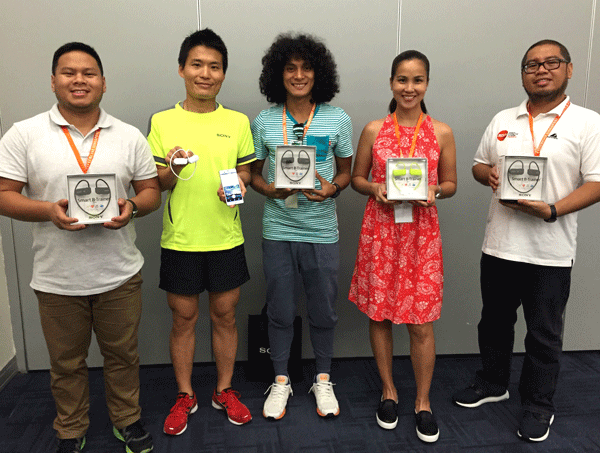 – Showing off our new Smart B-Trainers with Gab of Men's Health, Nakato Koike, creator of the Smart B-Trainer and 2:59 marathoner, Coach Rio, and Rhoel of Spin.ph. I was thrilled to get the neon green one! –
I just got back from a quick trip to Singapore! Sony flew me over for the unveiling of its new product: Sony Smart-B Trainer for runners. It's a wearable 16GB music player and GPS-based fitness tracker in one. It comes in a neckband-style housing that gives you freedom to move while on the run. Wow, I couldn't wait to use it when I got my hands on it!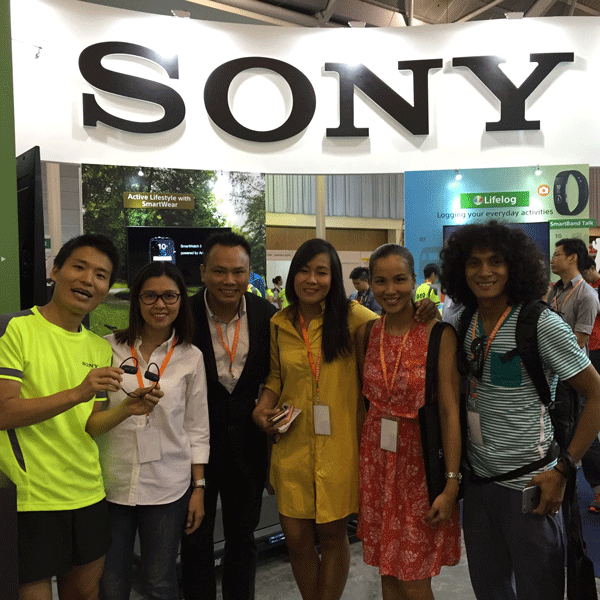 – with Sony executives, Nakato Koike, Allet Velves, Spencer Low, Erica dela Cruz and Coach Rio –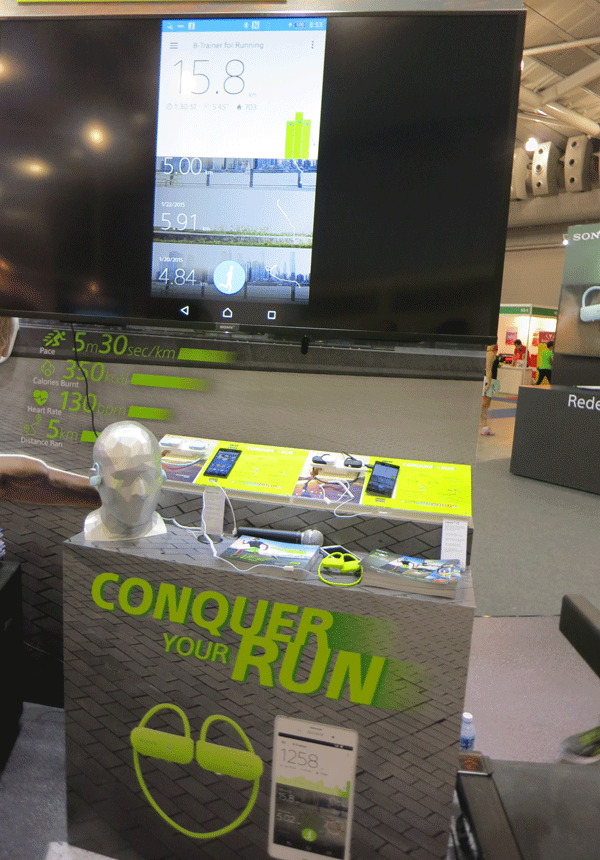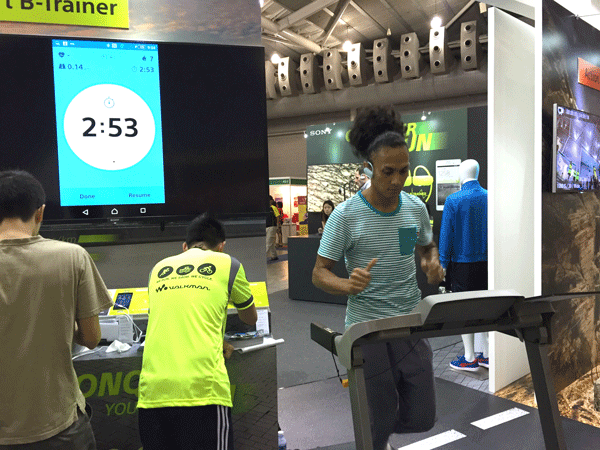 – Coach Rio testing the Sony Smart B-Trainer –
Smart B-Trainer Features:
+ Plays music based on your heart rate. It plays music downloaded from your computer via Media Go or streamed through apps like Spotify if you carry your smart phone with you. It also has pre-loaded songs from Sony. Even better, it can choose songs for you for more efficient training. For example, if your heart rate is too high, it will play a song with a slow tempo to slow you down and vice versa!
+ Comes with six sensors: heart rate, acceleration, GPS, compass, gyro, and barometer. If you're a runner, you must be jumping up and down with GPS and heart rate alone!
+ Records 11 types of running data: distance, pace, time, heart rate, calories burned, speed, pace, cadence, steps, stride, running route, and elevation
+ Has an audio coach to guide you on distance ran and heart rate.
+ Syncs with the Smart B-Trainer app to manage running logs and track your progress. The Smart B-Trainer app comes with a selection of running programs depending on your goal: marathon program, fat burning, or endurance training. It can also load MY ASICS training programs (currently not available in the Philippines). You can send the program to the Smart B-Trainer via Bluetooth.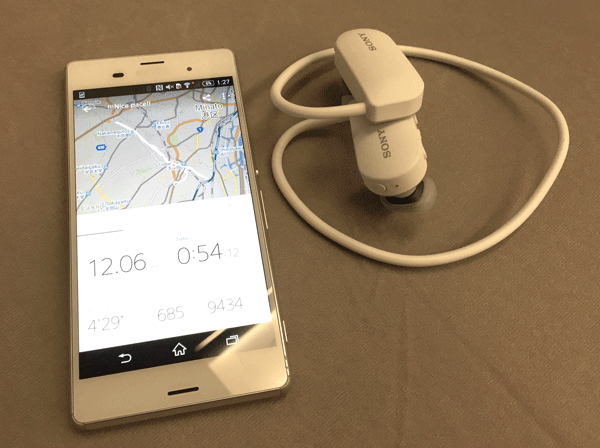 + 16GB memory can hold approximately 3,900 songs
+ Water proof. You can run under the rain with it and even swim with it. It comes with special ear buds for swimming.
+ Takes calls. It can be used as a Bluetooth handset so you can take calls hands-free!
+ Records voice memo. Press a button and it can record your voice while running! I don't know about you, but this is perfect for me to record notes for my race reports!
+ Comes with a carrying pouch, various ear bud sizes for running and swimming, and an adjustment band to secure it around your head.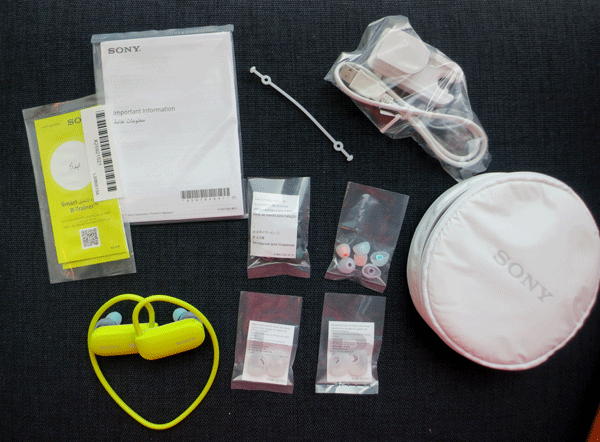 Initial impression:
I used the Smart B-Trainer once on a 4k run on the hotel treadmill. Boo, I planned on running 10k starting from Clarke Quay but didn't have enough time!
The product was lightweight and comfy. While it took a few minutes to ensure it was plugged into my tiny ears the right way and positioned around my head correctly, once I started running I could almost forget it was there.
The Smart B-Trainer app will be available in the Philippines a few weeks from now so I wasn't able to adjust any settings nor was I able to load music into it. I also wasn't able to view data from my run. You would have to wait a couple of weeks for a lengthier product review, but I would say that as a music player alone I was quite happy with the product. I'm looking forward to testing it soon along with the app!
UPDATE: As of June 15, the Smart B-Trainer App is now available for download on iOS and Android!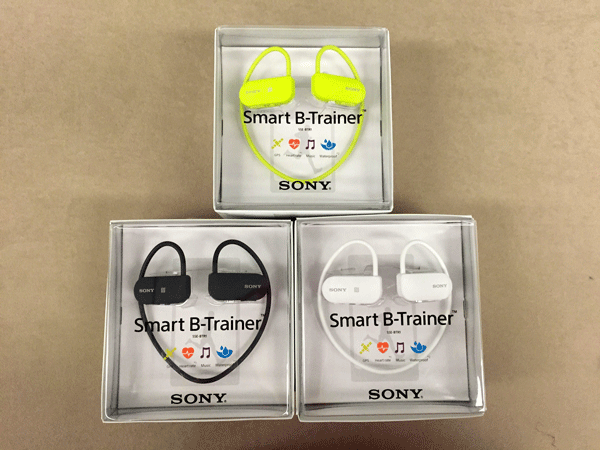 Sony Smart B-Trainer will be available in Sony Centers and authorized dealers by July 2015. SRP: P12,999.
For more info, visit:
Website www.sony.com.ph
Facebook www.facebook.com/SonyPhilippines
Twitter www.twitter.com/SonyPHinc