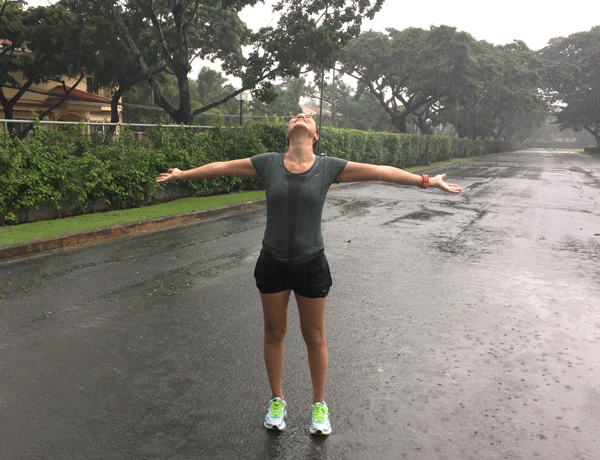 – After my rainy run last Friday –
One of my favorite quotes from my high school days is this: "After the storm, comes a rainbow." I jotted this down in my journal and would derive strength from it when faced with my seemingly catastrophic teenage problems.
Now, as an adult, and after having survived much bigger typhoons (or more like super typhoons) in life, I know this to be true: The rainbow doesn't always appear. The rain does stop eventually, but don't be fooled by the promise of a rainbow. Either it never really shows up or one just gets too busy with the realities of life to even spot it.
It's not wise to wait for rainbows. But, it's also foolish to allow yourself to be swept away by a storm.
Next time a typhoon comes your way, do this. Go out there and face it head on. Run towards it. Run with it. Feel the wind against your cheeks and hear it howling in your ear. Stomp your feet hard on those puddles and have no fear of soaking your shoes. Allow yourself to get drenched under the rain and revel in the experience because, you know in your heart of hearts, that this storm shall come to pass. And you'll be dry again. And you'll be fine. Rainbow or not, the sun will shine brightly again.