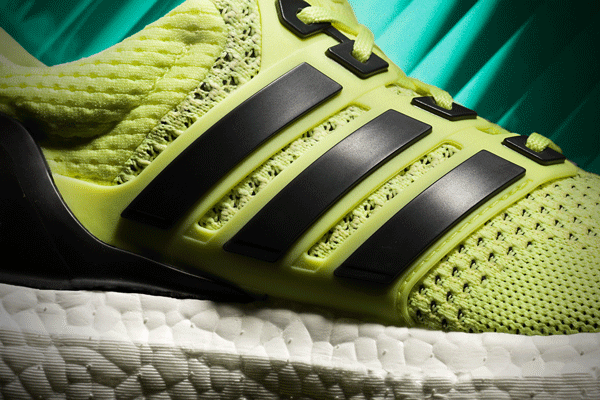 "Wooooaa…(pause to wipe sweat off forehead)…aaaaah!"  That is the single word that will inevitably roll off your tongue when you see adidas' new colorway for adidas Ultra BOOST, the model that adidas confidently calls "the greatest running shoe ever."  The new color way is solar yellow and I think it's just perfect for the crazy summer—or shall we say summer-like heat—this August.
I wrote about the adidas Ultra BOOST on this LINK way back in February, but here's more info from adidas on its features:
1+ Ultimate Energy Return
Ultra BOOST contains 20 percent more BOOST* which performs consistently in any conditions, for countless kilometers; season after season. Using thousands of unique energy capsules, BOOST technology returns energy conventional EVA midsoles lose. BOOST provides support and guidance through a runner's gait without compromising the energy needed to experience your greatest run ever.
2+ Adaptable comfort
Through cutting edge research, the adidas Innovation Team (aIT) has learned that a runner's foot can expand up to 10 mm or more in width during running. When this expansion is restrained it can cause severe discomfort, friction and the leading injury in running, blisters. Unlike other fit technologies that don't allow the foot to stretch naturally, Ultra BOOST uses adidas Primeknit to allow the natural expansion of any foot shape. adidas Primeknit is forgiving, yet snug, fully adjusting to the foot as it moves. This leads to improved comfort and support, minimizing the risk of chafing and blistering.
3+ Energy Harnessed
Ultra BOOST features an innovative Stretch Web outsole that adapts and moves with the foot. The perforated elastic design harnesses the energy of BOOST without restricting any of its qualities to deliver an unrivalled energized ride.
4+ Superior Support
Ultra BOOST features an entirely new heel construction that frees the natural movement of the Achilles tendon. A carefully tuned external heel counter cradles the foot and adapts to the high extension of the Achilles. Furthermore, a new featherweight sock liner adapts to a runner's natural foot form, for a custom and comfortable fit.
Ultra BOOST also contains a new dual-density TORSION® SYSTEM, embedded into the shoe's base. This allows more independent movement between heel and forefoot for superior stability.
For more details:
Website: www.adidas.com/ultraboost
Twitter / Instagram: @adidasrunning