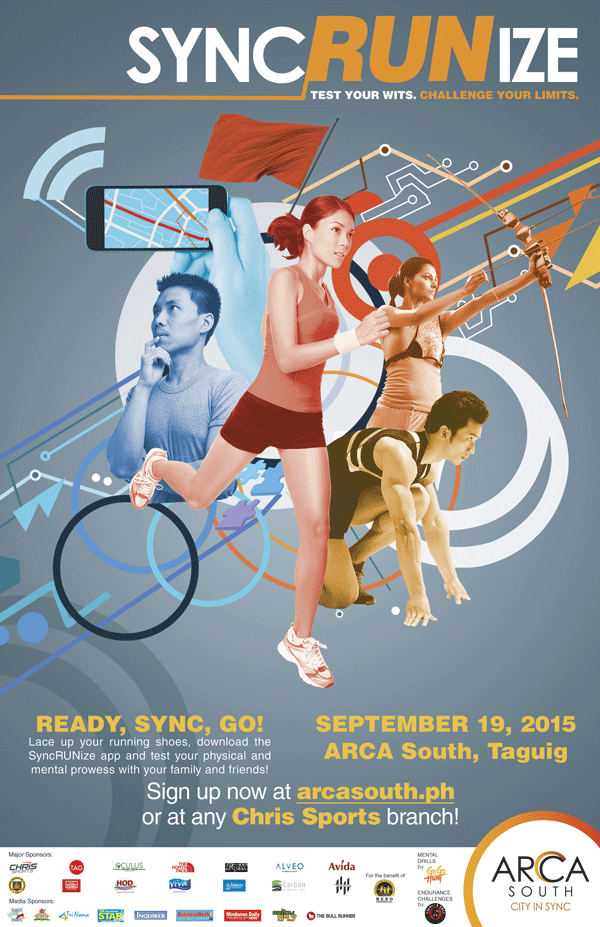 It's all systems go as ARCA South hosts SyncRUNize, a mobile app-integrated adventure race this September 19, 2015 with mental and physical challenges ready to test the wits and endurance of the runners.  How cool is this?!  If you're interested in joining, scroll down below to try to win 1 of 10 race kits I'm giving away!
Mental drills by Gogohunt will be given to each runner via their mobile phone with questions on trivia, math and more. Physical limits will be tested by obstascles from Guerilla Race, The North Face, Fox, Hero Foundation and Oculus that need to be surpassed to cross the finish line.
SyncRUNize participants will not only test the mind and body at the event but will also contribute to the education of the orphans of Hero (Help Educate and Rear Orphans)  Foundation, a foundation that is very close to my heart.
SyncRUNize is hosted by ARCA South and organized in partnership with Go Go Hunt and Guerilla Race. ARCA South is located 4.3 KM from NAIA 3, 5 KM from Bonifacio Global City and 7 KM from Makati.
SyncRUNize will be held on September 19, 2015 at the ARCA South event grounds. A shuttle service to ARCA South, with a minimal fee of P30 per person, will be offered to participants. There will be three pick up and drop off points: Tower 1 along Ayala Ave, Trinoma and Alabang Town Center.
To learn more about SyncRUNize in this newly rising district, visit www.arcasouth.ph or Chris Sports branches nationwide.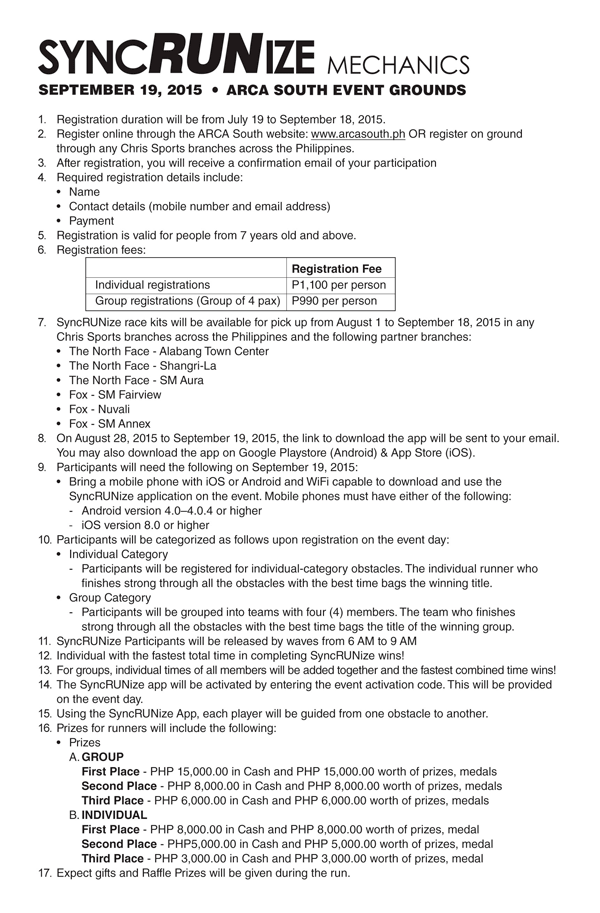 WIN 1 OF 10 RACE KITS:
1) LIKE TBR on FB
2) Submit a comment on this post: "I want to test my wits and challenge my limits at SyncRUNize!" with the following info:
> Your complete name
> Your username on FB
CONTEST RULES:
1) Deadline for submission of entries: FRIDAY, SEPTEMBER 11, 2015 AT 11:59PM
2) First 10 people who comment win 1 race kit each.
3) Only one entry per runner. Submission of more than one entry leads to disqualification.
4) Contest is open to Metro Manila residents only.
5) Winner will be announced on this blogpost on SATURDAY, SEPT. 12 and may claim the race kit at The North Face, SM Aura before September 18, 2015. Please present a valid ID with the same name used in this contest. Race shirt sizes are not guaranteed and are subject to availability.
UPDATE:
Congratulations to the 10 winners of 1 race kit each!  Please claim your kits at The North Face in SM Aura from now until Sept. 18.  Present a valid ID.
Benjie Cayangyang, benjie.cayangyang
Lauren Alexi Go Lim, Lauren Lim
Ralph David Aduna Du, Ralph Du
Melanie Sarao, FB Antute Sarao
Heather Jen Bauza, FB Heds Bauza (heatherbauzer)
Paul andrew Villos, Wu Pei Li / billions88
Robert P. Ocampo, @Bobby P Ocampo
Maria Pamela Espiritu, Pam Espiritu
Keziah Antoniette Correos Villos, Keziah Antoniette Correos Villos
Archie Dolit, Archie Dolit