Everyone knows I'm a big Gatorade dork. I was a loyal Gatorade fan (I'd drink it for breakfast when I was a newbie runner) even before TBR was born. So, when I heard that Gatorade was having its first running event for the community I was thrilled. Finally! I thought. I blocked my schedule for this run even if I wasn't planning on joining any races anymore for the rest of the year after Osaka Marathon.
GATORADE RUN 11K
Gatorade Run had two categories, 11k and 22k, for its race on November 22 (11/22… how cool is that?) Over 6,000 runners showed up for the inaugural event at SM Mall of Asia garbed in their bright orange adidas singlets. I must say that this was one of the few race singlets that I would actually wear again. The design was classy with a minimalist look, no loud or noisy race logos in front.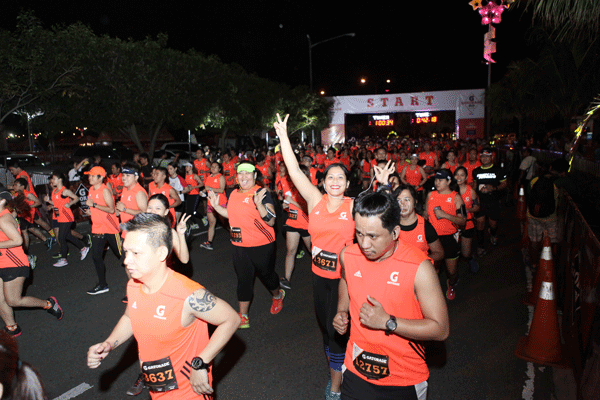 – Sea of orange as running start the Gatorade Run in their adidas singlets. Photo courtesy of Gatorade –
The atmosphere that morning was vibrant and exciting even if it was in the wee hours of the morning. I loved that it was just the right size for a race, not too small with over 5,000 runners for its debut race, but not too big either so that it got overcrowded.
I was all set to run an easy and relaxed 11k. I'm in off-season mode so I had no plans of running fast or long. My goal was to enjoy the race. I was most looking forward to seeing what Gatorade had in store for us at the last kilometer of the race. A little birdie had told me that Gatorade celebrities and ambassadors would be cheering for us as we neared the finish line. I crossed my fingers and hoped that they flew in Coach Eric Spoelstra just for that. lol
THE FIRST 4K
I would love to tell you how this was a perfect run for me. On the contrary, the start was pretty challenging. I had two huge issues during the first few kilometers of the race. First, the stench from the bay was intolerable at times. It's almost depressing that we have to run through areas that stink like this and I do hope SM or our local government can do something about this. Second, the humidity that morning was through the roof. I don't know if it was just me, but I had trouble breathing and I felt like I was choking with every step.
By 4k, I could hardly breathe. I was so tempted to just DNF because of the humidity, but I thought that that would be utterly embarrassing. How could I quit at 4k in a race whose brand was all about winning?!! I'm no loser! So I toughed it out even if I seriously felt like I was choking with every step.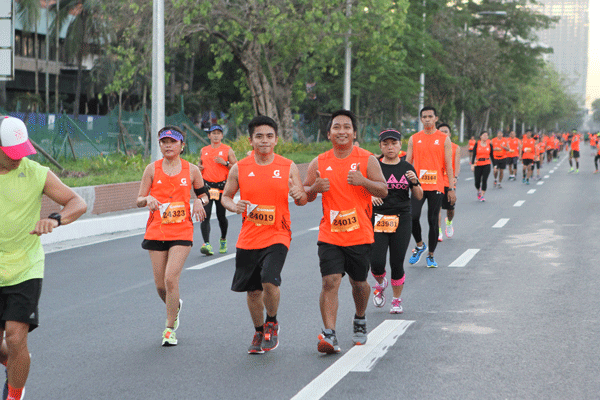 GATO TO THE RESCUE
Thank God that it was a Gatorade Run so hydration stations were filled with water and Gatorade… and lots of ice to cool us down. I stopped at every station and drank a little bit more than I usually do. I also doused myself with water at each station.
When we hit the turnaround at the end of Roxas Blvd., I felt the breeze upon my face and instantly found the rhythm to my run. The legs felt a little lighter and even a wee bit faster. And, wow oh wow, I could even muster a smile haha.
The entire trip on the way back started to become more enjoyable. It completely overshadowed the difficulties of the first 4k! The crowd had thinned out, the wider roads of Roxas Blvd. was more pleasant to run on, there was no more nasty stench from the bay, and it was a lot cooler! The entire race was very well organized from start to finish with marshals securing the entire area.
The last kilometer was the icing on top of the cake. As we ran towards the finish line, we were greeted by cheerleaders from various schools. Popular UAAP players, like Von Pessumal, handed me my Gatorade cup in the last few meters of the race. When I crossed the finish, it was no less than Jeron Teng and Chris Banchero who were handing out towels for the 22k finishers. Gatorade brand manager and good friend Tony Atayde and marathon travel buddy Ton Gatmaitan of Mindshare welcomed us as well. They were all out there under the heat of the sun to cheer us towards the finish line.


– Von Pessumal handed me my Gatorade cup at the last few meters before the finish line. One Big Fight! –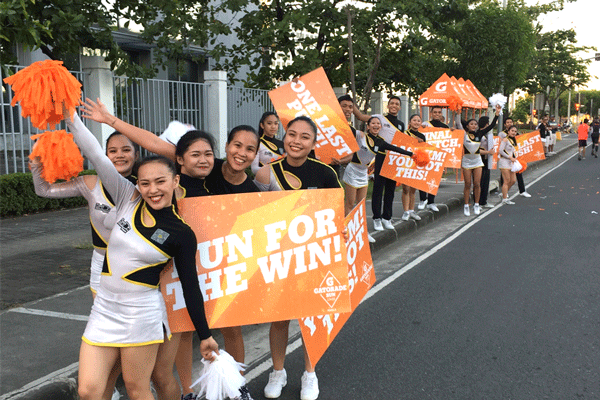 – Feeling young again with these cheerleaders –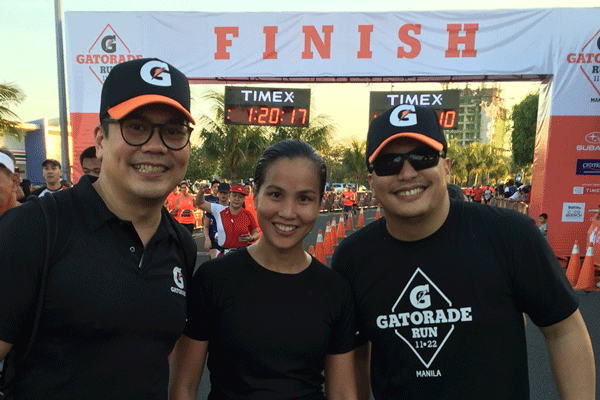 – with Gatorade peeps and good friends Ton Gatmaitan and Tony Atayde –
AWESOME VILLAGE
I picked up my finisher's kit and was utterly impressed with Gatorade Run's post-race village. Everything was covered in orange and was set up like an international event. Two areas stood out for me: first, the adidas booth where finishers could have their names printed on their shirts and, second, the VIP tent which was set up like a cocktail area with its own portalet to boot. They even served Juju Eats salads in there.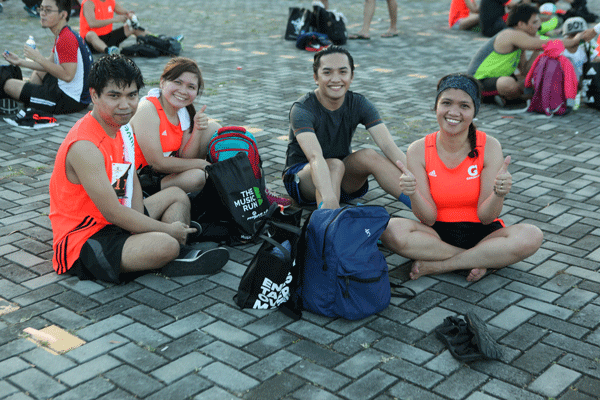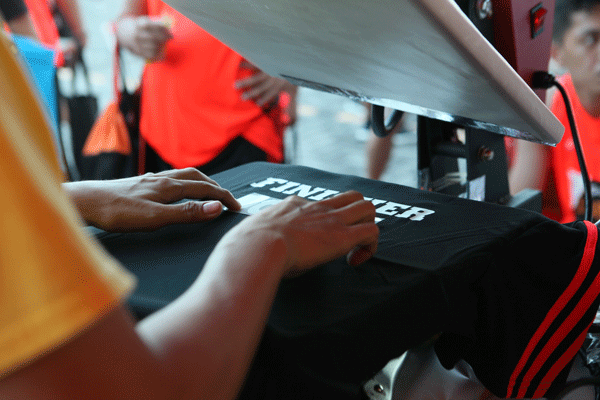 – Runners could have their names printed on their Finisher's shirt. Good job, adidas! Photo courtesy of Gatorade –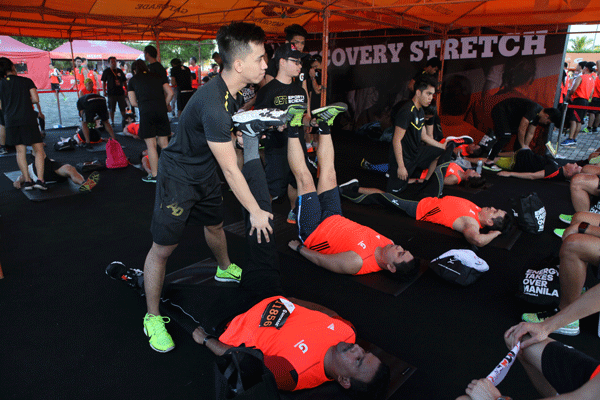 – Free recovery stretch for runners at the village. Photo courtesy of Gatorade –
Gatorade exceeded expectations on its inaugural event. I heard only good things about the 22k event with runners saying it was the best race they joined this year. My 11k was pretty good too had it not been for my environmental issues haha!
Gatorade, I sure hope you make this an annual event for three reasons: 1) I need to make up for my sucky 4k race start, 2) I want to run 22k next year to experience what everyone was raving about, and, lastly 3) I want to give you a chance to fly in Coach Spo next year so he can welcome me at the finish line!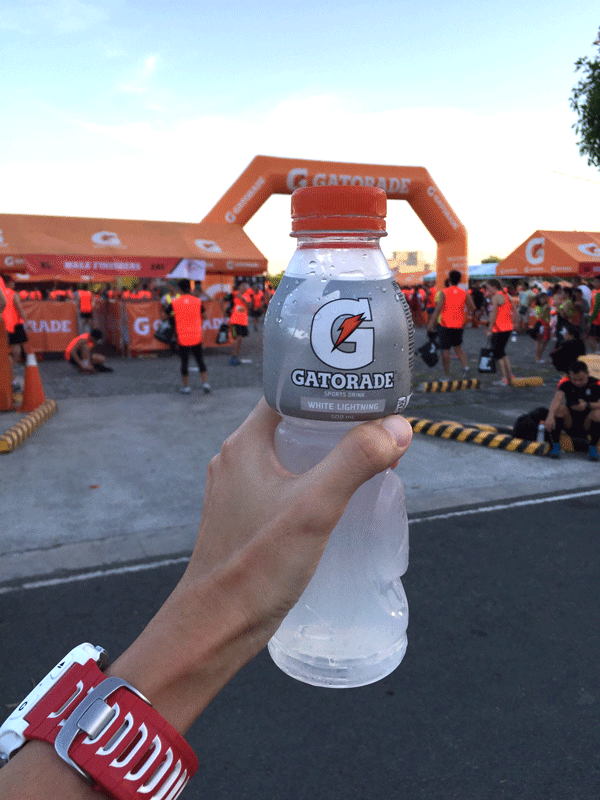 – Cheers to Gatorade for its ever first ever Gatorade Run. Love the new White Lightning variant by the way –