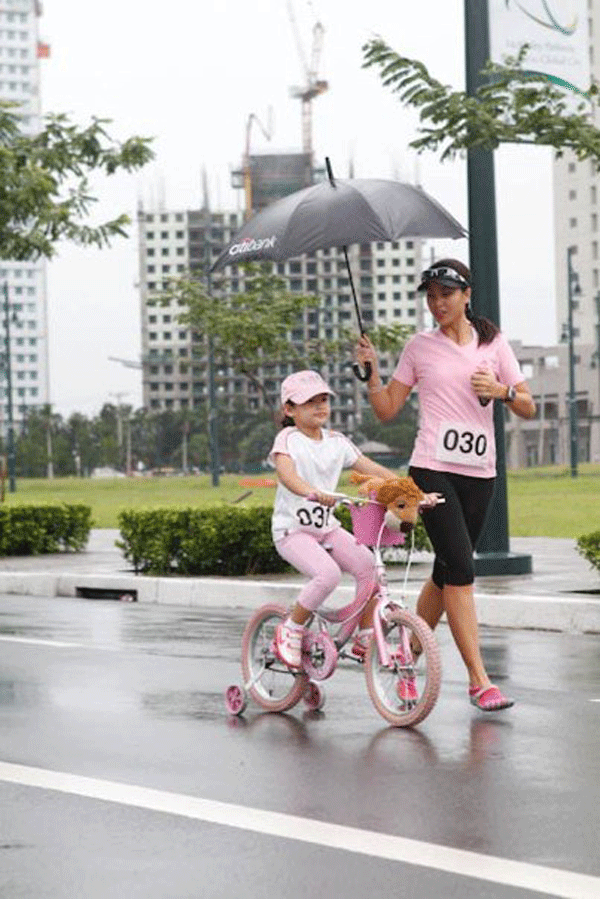 – Li'l Miss TBR and I at Mommy Milkshake Run 2010 –
Yay, the Mommy Milkshake Run is back!  This run is a breathe of fresh air for the competitive runners.  It's a run for the entire family (even preggies and babies) and it's all in good fun.  I've never missed a Mommy Milkshake Run, not just because my sis Mommy Mundo organizes it (lol) but also because it's a chance for me to bond with the kiddos.  Here's how you can join too.  Hope to see you there!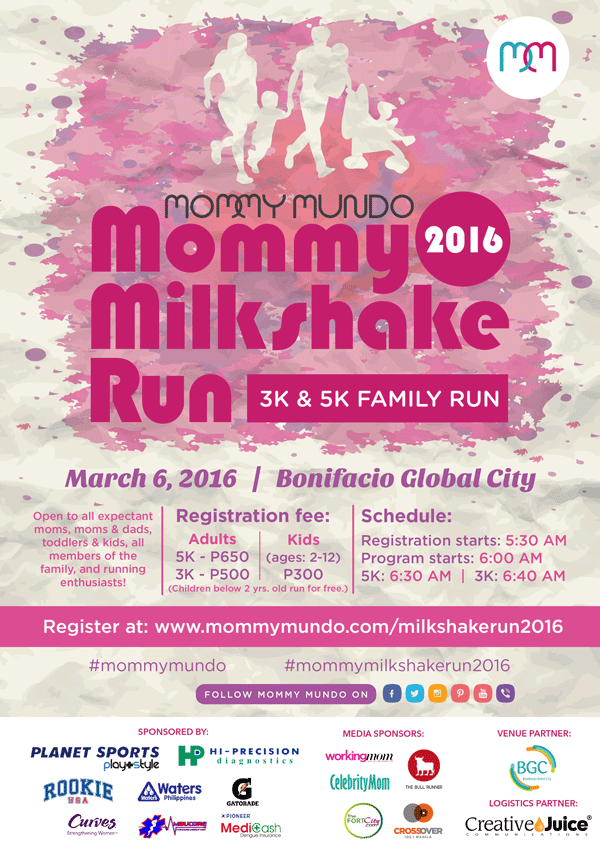 Press Release – Mommy Mundo advocates a healthy family life and finds different avenues to create unique activities where families can bond, interact and create new memories together. With this objective in mind, Mommy Mundo is bringing back the Mommy Milkshake Run. Now on its 6th year, this family fun run was first organized in 2007, up until 2011. This year, on March 6, moms and their families, expectant couples are invited to celebrate family togetherness, fitness and outdoor fun.
The 6th Mommy Milkshake Run will be a 3km and 5km run along the BGC area. This fun run is a relatively relaxed run where every member of the family can join including expectant moms, moms & dads (with or without slings and strollers), toddlers & kids.
This will be a family friendly fun run as we will have family's needs in mind. Hydration stations, Portable Toilets, even a Breastfeeding lounge for the nursing moms and a diaper changing area for parents with babies and toddlers will be on hand. First Aid stations and Medics will also be present for the participants' safety.
Moms and dads can carry their little ones on a sling or carrier, or opt to bring a stroller since this is a run that will allow strollers along the route.
After the run, participants are encouraged to stay for a family fair with games, live music, raffle prizes, food carts, special awarding ceremony, and an inflatable section for all the kids.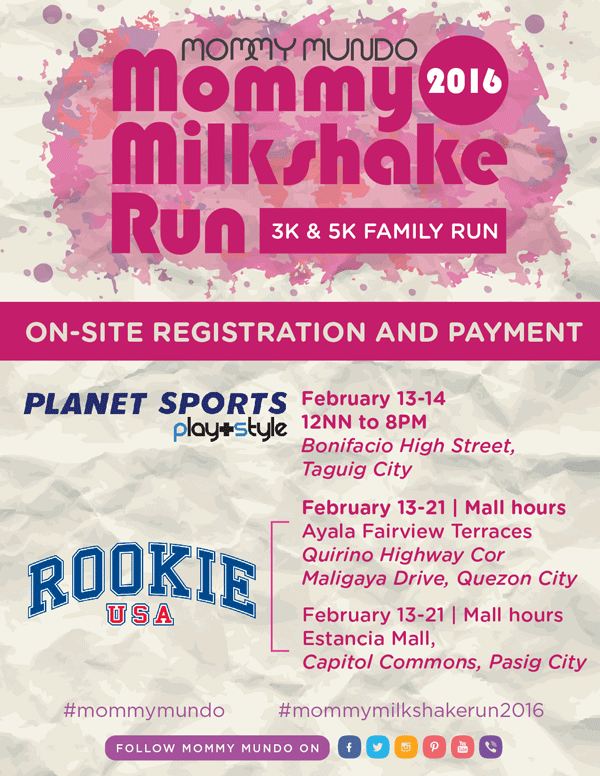 REGISTRATION DETAILS:
1. Registration period is from January 25 to February 21. Registration is required for
every participant, including children.
2. Interested parties can register online in www.mommymundo.com/milkshakerun2016
3. On-site registration from February 13 to 21, at the following establishments.
February 13-14, 2016 / 12NN to 8PM
PLANET SPORTS
Bonifacio High Street, Taguig City
12NN to 8PM
February 13-21, 2016 / Mall hours
ROOKIE USA – Ayala Fairview Terraces
Quirino Highway Cor Maligaya Drive, Quezon City
February 13-21, 2016 / Mall hours
ROOKIE USA – Estancia Mall
Estancia Mall, Capitol Commons, Pasig City
4. Registration Fee are as follows:
Adults
3k = P500
5k = P650
Children ages 2-12 years old = P300
*Children below 2 years of age can enter for free, but has to be registered.
5. For runners who register at our partner establishments and Mommy Mundo HQ, payments will be accepted in cash. Bank deposits are also accepted but must be paid on or before February 21. Email your deposit slip to info@mommymundo.com. Account name: Mommy Mundo, Inc. BPI Account # 2671-0007-84.
6. Run Kits will be available for claiming from February 22 to March 4. Instructions on
kit claiming will be emailed to all confirmed runners. Kindly present your proof of
payment upon claiming of kits. *Pregnant moms should get clearance from an OB-Gyne, and present it upon claiming of kits
7. Run kits include The 6th Mommy Milkshake Run Singlet, Map of the venue, and the 3k/5k route.  *Children below 2 who are registered to join will receive only a run bib.
8. Opening Program starts at 6:00am. The actual run starts at 6:30am for the 5k run and 6:40am for the 3k run.
For more details, please visit www.mommymundo.com/milkshakerun2016
The 2016 Mommy Milkshake Run is supported by Curves, Gatorade, Hi-Precision Diagnostics, Growers, Ambucore. Planet Sports, Rookies USA, Pioneer MediCash Dengue Insurance, and Waters Philippines. Media Sponsor: The Fort City, Working Mom, Celebrity Mom, Cross Over 105.1, and
The Bull Runner. Venue Sponsor: Bonifacio Global City Estate. Logistics Partner: Creative Juice