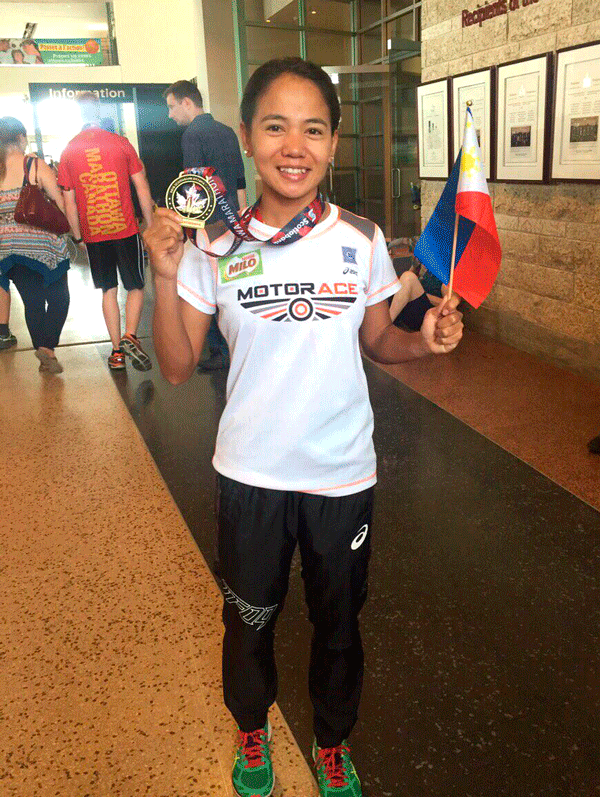 Congratulations to Mary Joy Tabal who proved that hard work and determination can propel oneself to success! Tabal secured her slot for the Rio Olympics when she finished the Scotiabank Ottawa Marathon on Sunday, May 29 (May 30, Philippine time). After falling short in her stint at the Boston Marathon last April, the reigning MILO Marathon Queen was able to make an impressive comeback at Ottawa Marathon's flat and fast race course.
Tabal clocked in with an impressive time of 2:43:29, beating the 2:45:00 Olympic qualifying time for the women's marathon. She ranked 5th in the female age group, 8th in the overall elite female category and 38th in the overall elite male and female category, out of a total of 4,416 elite participants.
The unusually hot and humid weather prompted the organizers to implement route and time changes before the event but Tabal was able to deliver a strong performance at the start of the race. As she neared the finish line, she was troubled by intense leg pains which caused her to slow down. Despite this, the Filipina frontrunner still willed herself to overcome the challenge.
"My body felt heavier when I reached the 35km mark and my pacing got slower and slower as I went farther," Tabal shared. "When I checked, I was only 7km shy to the end of the race. I decided to carry on forcefully and ignore the pain. It was very difficult to preserve my stride especially in the last 200 meters. I kept on telling myself that if I stop now, I won't be able to make it here again so I ran like it was the last my race of my life. I was so happy to be able to hit my goal I broke down in tears as I ran past the finish line."
After the disappointment of not qualifying through the Boston Marathon, Tabal never gave up and immediately returned to her training ground to pursue her Olympic dream. Now with another feather on her cap, Tabal, with the help of her coach Philip Duenas, will be embarking on a new journey to prepare for the Rio Olympics. "I couldn't believe this is happening! I often ask myself if this is real or not. To play in the Olympics was once a dream but now it's finally in my hands," she said. "I hope this will inspire more Filipino athletes who dreamt like I did. It may seem impossible at first, but all it really takes is a lot of effort and willpower in overcoming trials to be able to achieve your goals."