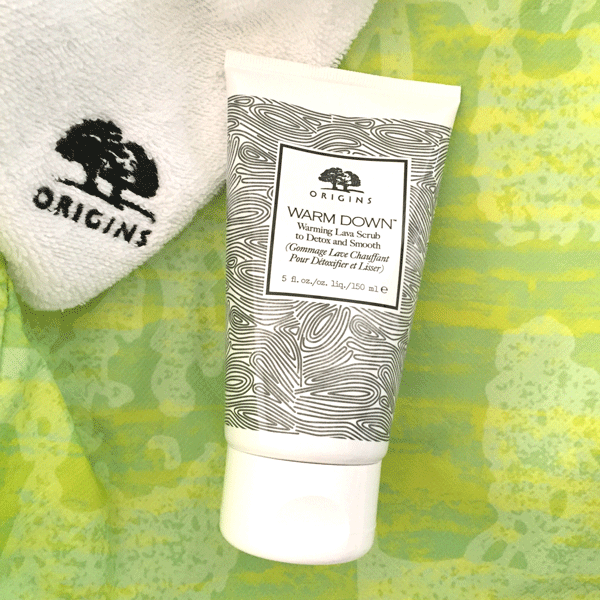 After a run, I always look forward to a long, soothing shower. I want to immediately rid myself of the sticky, sweaty feeling and to relax my usually sore legs and feet.
After Sunday's long run, I tried using Origins Warm Down Warming Lava Scrub on my calves and feet. The Warm Down scrub is a water-activated warming lava exfoliator which helps relieve DOMs (Delayed Onset Muscle soreness) and relax stiff, aching muscles. They say that the warm treatment helps increase blood flow and relieves tension from sore muscles.  The scrub also contains an essential oil blend of Wild Mint, Spearmint, and Vanilla which is invigorating to the skin and the volcanic ash possesses antibacterial qualities that gets rid of bacteria from sweat. It's perfect for active individuals who want to feel renewed after a workout.
To be honest, I was a bit hesitant about trying the product on my legs after reading that it had a warming effect. Our run yesterday morning (and the past few months really!) have been terribly hot, so the last thing I wanted was to heat up my legs even more, but boy was I glad to have given it a try.
During my shower, I poured an inch of product on each leg and a pea sized amount on both feet. I massaged this on my legs using a circular motion to gently exfoliate my skin. I spent extra time on the soles and heels of my feet because this part gets an extra beating during long runs!  I did feel some warmth when I applied the scrub, but it was not at all uncomfortable nor was it extremely hot. It was actually quite relaxing. I put my legs under running water to remove the product and dried off.
Upon stepping out of the shower, my legs—especially my poor old ugly runners' feet (eek!)—felt smooth, soft, and moisturized. It felt the same way it does when I spend an hour at my favorite nail salon getting a foot spa.  This morning, I didn't feel any soreness on my feet!  Well, it was just a 15k run, but I'm willing to try the scrub again after each and every long run!  I'm definitely an instant fan.
Origins Warm Down scrub retails for Php 2,000.00 and is available in SM Makati Department Store, SM Megamall, and SM Mall of Asia.