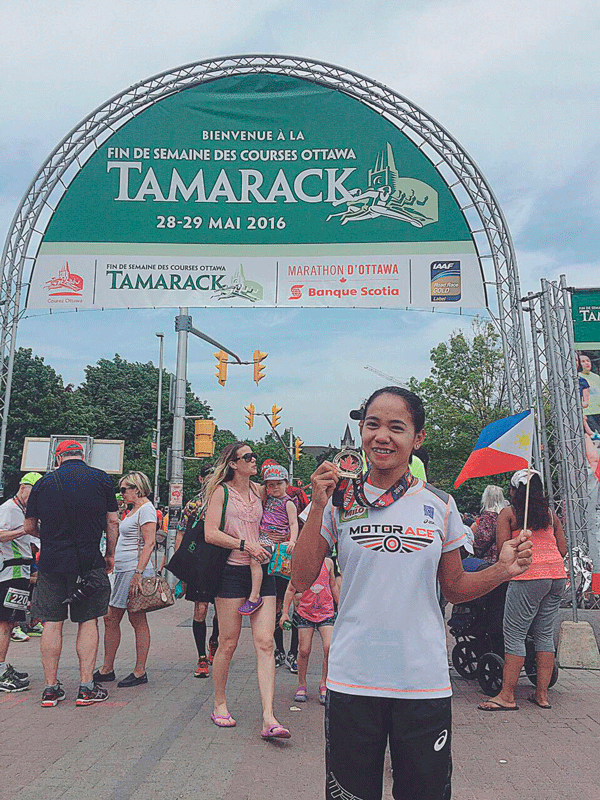 I was asked to publish this article to share with you the other side of the story behind Mary Joy Tabal's qualifying for the Rio Olympics. (See press release here.)
I hear that it's a controversial topic lately among runners, but, quite honestly, it's the first time I've heard about this so I don't feel I'm informed enough to express an opinion. However, I do believe it's important to share this article to help shed light on the issue and allow the public to decide for themselves.
Below is the article written by PATAFA marketing head, Edward Kho:
The Curious Case of Mary Joy Tabal
What it truly means for her to represent the Philippines in the Rio Olympics

The running community recently celebrated the success of Mary Joy Tabal hitting the Olympic standard for marathon. Joy ran a 2:43:30-hour marathon time at the 2016 Scotiabank Ottawa Marathon, beating the 2:45-hour standard for her to join the Olympics. While the running community celebrates, there are mixed feelings inside the Philippine Athletics Track and Field Association (PATAFA).
PATAFA is the national governing body for athletics sports such as track and field, road running, cross country running, and race walking in the Philippines. It provides guidance and support to select athletes to perform their best and represent the country. PATAFA has a rich history of coaching, even enroling the help of athletes like the legendary Dick Beardsley to help with training its athletes.
PATAFA is responsible for selecting the official track and field delegation of the Philippines to the Olympics. But it has a sad history with Mary Joy Tabal.
In October 2014, Mary Joy Tabal, along with other standout athletes, was recommended by the coaching staff to be included in the national team. Four months later in February 2015, PATAFA communicated Tabal's official inclusion to national team. This means that she is now part of the privileged few who would receive coaching so that she can represent the country in milestone events like the SEA Games and the Olympics.
Part of PATAFA's responsibilities would be to keep national athletes at their best. It means helping them make choices on training, including the races to run. This is very important for long distance events like the marathon. In elite athletics, marathoners should not take part in more than two marathon races within a span of 12 months. Based on scientific studies, participation in a marathon taxes the body tremendously down to the cellular level.
From a layman's standpoint, Elites may just appear as running effortlessly at a constant pace for 42KM. But inside the body of the elite marathoner running an average pace of 3:45min/KM is a totally different story. Running a marathon at this pace imposes a huge demand on the different physiological systems of the body. It strains the bones and joints, muscles, tendons, ligaments, blood vessels, to the extent that challenges the maximal limit of the athlete's body.
PATAFA takes care of its long distance athletes that is why these physiological facts are explained to the athletes in detail. It is also why PATAFA requires agreement to rules and regulations that come with being part of the National team. This includes consistently informing PATAFA of athletic activities that may potentially hinder performance in offical events where the country is represented.
Joy Tabal was a special case. Because of her talent, she was granted certain exceptions. For example, while other athletes were required to relocate to the Philsports training camp and be supervised by duly designated national coaches, Joy was allowed to be based in Cebu. She received special treatment upon her request. It was an assumption that her personal coach would be able to provide guidance, but with inputs from PATAFA.
Slowly, these exceptions, became a source of alarm to PATAFA. Tabal began racing without discretion; meaning, she runs and wins events but with a long term negative impact on her legs.
Prior to her inclusion into the national team, Tabal won the December 2014 Milo Marathon Finals. Apart from the cash prize she, she and the male marathon champion Rafael Poliquit were awarded an all expense paid entry to the 2015 Los Angeles (LA) Marathon. They were, of course, advised by the PATAFA leadership to forego the LA Marathon trip as it would impact their training for the forthcoming 2015 SEA Games. Participating too soon in a race would also adversely affect their long term athletic performance. Aside from this, PATAFA had already developed a two-year program for both of them to reach their optimum potential as marathoners with the 2016 Olympics as the ultimate goal. This meant being selective with their races, to give the Philippines the best opportunity during the Olympic games.
Unfortunately, both advice and explanation went unheeded. Both Tabal and Poliquit raced the LA Marathon without sanction from PATAFA. Upon their return from the US, they were asked to submit a letter of explanation why they have disregarded the express advise of PATAFA.
Immediately, Poliquit drew up a letter of apology, citing error in judgment for his non-compliance and promised to abide with the NSA directives and regulations from then on. Poliquit's case was then resolved and closed. Tabal's case had a different twist.
Instead of writing a letter of apology, or explanation at the very least, Tabal wrote a lengthy letter of justification for her decision. She cited that Milo pressured her to join the LA Marathon as part of her "contractual" obligation in winning the Milo Marathon. PATAFA sought the side of Milo; the latter denied that it ever pressured Tabal to run the LA Marathon. They maintained that the LA Marathon participation was actually a privilege for the Milo Marathon winners, and not an obligation. In short, it was up to the winners to take that privilege. They were disappointed that Tabal lied.
But the racing continued. Even after the LA Marathon, Tabal went on joining local races, with 21K as minimum distances. She continued to disregard her obligation as a National Team member, disheartening teammates who abided by the PATAFA guidelines, and lowered her chances of peak performance at the 2015 SEA Games where she was to represent the country.
While disappointed, PATAFA retained their belief in Tabal. Some officers saw Tabal's potential and the missed opportunity if she won't be able to compete in the SEA Games. With insistent prodding, Tabal submitted an apology message so that she can compete. Instead of writing a formal apology letter, she sent a short casual text message to PATAFA President Philip Juico.
Juico, in his genuineness, never took slight and believed in Tabal's apology over SMS. He took it as an indication of Tabal's sincerity. Tabal then competed in the SEA Games and as predicted, ran very poorly with a time of 3:15 hours. Her time was estimated to be at least 20 minutes better had she listened to the PATAFA and kept her commitment as a National Team athlete.
Right after the SEA Games, PATAFA learned that Tabal was again joining a string of local long distance races. This included a triathlon event that would severely impact the long term plans for the Olympics. PATAFA leadership was very unhappy with Tabal's decisions, and what they discovered to be her unmanageable and prideful attitude. They directed her to submit a letter of explanation for the unsanctioned activities and for continuing to disregard her responsibilities as a National Athlete.
Tabal responded on August 13, 2015: a 3-page, impeccably written, legalese sounding resignation letter. Saddened by the loss of potential, PATAFA President Philip Juico accepted her resignation.
All the while, as she continued winning races, Tabal remains a hero. She is fast and strong, and there was never a mention of how she conducts herself outside of the races. She is portrayed as a hero. In fact, a Cinderella who trains on her own and blossoms into a winner in all the events she joins.
This is the reason why PATAFA is having such a conflicted time with Joy's qualification to the Olympic Standard. Achieving the standard is an eligibility to be included in the competition; it is not an outright prerogative. In order to join the Olympics, Tabal first needed to make herself be part of the national team and commit herself to the team and to the body that governs the team. But she was unwilling to make that commitment and in fact, voluntarily resigned from the National Team in 2015.
Everyone immediately presumes Tabal's inclusion into the Philippine Olympic team. But that presumption is tantamount to penalizing all national team members who have toiled under the challenging conditions of being a national athlete and remained faithful to the sport and the association. After all of what Tabal has demonstrated to PATAFA, it is now a difficult decision to endorse her as a representative of the Philippines, selected to mirror the ideals and attitudes of the country.
This decision matters because Tabal will never win the Olympics. Her participation is a matter of pride for the Philippines, and supposedly a personal honor for her.
Tabal's qualifying time is 2:43 hours. She is far from the Women's leading time of 2:19 hours, while the top 23rd women marathoner clocked in at 2:27 hours. "Team B" qualifiers for the US Team is 2:45 hours. By extrapolation, Tabal's time will put her outside the top 100. If ever she makes it in the Olympics, right before she steps into the starting line, she's already guaranteed to land on the tail end of the race. Also, by refusing to listen to PATAFA guidance, Tabal is sure to have destroyed her legs for the Olympics. She has run two hard marathons in the span of one month in order to qualify. In all practical consideration, her participation will not even be felt by her competitors.
Tabal's participation in the Olympics was never about her winning it. She was to be groomed as the representation of the Filipino athlete. Talented, driven, and passionate about the sport. PATAFA knows that she will never win, but does she truly deserve to represent the sport?
The cost of her participation will be shouldered by taxpayers, and it is PATAFA's choice to send her or not. Sadly, it now seems like asking Filipinos to chip in to fund a millennial who wants to prove an egotistical point. That an athlete can be undisciplined and disrespectful, so long as a qualifying time is met. People are celebrating, but what are they truly celebrating? It is PATAFA's opinion that perhaps, with more maturity and humility, Mary Joy Tabal can represent the country for the 2020 Tokyo Olympics.