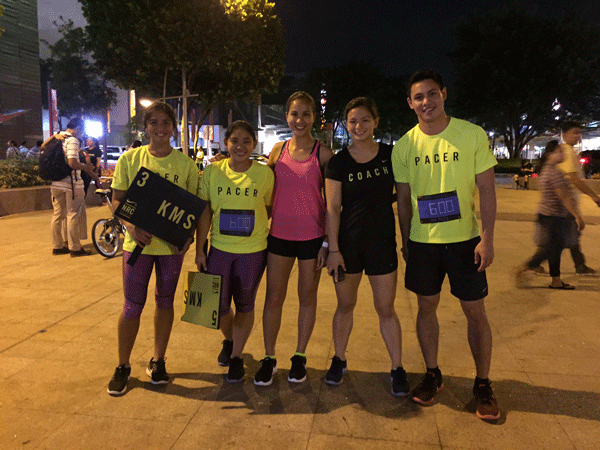 Last week, I finally learned what the fuss was about over the Nike+ Run Club (NRC) every 7:34PM on Tuesdays and Thursdays at Nike Park in Bonifacio Global City.  
After a quick sign in with the NRC Pacers (some of whom were familiar faces in the running/ triathlon community), we wasted no time in breaking into groups and getting started.  There was a 3k, 5k, and 10k group at various paces.  I joined the 5:30 min/km pace group for the 3k run because I had already run that morning.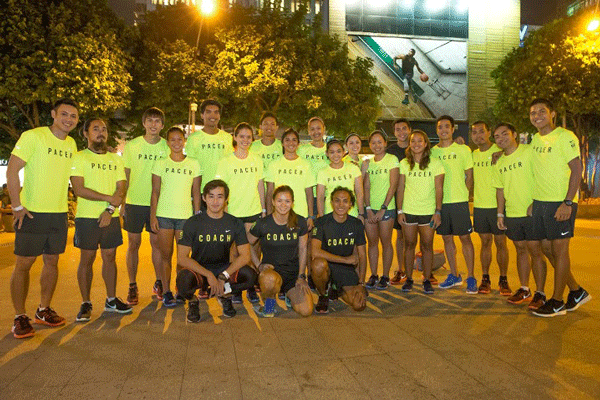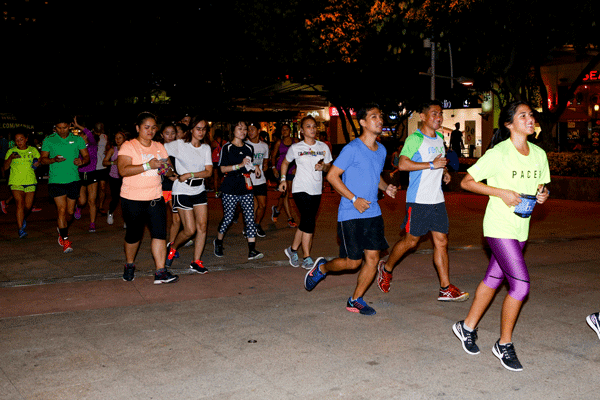 We were four girls in our group accompanied by a young Pacer who looked like he could run this pace in his sleep.  After a few drills to warm us up, we were off. It's been a while since I ran at night, in BHS, and at this pace and I hadn't realized how much I missed it.  It brought me back to the good ol' days of running way back in 2008 when I would run loops around Bonifacio High Street with friends.  This time, I was running with my friend Chiqui and it was so much fun!
Our Pacer kept our pace steady, he guided us as we crossed streets, and, in the few times we had time for chitchat in between breaths, he made us feel comfy and at home.  I thoroughly enjoyed every minute of our quick run.  I'm definitely coming back!
ABOUT NIKE+ RUN CLUB
Nike Run+ Club is held at exactly 7:34 pm at Nike Park in Bonifacio Global City.  NRC sessions are open to runners and athletes of all levels.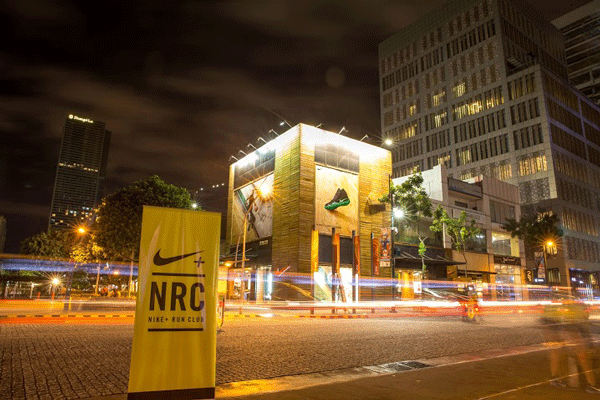 The weekly sessions are led by NRC coaches Rio dela Cruz, Ian Banzon, and Ico Ejercito, who provide professional training and tips for runners to improve their times.
"NRC connects runners of all levels to expert NRC coaches, pacers, training plans and NRC community members," said Patrick Reyes, Country Marketing Manager, Nike Philippines. "The Nike+ Run Club Manila will inspire and enable more runners to join the global running community, designed for first time runners, daily runners as well as race-day competitors."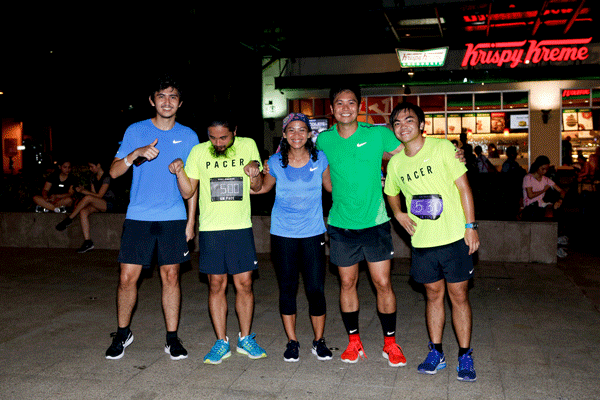 Nike Philippines Country Marketing Manager, Patrick Reyes (in green) with NRC runners and pacers
The Nike+ Run Club Philosophy
We are all meant to be runners. Running doesn't turn away anyone at the door. If we want to bring out the runner inside us, we just have to lace up and get out
We are not just runners. We are athletes. It takes more than a pair of legs to be fast. It takes our entire body, mind, and unbreakable spirit.
Every run has a purpose. Some days we'll feel pushed. Some days we'll push back. Find the meaning in every mile.
Respect every workout. Fear no workout. It's going to be hard. That's why we love it. Respect is earned from doing the work. So get out and get after it.
Embrace your weaknesses. Then erase them. With regular and consistent work, our weaknesses can become our strengths.
Measure success in as many ways as you can. Not every run will be our farthest or fastest, but every run is an achievement and should be seen as such.
We believe in you, even if you don't. On days when we feel less than our best, we can always seek motivation from our community. Nike+ Run Club is here to remind us that our best is always within our reach.
How to Join
Just register prior to each NRC running session at nike.com/manila.