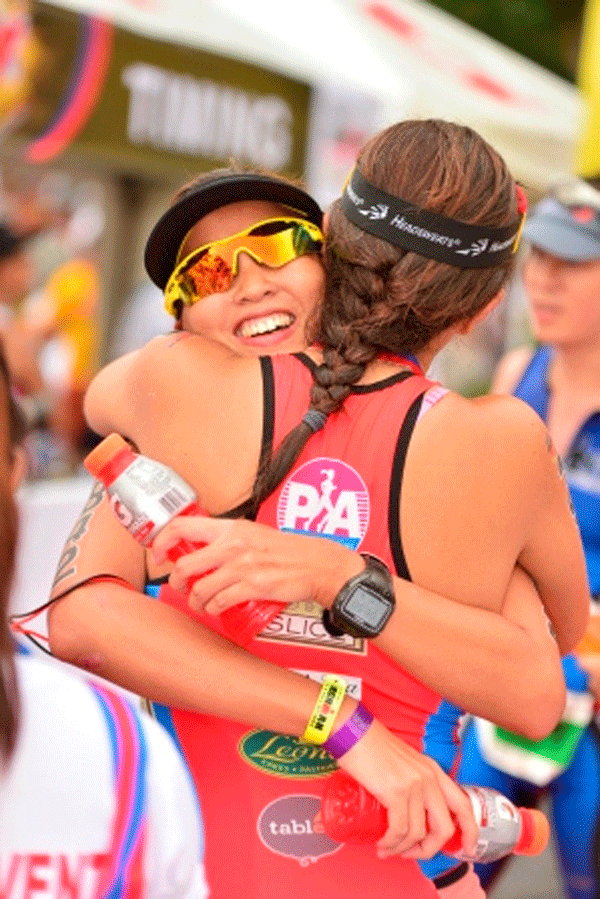 – Ironman 70.3 Cebu hugging one of my first fitness idols (and ex-boss) Sen. Pia Cayetano –
My last triathlon was Ironman 70.3 Cebu way back in 2013. Needless to say, I've been semi-retired from triathlon. I use the word "semi" for two reasons: 1) I haven't stopped training like a triathlete. I swim, bike, and run weekly since 2013 but with much less focus on swim and bike and more on my first love, running. 2) Never say never. I don't know if I'll ever make a comeback into triathlon. Who knows, right?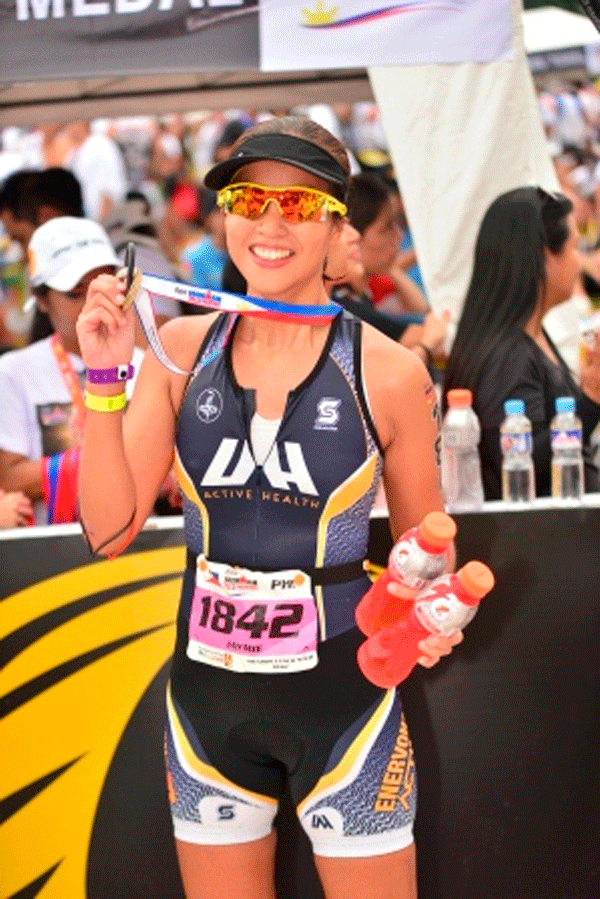 – My last triathlon medal at Ironman 70.3 Cebu. Ack, just looking at these pics makes me wanna tri again –
This year, I'll be coming back to Ironman 70.3 Cebu, not to do the entire triathlon, but to do the run leg for the relay for Sun Life triathlon team! Yeah, Piolo and I will be flying in hand-in-hand, uhm, he just doesn't know it yet and I have yet to figure out how to accomplish this mission! lol.
I'm pretty excited about going back to Cebu.  This year, close to 3,000 participants from 43 countries, led by a very strong lineup of pros, will be at Ironman 70.3 Cebu.  Titleholders Tim Reed and Caroline Steffen will banner a world-class field of 35 pros.  It's going to be fun to watch them swim and bike too since I've never been to any triathlon event as spectator.  There are 2,869 Filipino elite, CEOs, age groupers and relay.  The race will offer the biggest prize money ever in the country at $75,000!
Training has been going well. I've been pushing a bit harder in training desperately trying to find my speed again. I'm hoping I can run well despite the expected intense heat so we shall see. I'll definitely try my best to grab the medal designed by world renowned Filipino designer Kenneth Cobonpue.
Are you going to be there? Hope to see you!
If you can't make it, the event will be aired via lifestream on www.ironman.com.
Photos courtesy of Tong Pascua of Photo-Ops.