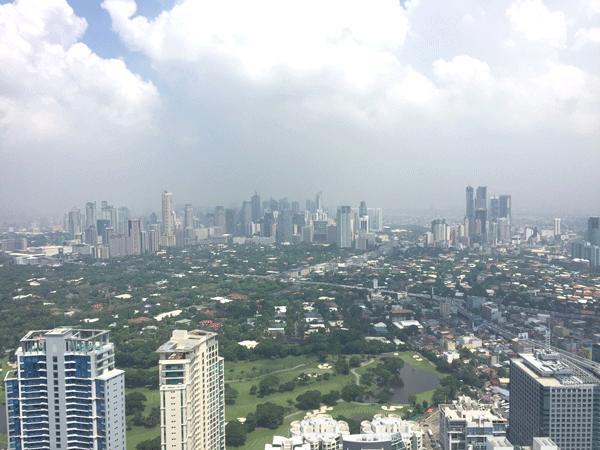 – View of Vertical Run finishers when they reach the the top of Shangri-La at the Fort  –
On August 14, 2016, Shangri-La at the Fort, one of the tallest buildings in Manila, will be the official venue for the Manila Vertical Run 2016. This international stair climbing race by 2016 Vertical World Circuit (VWC), will take place in Manila for the first time, circuiting iconic world cities such as London, Dubai, New York, Paris, Sydney, Beijing, Shanghai and Hong Kong.  How exciting!
The Vertical World Circuit, which is governed by International Skyrunning Federation, employs a point system where runners that participate in the race will gain points based on their ranking in the race. These points will be collated from each leg that the runner participates in to determine their overall ranking. The runner with the highest number of points at the end of the nine legs will be crowned the Vertical World Circuit World Champion.  As for me, I just wish I could finish even half of those listed below!
In Manila, runners will start at the hotel's lobby and ascend 59 floors to the penthouse level.  They will face the challenge of running up over 1,300 steps to a height of 250 meters. The run offers four categories:
Individual category for single runners that will run up all 59 floors. Minimum age for this category is 18 years old with a registration cost of Php 1,500.
Fun Climb category is ideal for beginners and will allow runners to run up 20 floors. Minimum age is 12 years old and cost Php 1,200.
Team Challenge category provides an opportunity for positive competition and aims to foster positive relationships among companies, teammates and friends. Each team consists of four (4) runners, with each runner climbing all 59 floors. The winning team will be calculated by the 3rd runner that crosses the line. Registration cost is Php 6,000 for the team.
Elite category will have professional runners climb up all 59 floors and is by invitation only.
How to Register
There are two ways to register:
Participants can go to www.manilaverticalrun.com and fill in the online registration form.
Register over the counter at Kerry Sports Manila in Shangri-La at the Fort, Manila.
Schedules for Vertical World Circuit
Interested in joining the other Vertical Runs?  The 2016 Vertical World Circuit schedule is as follows: London – March 8, Dubai – April 8, New York – May 15, Paris – May 20, Manila – August 14, Sydney – August 21, Beijing – September 3, Shanghai – October 23 and Hong Kong – December 4.