Go with the flow from the city to the farm!
Bringing everyone closer to nature, Flow In The Farm is a one day wellness lifestyle event featuring workshops, activities, products and food that are all natural, wholesome and organic!
Date: September 3, Saturday
Time: 9am-8pm
Venue: The Farm Shed, at Acacia Waldorf School, Sta. Rosa, Laguna
To foster the spirit of community, yoga teachers, artists, crafters, makers, musicians, speakers, foodies will gather, mingle and connect, sharing ideas, products and knowledge in wellness, sustainable and mindful living.
Join holistic workshops such as Mindful Yoga, Homeopathy 101, Body and Stress Management with Therapeutic Grade Essential Oils, Shibori Dye Workshop, Make Your Own Mala Bead Necklace and many more. Shop all natural, homemade products and wholesome, delicious eats!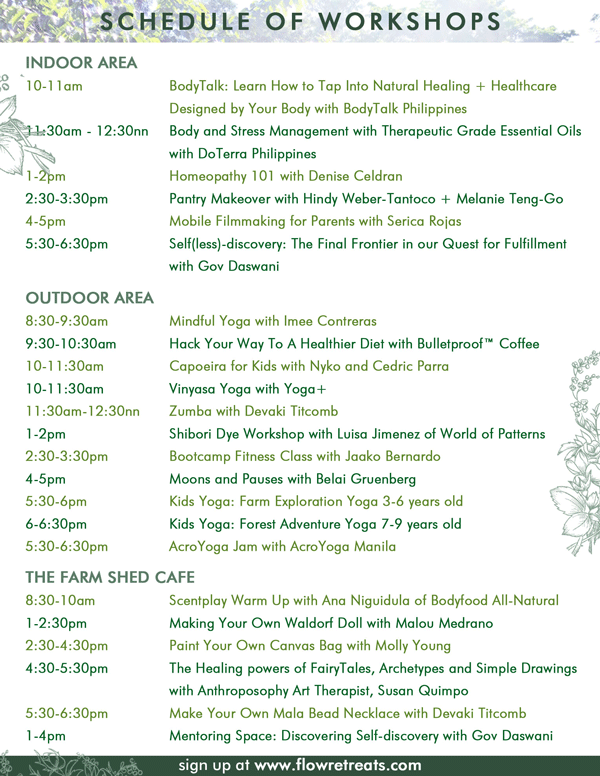 P300 entrance/donation fee includes:
– Short organic farm tour
– Pick n Pay harvest
– Animal encounters
– Freebies (until supplies last)
*Proceeds will go to the farm and its efforts
Sign up for the workshops at www.flowretreats.com