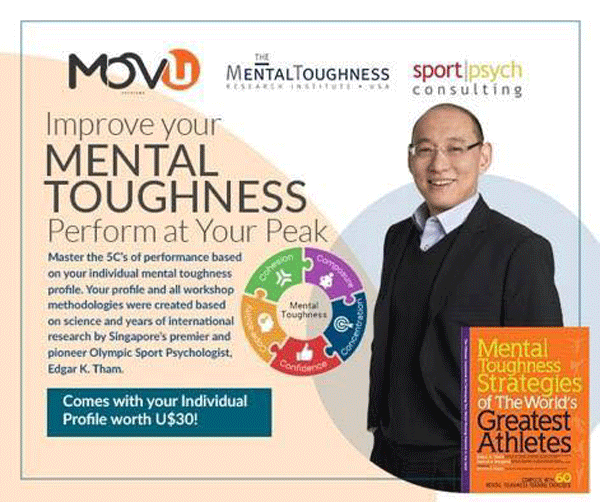 Mental toughness is important not just for us to break our PRs, but also to do well in life.  Whether we like it or not, we'll always be faced with challenges.  It's how we face those challenges that makes us winners or losers.  That's why I'm looking forward to joining this upcoming workshop with Edgar Tham.  
IMPROVE YOUR MENTAL TOUGHNESS WITH EDGAR THAM
Develop the proper mindset to optimize performance, whether in your sport or in life. Join the first Sports Psychology Workshop of its kind in the Philippines by Edgar Tham, Singapore's pioneer Sports & Performance Psychologist.
"He (Wee) even credits Mr Tham with helping him become the first Singaporean to win in the Ultimate Fighting Championship (UFC) in January this year." Royston Wee – MMA champion
Date: Sept 11, 2016
Time: 10:30am to 5:00 pm
Venue: 360Fitness Ortigas, Strata 100., F.Ortigas Jr Ave., Ortigas, Pasig
(inclusive of individual mental toughness profile worth USD30)
Early bird rate until Aug. 31, 2016: Php 3,500
Regular rate: Php 3,900
Contact movusystems@gmail.com or telephone 0939-9239473 to inquire.
Background of Edgar Tham
• Employed by Singapore Government's as its very first Sport Psychologist 1995
• Founding Head, Sport Psychology Department, S'pore Sports Council
• Founding Head, School of Sports, Health & Leisure, Republic Polytechnic
• Team Consultant & Travelling Psychologist (1995 to present)
• SEA Games, Asian Games, C'wealth Games, World Championships (various sports), Olympics, Paralympics, WorldSkills CompetitionAuthor / Co-author
• **Thriving Under Pressure (2017)
• Mental Toughness Strategies of the World's Greatest Athletes (2010)
• Psychological Rehabilitation (1999)
• In the Zone: The Mindset for Peak Performance (1997)University Lecturer & Researcher
• SIM University, Psych. & Sports/PE progs
• SIM Global
• University of London
• University of Wollongong (Aus.)
• Edith Cowan University (Aus.)
• Cardiff Metropolitan University (UK)