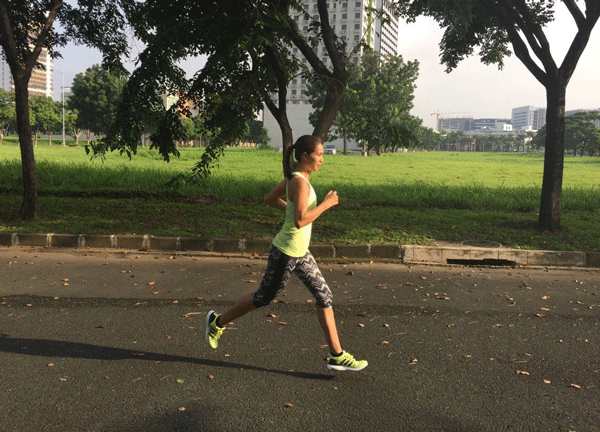 I've been running for exactly a decade now.
When I look back at how it all began, alone on my old treadmill in our den, it really all started with just one single step. One seemingly insignificant step that changed me and my world entirely… and all for the better.
Since then, I've gone farther and longer and I don't think I'm ever going to stop. Why do I do it? Here are 21 reasons why I run:
Running keeps me fit. It allows me to maintain my weight even if my metabolism seems to have reached a screeching halt.
Running torches A LOT of calories for a limited amount of time. It's an efficient workout especially for a busy mommy like me.
Running keeps my heart strong.
Running tones the legs. Who cares about thigh gaps when you've got muscles?!
It tightens the core, too!
They say that running will help me reduce my chances of getting the big C. Not callouses, silly, because running gives us more of those (lol) but cancer!
I hear running also improves memory. As I get older and struggle to remember where I place my keys or recall passwords, I can only hope that running will keep this memory of mine intact for years to come.
Running keeps me more attuned with my body. I know my body's capabilities and limitations because of all these years of running.
It makes me more conscious of my nutrition. If I want to run well, I need to eat well. I give more importance to healthy and wholesome eating because I want to perform well (aside from looking good in a bikini, of course!)
Running clears my mind. It also helps me brainstorm when there's A LOT of projects to work on.
Running helps me relieve stress and has gotten me through the toughest times of my life. What would I have done without you, Running?! Mwah mwah.
Running has made me mentally tougher. If I survived running in freezing weather against headwind under the rain, tripping and landing on my knee and getting back up again, having my knee lockup, gastro problems, lack of hydration, extreme pain, huge blisters, and all other types of hell yet still managed to finish a race, then I can face anything! Hear me roooar!
Running is cheap and easy! No need to look for expensive equipment, membership fees, or a team to be with. I can do it alone anytime.
Of course, it is also fun! When I'm in the mood to socialize (which is rare because I really am anti-social), running is a great way to "hang out" with friends without alcohol or junkfood.
Running is a great excuse for me to see the world. One of my greatest passions is to run a marathon in a new city. I work crazy hard just so I can afford to do this every year.
Running gives me more energy. Ironically, I feel more tired on days when I skip my morning run. When I start the day with a run, I feel more focused and I get more work done.
Running boosts my confidence. I'm a pretty confident and secure person, but I have my days of self-doubt and fear. During those dark moments, I just recall times I've faced adversity during a run then I feel like a winner again!
Running keeps life exciting and colorful. My greatest fear is to live a mediocre life. Running forces me to get out there, give 101%, and gain new experiences all the time.
Running gives me a chance to give back to the community. I always say I'm one of the luckiest people in the world to be able to help other people just by sharing my passion through TBR Dream Marathon.
Running is my ME time. We all need our alone time. People find their solo time in a church, on the beach, or in a parlor. Mine is on the road with just my shoes, my breath, and the wind on my face.
I shall end this with the simplest reason why I run. Running just makes me happy. Need I say more?
How about you? Why do you run? Tell me why in the comment below or just share why you run on social media using the hashtag #WhyIRunManila.
By the way, here's a reason to run on November 27, it's Gatorade 11/22 then! I'll be in Florence running a marathon on the same day, but I do hope you can make it.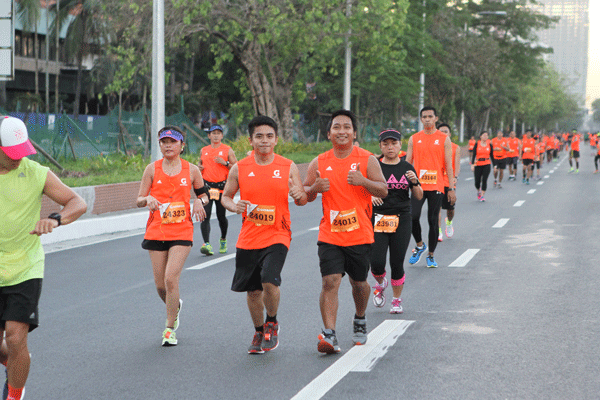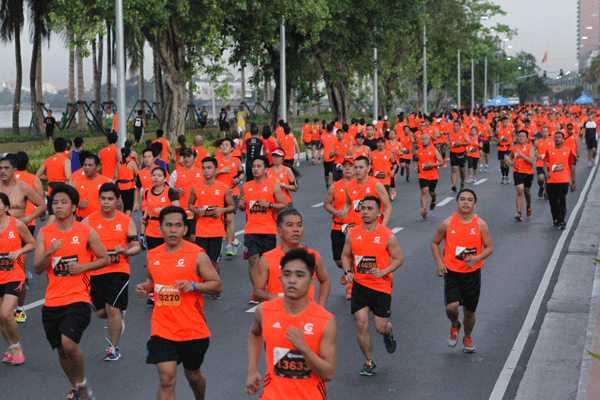 Inaugural Gatorade 11/22 run 2015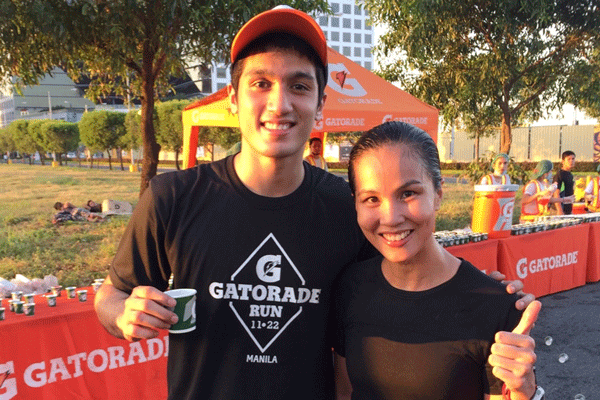 At last year's Gatorade run with Von
Online registration is still open at: http://runrio.com/gatorade-run-2016/
There is also instore registration at the following stores:
–Adidas Solenad 3
–Adidas BGC
–Adidas Trinoma
–Adidas Greenbelt 3
–Adidas SM Megamall
–Adidas SM Mall of Asia
Registration ends on November 14.
Check out the shirt and singlet this year for Gatorade 11/22 2016!