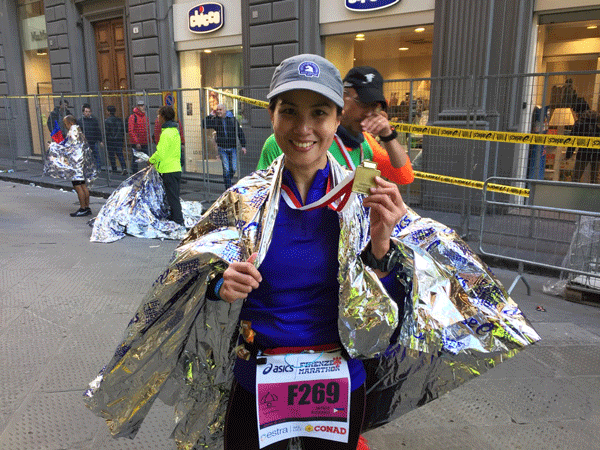 – Would've been a great pic of me holding my 16th marathon medal at Firenze Marathon had I only held the medal facing the front *eye roll* –
Firenze Marathon (or Florence Marathon) is the second largest marathon in Italy, only second to its capital, Rome. I had heard about how beautiful Florence is and, having never visited Italy before, I was simply over the moon about this trip where our itinerary included Cinque Terre (a place in my bucket list! Woohoo!), Venice, and Pisa too. At the same time though, I had never been more anxious for any marathon than this one.
You see, I'm a forward-looking, obsessive, control-freak who always plans ahead for anything, especially my marathons. I always have a program to follow and I stick to it as if my life depended on it. Doing so gives me confidence that not only will I finish the race but I'll do so without bonking, crawling, or cursing myself the entire time and, most importantly, I'll cross the finish line with a smile.
For this training period though, I had three bouts with the flu and/or fever, which completely messed up my training schedule. By the time I discovered that all my illnesses were actually due to allergic rhinitis, it was too late. I had missed my 32k run. My longest run was a back-to-back 24k on Sunday and 13k on Monday just 2 weeks before race day. Lord, heeeeelp me.
Event: 33rd Firenze Marathon (Florence Marathon)
Date: November 27, 2016
Race start and finish: Piazza del Duomo, Florence, Italy
Cut off time: 6 hours
Number of participants: Over 11,000 runners
Registration: Non-lottery. Requires medical certificate.
THE EXPO:
The expo was held at the athletic stadium dedicated to Luigi Ridolfi. Redemption of race kit, containing the race bib with timing chip, was convenient and easy.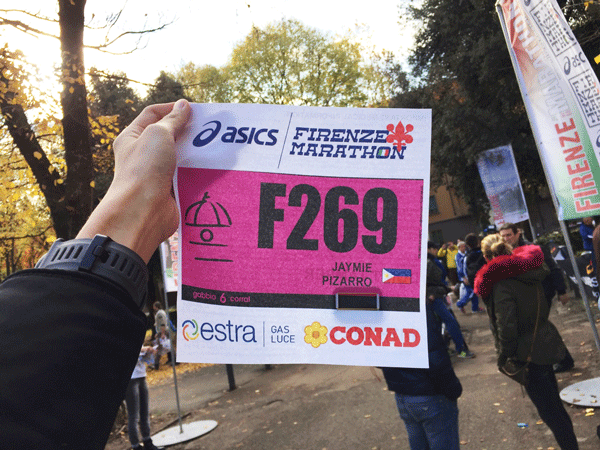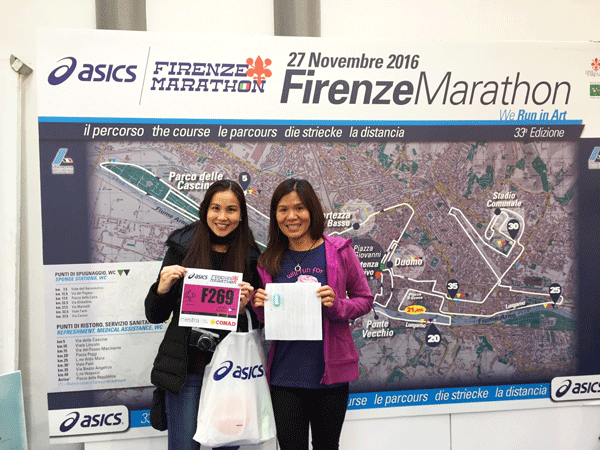 – with good friend Jane-Jane Ong who "adopted" me to join her and her siblings during this trip. Jane and I have run NYCM 2010, CIM 2011, Berlin 2012, and now Florence 2016 –
The expo was filled with various familiar brands, such as Newton, Garmin, Polar, but also European brands, which were new to me. Rows of booths promoted other marathons in Europe like Rome, Milan, Barcelona, and many more! More reason to come back! Perhaps the only thing I didn't like about this expo was that it was too crowded. Sadly, we were made to weave through the entire expo until the very end just to claim the official race shirt, which was way too big for me even if it was in its smallest size. Good thing I purchased race merchandise, a technical shirt, from Asics.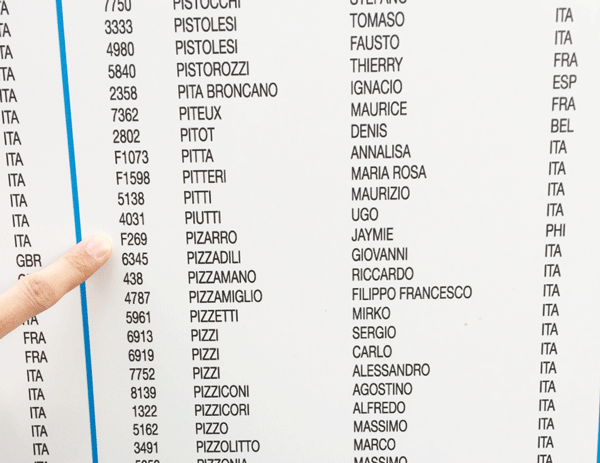 – The only Pizarro among 11,000+ runners –

RACE ASSEMBLY AND START:
Race start was in a new location putting it at the heart of Florence at Piazza del Duomo. We had visited the duomo the day before and I couldn't believe they were able to set up a marathon race start in such a historic and cultural spot. How amazing was that?!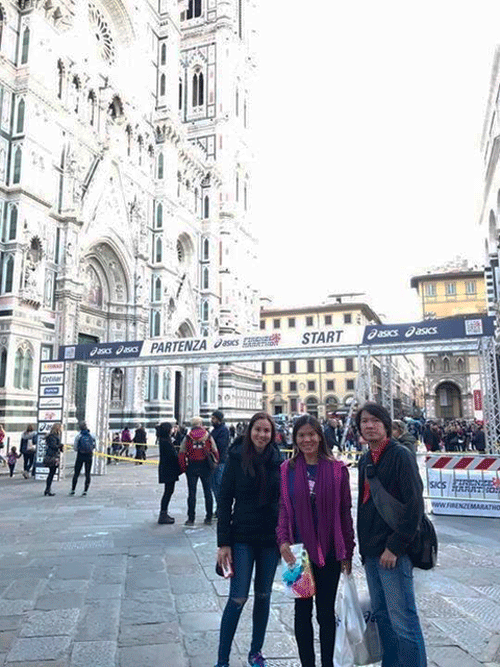 – The day before the race with Jane and Drew –
BAGGAGE DEPOSIT. Firenze Marathon pulled out all the stops to impress us runners. We deposited our baggage at yet another historic and stunning spot, Piazza Santa Maria Novella. This was convenient and organized both in deposit and later on in claiming. Thankfully, we didn't need to freeze our butts off when we deposited our jackets because the race kit included a plastic bag to keep us warm. I also brought an airplane blanket for added warmth.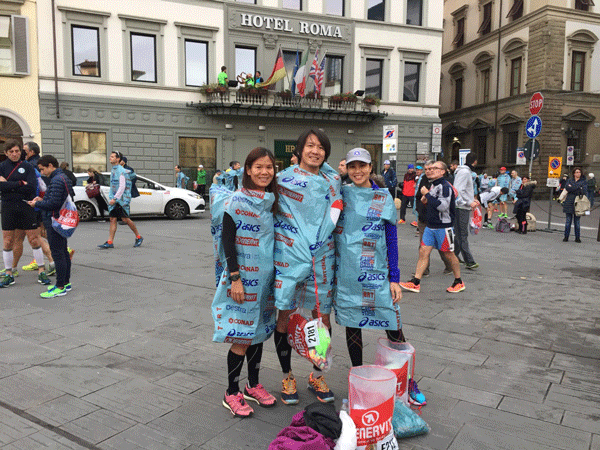 – Looking spiffy in our trash bags –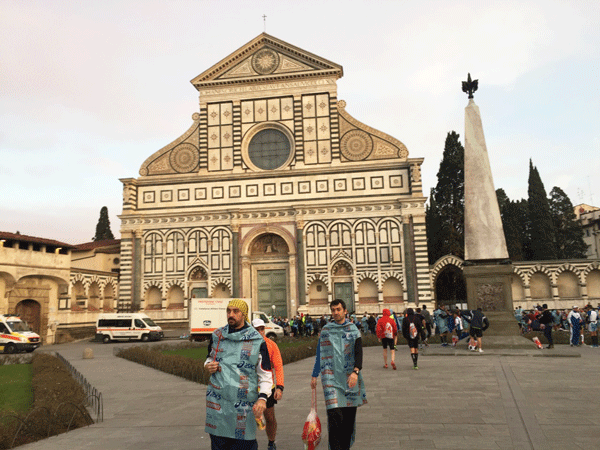 – Backdrop of baggage deposit and cloakroom –
PORTALETS. There were more than enough portalets at the assembly area for us to do our business twice without having to waste our time in line.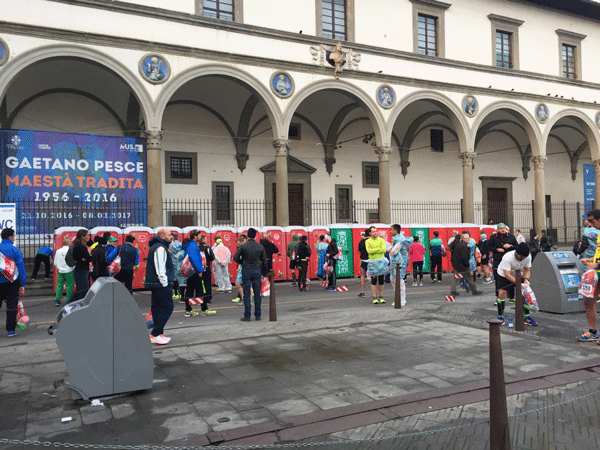 WAVES. Race start was done in waves based on the PR you provided in your registration form. Each wave had a different race start with fuschia, my start, being the furthest out starting at Via Vacchereccia, which was really just a short walk from baggage deposit.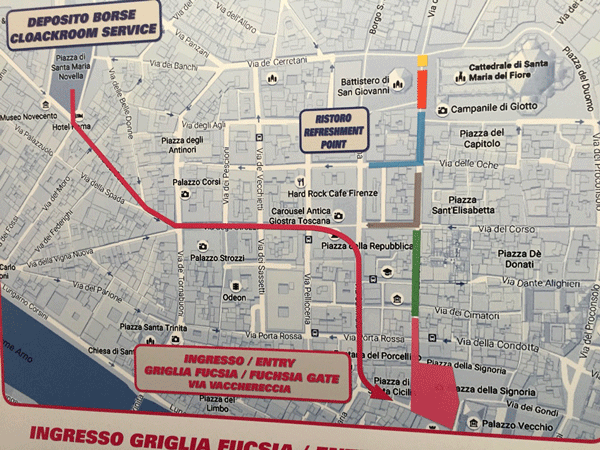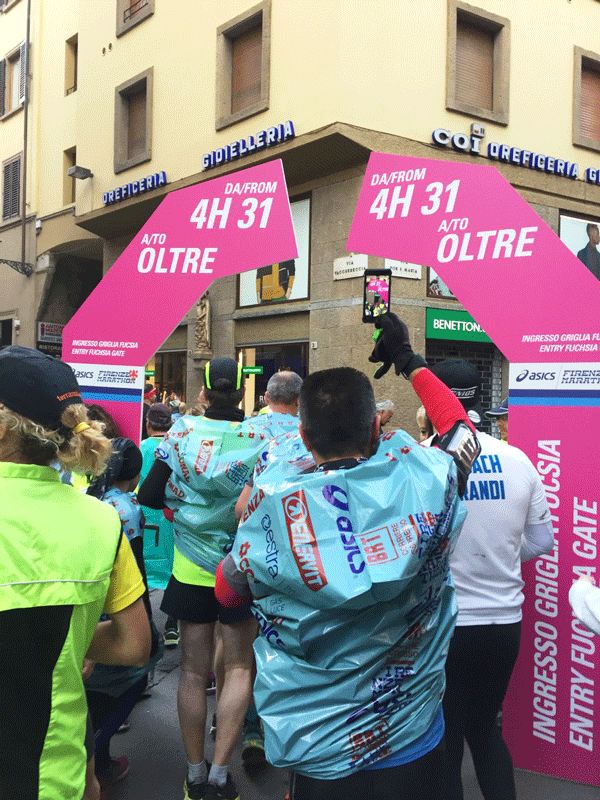 – A few minutes before Firenze Marathon gun start a little after 8:30 AM –
THE RACE:
WEATHER. The weather was perfect. Temperature was 8 degrees. I decided to wear a long- sleeved top, CWX compression tights, and a cap to keep my head warm. Shoes were Saucony Ride 9 worn with a Spenco Orthotic insole.  I didn't even need gloves anymore. Most runners wore t-shirts and arm sleeves that could be removed should it get too warm. The only time I felt really cold was when we were standing still waiting for the race to start (and I threw my blanket and trash bag 5 minutes too early! Gaaah!), but once we got moving, it was comfortable.
COURSE. I said this on Instagram and I'll say it again: Firenze Marathon was the most beautiful course I have ever run.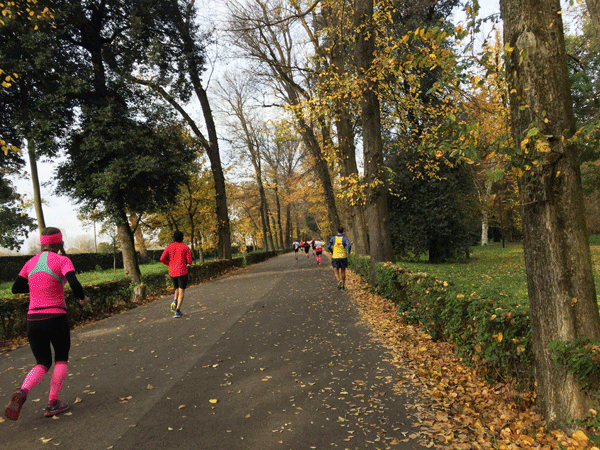 We ran through gorgeous green parks and tree-lined roads with leaves falling to our feet. We ran across the famous Florence bridges like Ponte Vecchio and through historical and cultural landmarks we would have visited as tourists. There were more than a couple of times when I found myself saying out loud: Wow. Wow. Woaaah! At around Km 30, we entered a track oval and running on its soft track surface felt like billowy clouds to my tired feet. The last 5 km was back through the cobblestone city streets of Florence, which was slightly challenging to run on, but honestly the sights made it all worth it.
The course is mostly flat with gentle ascents and descents that were enough to allow other leg muscles to be used without the difficulty of steep climbs or fast downhills.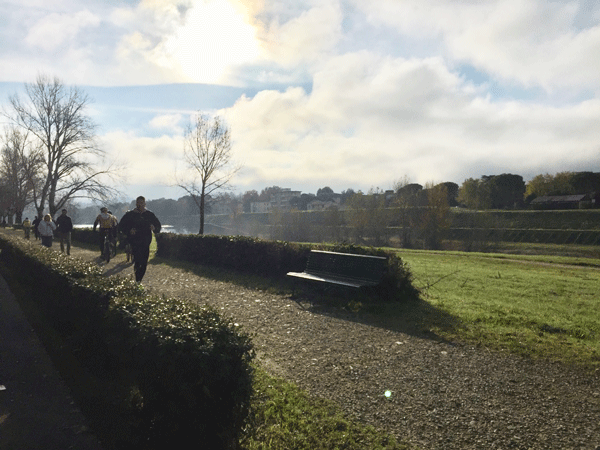 As for my run, since I was not confident about my training, I decided to employ a conservative run-walk strategy of 9:1 from the start of the race. This was the first time I tried to run-walk on my own and I didn't know if I was disciplined enough to follow this through to the end. I thought I'd be too impatient (read: bullheaded) and run my way to the finish. But, I surprised myself! I followed the 9:1 plan to the letter, which kept me strong and steady through the race. When I hit 25k feeling fresh, I knew I was going to be fine. I finished at 4:45 feeling awesome! It wasn't a fast one, but it sure was a fun one!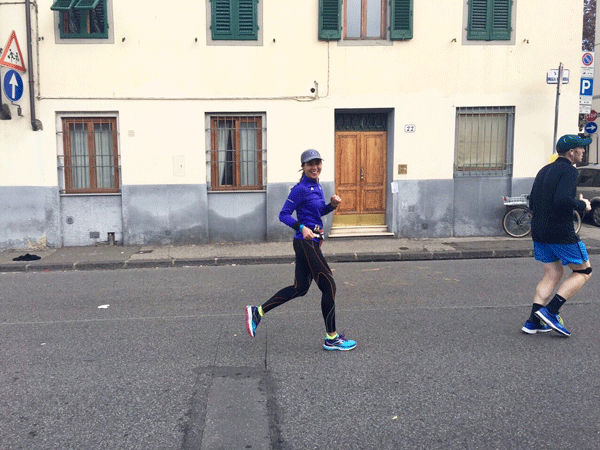 – Thanks to Nica who took this shot near our hotel –
This is the way I wish to run marathons now. Just savoring every second of the experience. I've had my fill of hard training runs, aiming to break PRs, and killing myself to the point of exhaustion. At this point in my life, I just want to enjoy the marathon and that's exactly what I did at Florence.
HYDRATION AND FOOD. Hydration was every 5km. Drinks provided was water, tea (I had never seen this in any race before and I was afraid to experiment but a lot of runners were taking part), salt water, and lemon. No sports drinks were served. Beyond 10k, fruits were given. Beyond 25km, biscuits, cookies, and even gluten free treats were all for the taking!
SPONGES. Sponges were available every 5km beyond 7.5km. I found this odd because it was not even hot at all so I didn't feel the need to cool myself down the way we do in Manila. But, it was still refreshing to wash my face and neck once or twice during the race despite the cool temp.
PORTALETS. Portalets were about every 5km as well and only 1 to 2 portalets at a time. Good thing the lines were not very long. (This is because there were lots of bushes around the course that one could pee in whether male or female lol) I went to the potty twice and waited no more than 2 runners before it was my turn.
CROWD SUPPORT. There were people who came out to support us who screamed "Die! Die! Die!" First time I heard this, I was quite disturbed, but when I heard it often I guessed it was the Italian way of showing support. After the race, we googled it and learned the locals were cheering "Dai! Dai! Dai!" which means "Come on! Come on!" Nice to know it wasn't the former lol.
MEDAL. The medal was a cute, little gold one that captures the race quite well for me. There was no Finisher's Shirt provided.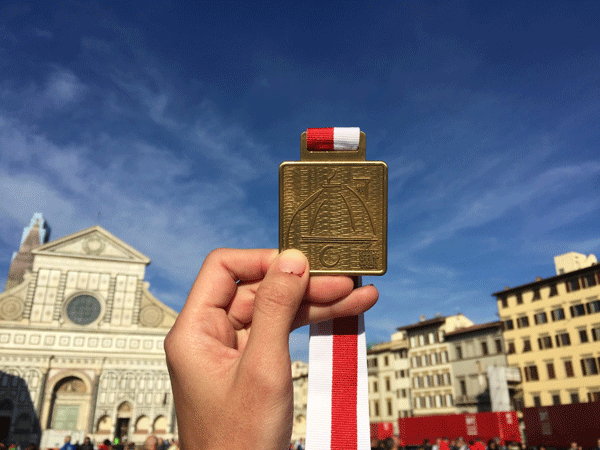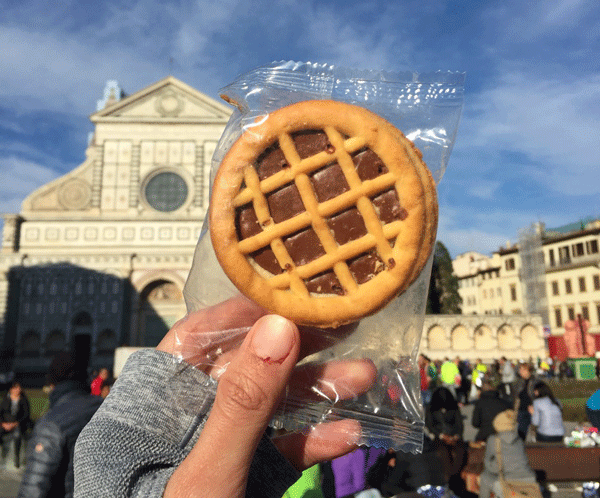 – Just as happy to receive this along with the medal! lol –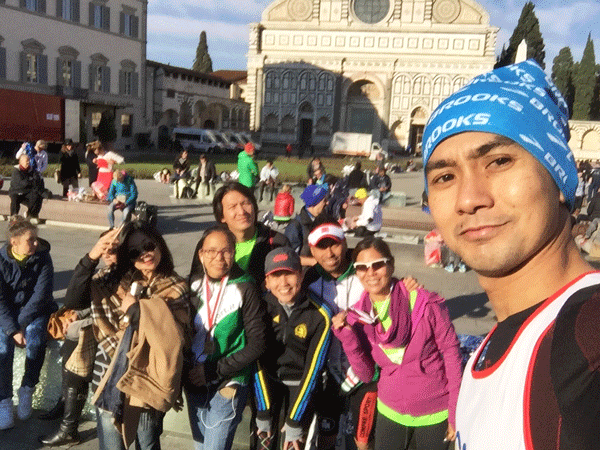 – Met Pinoy runners based in Milan who Jane had met when she ran Milan Marathon. Posting this even if it's blurry because it's my only shot with them –
POST RACE. After receiving our medal, we were handed a bag of food and drinks. There were tents along Piazza Repubblica loaded with food from fruits to biscuits. The scene was celebratory and happy. I made my way with ease back to the Piazza Maria Santa Novella to claim my bag and changed at the cloakroom nearby. Together with friends, Jane-Jane and Drew, we walked back to our hotel passing by a gelato shop where we treated ourselves to double scoops of gelato as reward. Good thing I spent a couple of kilometers during the race to decide on my flavors: caffe and pistachio, baby!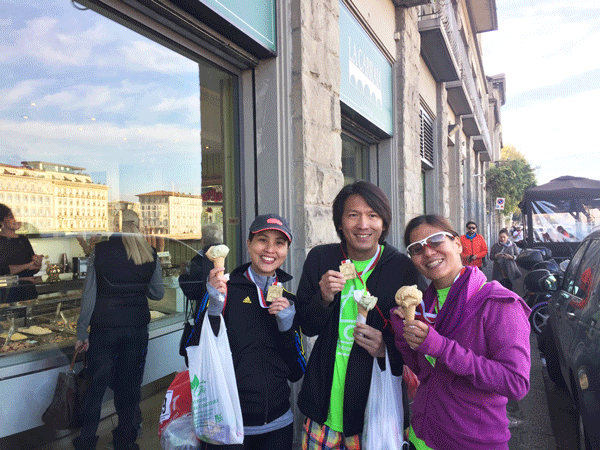 I will forever be grateful to good friend, Jane-Jane and siblings, Nica and Drew, who allowed me to go on this Italian adventure with them!  I was happy to pretend to be an Ong for a week! haha!  It was a pleasure meeting James, Ivy, Jed and Jamee too.  Until the next one!