For the longest time now, I've been wanting to get into trail running.  I've joined trail runs in the past and I have always loved it.  For someone busy like me and with kids to spend time with on weekends though, I can't seem to bring myself to take off for half a day to run outside of the city.  I guess I'll have to wait until the little ones are a bit older.  If you're one of the lucky ones who can escape to the mountains to run in the great outdoors, here's a trail running camp you can join: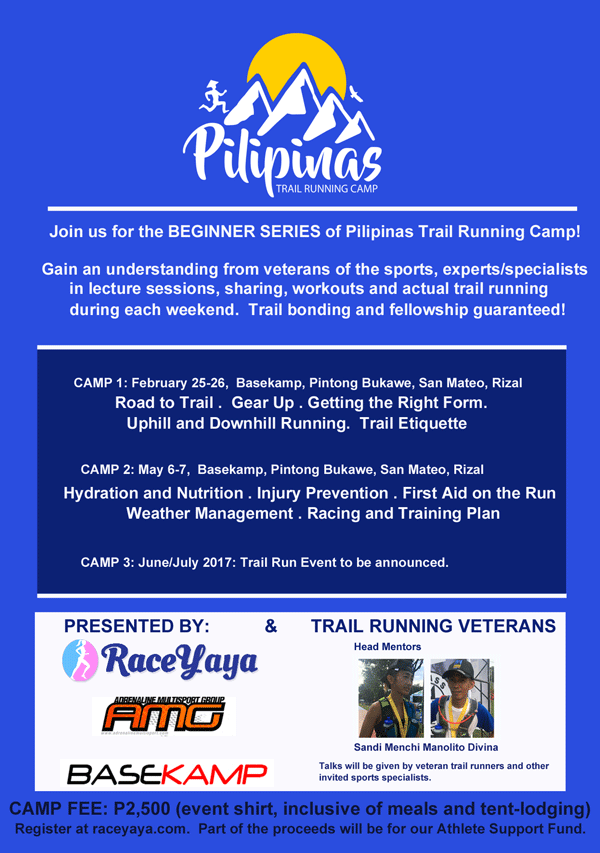 Pilipinas Trail Running Camp provides an experience that helps ignite one's passion for trail running or running off-road. It's a series of trail-running learning weekends that aims to introduce new and aspiring runners to the sport and also for the seasoned veterans to get equipped in their approach to training and preparing for races, local and international. Runners will learn from and run with the trail champions and veterans together with sports experts and specialists. It's a five-month program which includes two stay-in weekends of training and a culminating intimate race. It's the perfect time to take advantage learning from the best and the brightest in the community – trail running techniques, uphill/downhill running, nutrition, training plans, heat/hydration management, yoga, etc.
Runners will travel out to the picturesque Basekamp in Pintong Bukawe, Rizal overlooking the Sierra Madre mountain range. They will lace up their trail shoes, meet new friends, learn from and run with the mentors and coaches – a lot. Food will be served and a yoga session will cool them down at the end of the day. It's going to be a running vacation or retreat plus the pleasure of running in the mountains with new friends and the best trail runners in the country.
Pilipinas Trail Running Camp is co-presented by RaceYaya, Adrenaline Multisports and BaseKamp.
For more details, here's the trail camp brief:
Download / View PDF: TRAIL CAMP BRIEF
Link to photos: https://drive.google.com/open?id=0B_i5VnNAfkdZOGRLRUZBVnlOY0E
View youtube videos: