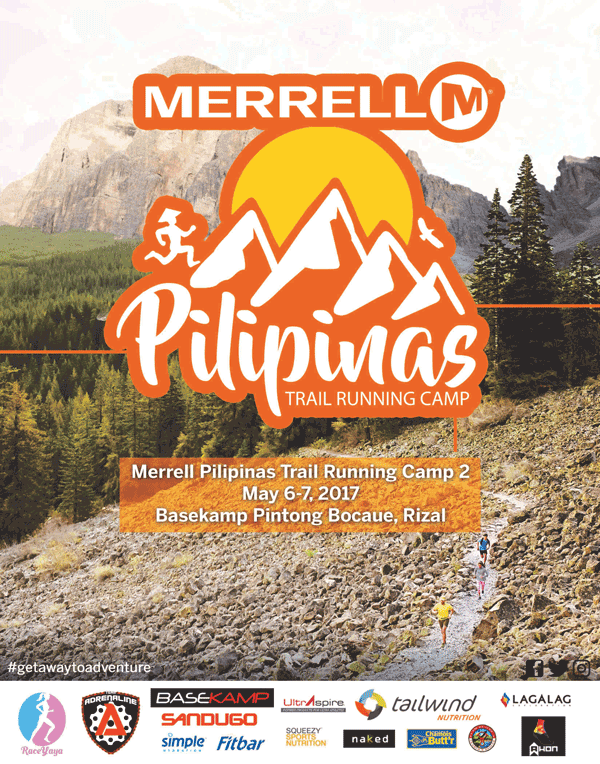 Ignite your passion for trail running with the Merrell Pilipinas Trail Running Camp! On May 6 to 7, 2017, you can get oriented on the fundamentals of trail running by veteran trail runners and experts speakers like Thumbie Remigio, Manolito Divina, Alex Yap and many more! The 2-day program set at Basekamp in Rizal will give participants an understanding of trail running techniques, hill running, nutrition and training plans and heat/hydration management.
The Pilipinas Trail Running Camp II will have the following program:
Nutrition: Know more about the fundamentals of nutrition and hydration for endurance running from Asia's Wonderwoman and International Athlete Jeri Chua from Singapore
Weather Management: Learn how to cope with the changing conditions in the mountains from Alex Yap and Simon Sandoval who have raced in all continents of the world.
First Aid on the Run: Experience how to handle properly a number of situations runners could face on the trails in an on–the–run training session by Team Rescue 8.
Avoiding Injuries: Get insights on how to avoid injuries and how to recover properly through manual therapy and biometrics from Rheyson Cornilla, PT
Yoga Session: Enjoy an hour of yoga. Experience how it can make the muscles stronger and flexible to face the challenges of the trails by Arlene Agulto, one of the top female local trail runners and a yoga instructor
Enduring the Trails: Run with Head Mentors Sandi Menchi and Manolito Divina and Camp Director Thumbie Remigio and learn the tips on how to enjoy the trails by doing it better.
Race Planning: With the race directors and veteran trail runners to help runners reach their goals.
To join the Merrell Pilipinas Trail Running Camp 2, simply register online at www.raceyaya.com. The registration fee of Php 2,500.00 is inclusive of one nightaccommodation, meals for the entire weekend camp, event shirt, and freebies. Full details of the trail camp are also posted on both Merrell's Facebook page and raceyaya.com