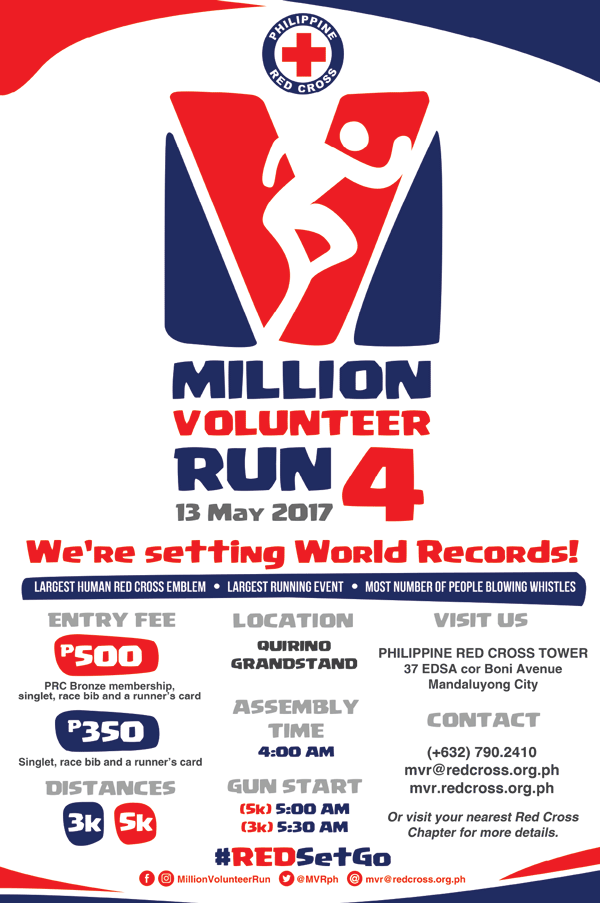 Now on its fourth year, the Million Volunteer Run is this year's biggest humanitarian run organized by the Philippine Red Cross. It aims to further grow the PRC's already extensive network of volunteers nationwide. Happening on 23 July 2017, Sunday, 4AM, at the Quirino Grandstand in Manila., the advocacy run likewise seeks to once again draw participation from government, corporate, religious, academic, and athletic institutions to rally together behind the impartial protection of life and dignity, especially of indigent Filipinos in vulnerable situations.
A 3K and 5K fun run, proceeds of the event will fund PRC's various humanitarian programs and lifesaving services such as its Blood Services, Disaster Management Services, Safety Services, Health Services, Social Services, Red Cross Youth and Volunteer Services.
For more details on Million Volunteer Run 4, visit mvr.redcross.org.ph, like www.facebook.com/MillionVolunteerRun, or call (02) 790.2410.