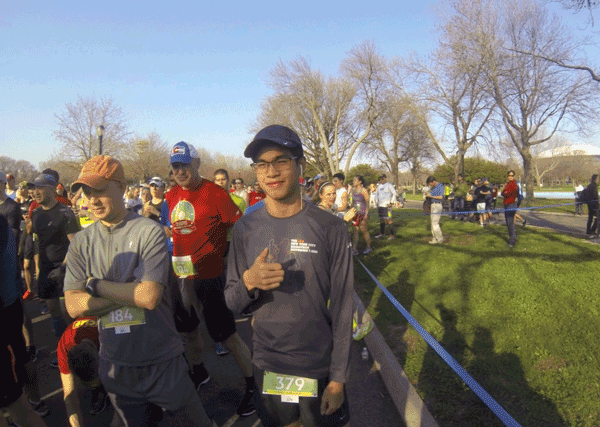 Anton at the starting line of his first half marathon at NYC Runs Flushing Meadows Half Marathon
Ever since I started running, I secretly wished (okay, maybe it wasn't such a huge secret) that my kids would fall in love with running too.  I had visions of us running together on Sundays, joining marathons abroad when they were older, and throwing out words like fartlek and recovery every morning during breakfast.  But, I promised myself early on that I would never ever force them into the sport.  Doing so can backfire with them hating it  altogether.  And, I always believe in allowing my children to discover their own path and passions.
So, when Anton, now 16 years old, told me that he wanted to join a half marathon, I was pleasantly surprised.  I almost jumped out of my seat to do cartwheels, but, at the same time, an overwhelming feeling of fear and hesitation came over me.
I proceeded to tell him why I wasn't sure if I would allow him in almost bullet point fashion (yes, that's how I talk when I'm nervous):
Are you sure?
Aren't you too young for a half marathon? (I'm generally against kids running long distances, but I had to remind myself that, at 16, Anton is on the brink of adulthood and I wasn't entirely sure what the experts recommended for his age.)
Why don't you just aim for a fast 10k?
Why are you doing this? It's not for Instagram, right?…
Or wait, is it for a girl?  It better not be!
How will you find time to train for this?
Are you suuuuure?
He said he was sure he wanted to do a 21k.  He scoffed when I mentioned IG or a girl and said he wanted to do it for himself.  He promised he'd train after school and with me on weekends.  After I asked Coach Dan Brown (who I bumped into at an event and basically said Anton was of age) and googled a number of running websites, I gave Anton the go signal.
REGISTRATION AND TRAINING (AND INJURY)
Since we had a planned vacation in Canada and the US, I registered Anton and I at an NYC Runs event: Flushing Meadows Half Marathon in Queens, New York. I was looking forward to mother-son bonding time training for and running his first 21k together.
We trained together on weekends, sometimes just the two of us and other times I introduced him to my running friends where he was the only teen who'd be running with a bunch of oldies!  Still, he pushed forward and was focused on hitting his long runs.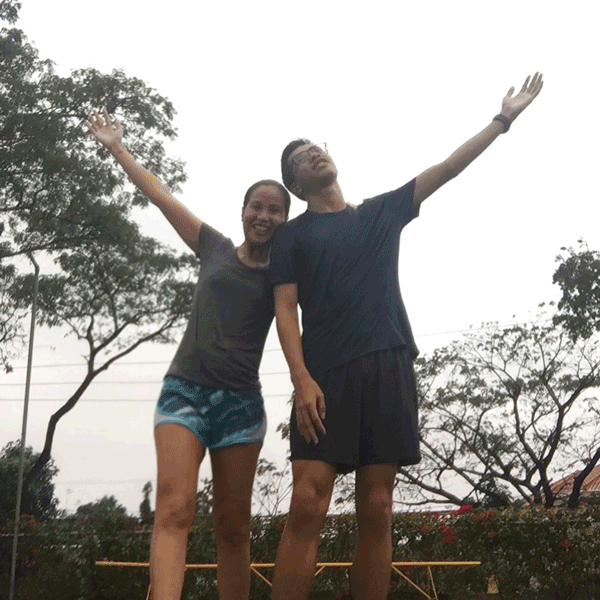 After a strong 10k training run under the rain together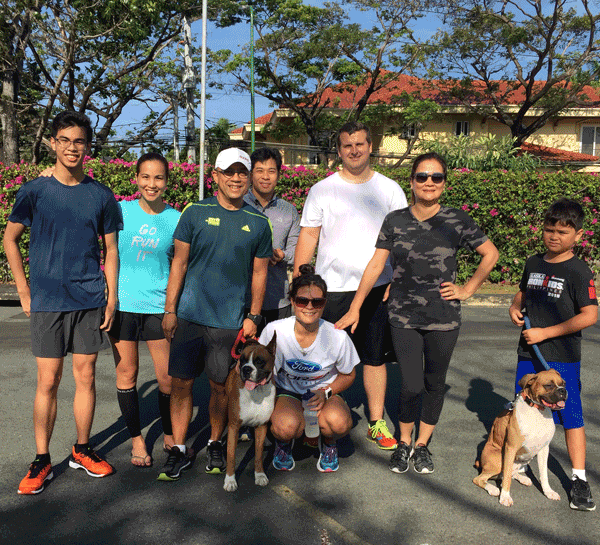 Anton's longest run with Tito Joey Torres and the Guidicellis.  Thanks to Team Forza for taking care of my boy!
School got busy so he wasn't able to train on weekdays and I was quite worried about this.  But, what can one do?  He had exams, school plays, and sleepless nights on projects and, of course, school was top priority.
On the last month before the race, I got injured.  Aaack!  I worried about Anton training on his own and, worse, him running alone on his first 21k!  Little did I know that my boy was more prepared than I thought.
FLUSHING MEADOWS HALF MARATHON, NEW YORK
On April 16, in New York, we took the subway to Flushing Meadows, Corona Park in Queens, where Citi Field is (home of the METS) and where Men in Black was shot.  The park was a pretty sight with people playing soccer and families biking around the tree-lined roads.  How I wished we could have wide, open, public spaces like this in Manila where we could run forever in such a serene and safe environment!  As for the weather, runners were talking about how hot it was.  It was definitely a bit hot for New York, but, for us Pinoys, this was pleasant compared to our scorching heat!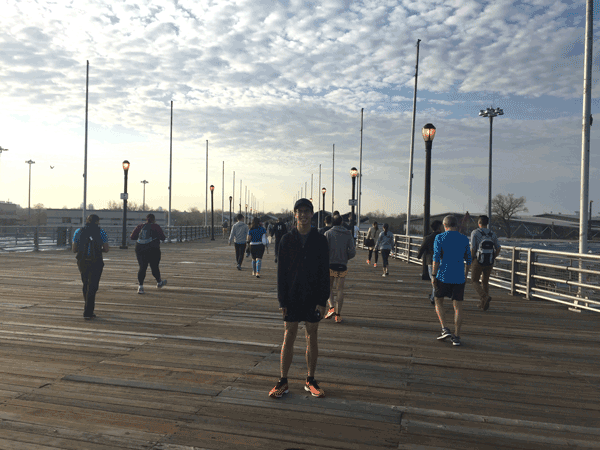 Heading towards Flushing Meadows
I told Anton days before that I was only going to attempt to run 10k with my injury and that he would have to run the 21k alone.  It almost broke my heart, but this teen of mine was completely fine with it! Honestly, I looked a lot more nervous than he was about this half marathon!  I advised him to take this race easy since he lacked training.  (But, I also told him that I'm not in the business of encouraging runners to run races they don't train for so this was the first and last race he was going to run without training!)  In the future, with longer and proper training, he could run 21k races faster, but this was not going to be it. My only wish was that he would finish this race and end it with a deeper appreciation for the sport.
The race was a relatively small and intimate race. It was pretty well-organized and had a fun vibe.  After claiming our race kit, depositing our bags, and a quick run to the potty, we stood at the starting line and bumped into an old NY-based college friend, Josh, who I last saw at a race way back in 2009.  He had registered for the race too!
The race started without much fanfare. I wished Anton luck before he went off to run his own race.  I run-walked my way through one of the slowest 10ks ever paying close attention to my foot and making sure I didn't aggravate the injury.  Thankfully, Josh and I got to run together for a bit and we got to chat about school, friends, triathlon, and how old we've gotten with all these injuries plaguing us.
A DAY OF FIRSTS
Josh and I hit 10k and I knew that was the farthest distance my foot would go without pain.  Although I had to DNF from the 21k, I was still overjoyed.  After 5 long and dreadful weeks of absolutely no running, I finally got to wobble my way through my first 10k and that was enough.  The free bagels after the race was an added bonus!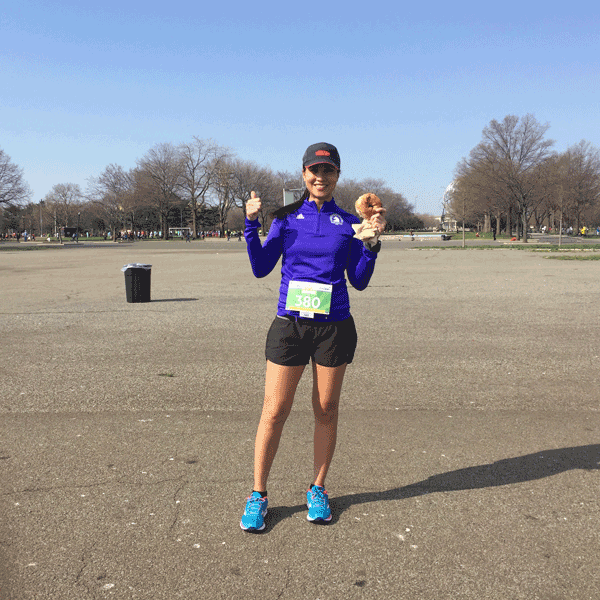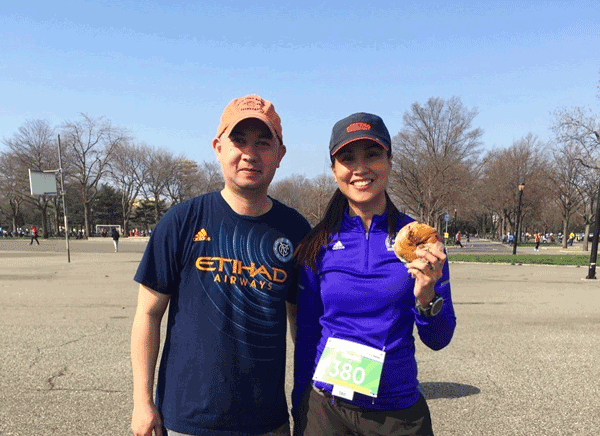 My boy came in a bit later than expected at 2:38.  When I came to hug him and congratulate him on his first half marathon, he said that he and an entire group lost their way and he actually ran more than 23km!  I should've congratulated him on his first 23k too! lol.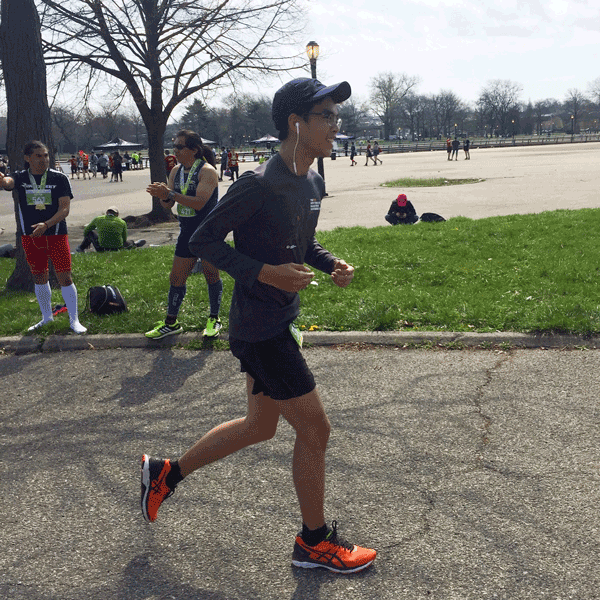 Anton proudly wore the medal on his neck then whispered to me: "I'm starving.  Do you have any food?" I handed him the bagel I had prepared for him earlier and realized that, while I'm proud to watch Anton grow up to be such an independent and driven man, he is and will always be my little boy.