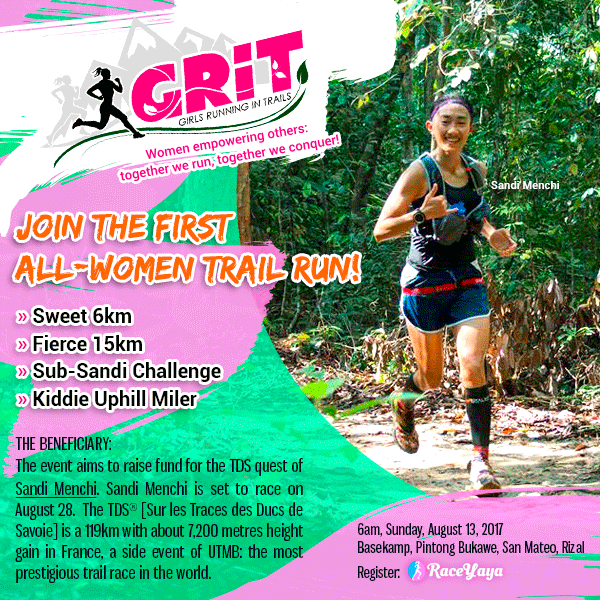 GRiT, Girls Running in Trails, will launch the first ever all-women trail run event. This pioneering event is set to take off at 6am on August 13, 2017 at the Basekamp, Pintong Bukawe, San Mateo, Rizal. Participants will be running in the rough, rugged, and scenic trails of Rizal while enjoying the camaraderie of fellow women runners. While this event is mostly for female runners, males are encouraged to participate by showing support for fellow runners celebrating the power of females.
RACE CATEGORIES:
Fierce 15K: This race is open to all women or any individual who wants to celebrate their femininity. The race will take them from Basekamp to the unexplored trails around Pintong Bukawe. Climb mountains, cross rivers, get dirty, show your GRiT.
Sweet 6K: This race is open to all women or any individual who wants to celebrate their femininity. The race will take runners inside the manicured bike trails of Basekamp. Enjoy the varying terrain while overlooking mountain ranges that surround the Basekamp in this short trail run, start showing your GRiT.
Sub-Sandi Challenge: This race is open to all men who want to run with Sandi. Beat Sandi in a 6K race and win special tokens. Whether your goal is to beat Sandi, run beside her or just be able to support her by joining the run, this race is for you, support GRiT.
Kiddie Uphill Miler: This race is open to all kids ages 2-13. Run from ¼ to 2 miles and get special freebies for finishing your first trail miler.
To register, visit Race Yaya.
THE BENEFICIARY
The event aims to raise funds for GRiT ambassador, Sandi Menchi in her quest to represent the Philippines in one of the toughest ultra marathon mountain races in Europe, the TDS. Sur les Traces des Ducs de Savoie or TDS is a 119km with about 7,200 metres height gain in France. Sandi is the first Filipina who has a big chance of grabbing a top spot in this prestigious world mountain race.  Sandi has the will and capacity to fly our flag on the world stage. In preparation for her big race on August 28, 2017, Sandi will need every support and help that can elevate the Filipino dream to the highest peaks.
Sandi is the prime ambassador of a GRiT woman. She is the undisputed leading Filipina elite trail runner who consistently wins the top female spot in local and international races. Born in Baguio, Sandi has been running since high school. She has been consistently bagging awards in a wide range of distances in road and trail races. She is also a tough contender in duathlon and triathlon races. With her numerous accolades in different sports, Sandi has kept her feet glued and her heart beating for the trails. She has sped through the gnarly high mountains of the Cordilleras, Mt. Kinabalu, Hong Kong, and Malaysia. She has won the International Skyathlon event and other big name international races. With Sandi's impeccable speed and strength, she has become the golden benchmark in the trail running niche earning much respect and admiration from both female and male trail runners. With Sandi's accomplishments, she never fails to pay it forward as she shares her experience with fellow female runners and the younger athletes in Baguio. Sandi is pure strength and power through perseverance.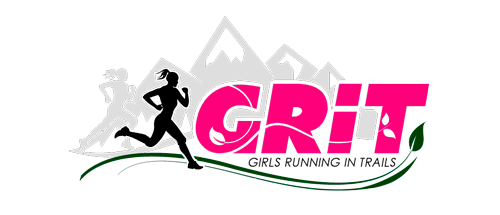 WHAT IS GRiT?
GriT embodies a strong woman who pursues an intense passion for sports through constant hard work and dedication. She is a relentless fierce warrior who rises above all boundaries and difficulties. A GRiT woman is a tough spirit who overcomes the toughest travails as she elevates and influences others with her unadulterated love for sports. More than an ardent commitment to pursue excellence in the athletic field, a GRiT woman inspires, uplifts and empowers others to always be better than their best.