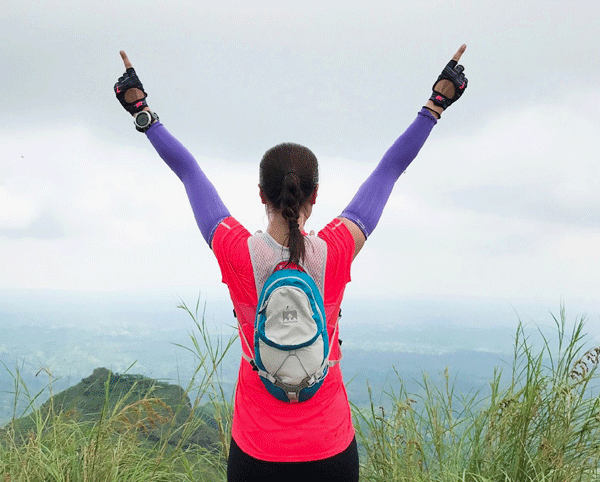 I have always loved the great outdoors. And, as much as I wanted to join trail runs, the thought of braving through hours of traffic to and fro and my forever busy sched always stopped me from indulging in this.  Last year though, I joined two Dirt School events led by Coach Ige Lopez and enjoyed myself immensely.  (Yes, despite the limatiks!)  For 2018, I resolved to join even more trail runs.  In fact, I was eyeing the Rizal Mountain Run as my first race for the year.  Unfortunately, my stupid bunion still won't let me run.
Funny thing is, I think the good people at Salomon read my mind.  They sent over their newest shoe for me to use for my trail runs this year, Salomon Sense Ride!  Honestly, I'm still loving my Salomon Speedcross from 2017, but, hey, I truly believe that one can never have too many run shoes.
More about the Salomon Sense Ride and its three new designs below:
[ SALOMON SENSE COLLECTION ]
The new Salomon Sense Collection was designed to provide runners with maximum comfort and protection amid long runs through the toughest terrains and roughest of surfaces. Inspired by trail runners' commitment to pushing the limits of their minds and bodies as they enjoy immersing in nature, the Sense Collection features three new footwear designs:
SENSE RIDE
The Sense Ride embodies a new standard of performance for the brand's range as it bears progressive technologies that will enable trail runners to go the distance.  These include the VIBE midsole technology which serves to provide better energy return and more cushioning capabilities via its Energy Cell+ material. Meanwhile, the CONTRAGRIP with Premium Wet Traction ensures extra grip on wet and slippery surfaces. Moreover, the Sense Ride shoe was built with a natural rocker profile to deliver a smooth ride along with an 8mm heel drop and bottom unit geometries to suit the needs of a large cross-section of runners.
From dry to grassy pathways to routes with intermittent obstacles and debris, the Sense Ride ensures pro trail runners and beginners alike with a smooth and secured experience. Sleek and lighter than most trail running footwear, the Sense Ride comes in the Navy Blazer colorway.
SENSE PRO 2
For those who opt for more speed, the Sense Collection offers the Sense Pro 2. Crafted for a more lightweight and faster running experience, the Sense Pro 2 also bears the Energy Cell+ component.
SENSE PRO MAX
The Sense Pro Max with VIBE midsole technology; a trail running shoe that's meant for those who seek more protection when going on longer runs.
Shall I see you at the trail this 2018?  Well, at least when I've recovered from injury. lol.