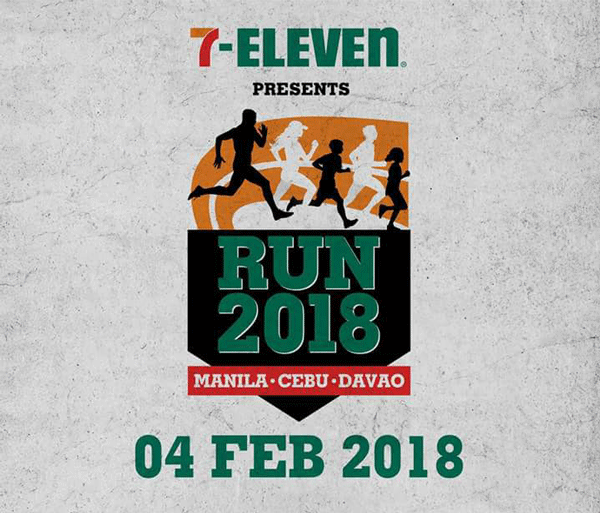 7-Eleven will be holding Run 2018 this coming February 4, 2018 simultaneously in Manila, Cebu and Davao.
DATE: 04 February 2018
ASSEMBLY AREA:
MANILA – Filinvest City Alabang (Bridgeway Avenue and Spectrum Midway)
CEBU – Cebu Business Park
DAVAO – SM City Davao
Website: www.run711.com
To celebrate the New Year (even if I still can't run… ugh!), I'm giving away a total of 30 racekits for Run 2018! Yahoo! Scroll down below for contest mechanics.
RACE DETAILS: (from www.run711.com)
Run 2018 promises to be bigger and more exciting, featuring the same categories as last year's race. Just like last year, Skyway and Filinvest City will be an event venue partner in Manila for the 42KM, 21KM, 10KM, 16KM, 10KM, 10KM Buddy, 5KM, 5KM Buddy, 3KM and 500 Meter (Kids run).
Runners joining the 16KM, 21KM, 42KM categories will enjoy the course set along the Skyway. Those joining the 500M, 3KM, 5KM and 10KM categories can look forward to an organized race course along Filinvest City.
Run 2018 is made possible with 7-Eleven's unique system of SELF-SELECTED WAVE STARTS. This enables the participants to choose their wave start and run with people with the same skill or speed (or with friends!).
Online registration at http://www.run711.com/ and pay the fees at any 7-Eleven store within 48 hours. Race Kits can be claimed on the date indicated on the receipt, and from the same store where payment has been made.
CONTEST MECHANICS:
What's up for grabs from TBR thanks to our friends from Del Monte:
METRO MANILA – 5 winners of 2 racekits for 10k
CEBU – 5 winners of 2 racekits for 10k
DAVAO – 5 winners of 2 racekits for 10k
Total – 15 winners of 2 racekits for 10k
UPDATE: This contest has been closed.  Winners have been chosen and informed.  Thanks for joining!
HOW TO JOIN:
1- Follow JaymiePizarro on Instagram
2- Post a comment on my 7-11 post on IG why you should win 2 race kits.  Tag the friend that you're bringing along with you.  Please specify if you want MM, Cebu, or Davao!
Winners will receive a DM from me with the code for free online registration.
Thanks again to Mariel Cruz and Del Monte for giving us free race kits!